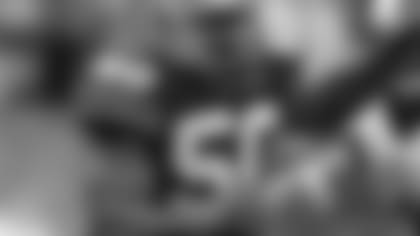 Vernon Gholston chose the skip his senior season to enter the NFL Draft .
When Mario Williams came out of North Carolina State two years ago – all 6-7, 295 pounds of him with the speed of a running back, everyone went wild. He was referred to as the second coming of the late, great Reggie White.
With his size, strength and speed, his numbers coerced the Houston Texans to opt for him as the No. 1 overall pick in the NFL Draft instead of the spectacular potential of running back Reggie Bush or Vince Young, the monstrous quarterback from down the road as the star of the national champion Texas Longhorns.
Was Williams an exception to the rule, or just the start of a new era?
Well, he didn't blow anybody away his rookie year and was significantly better this past season. More obvious is the present crop of defensive ends that are coming out of college these days. Some 8-10 years ago, they would have been considered better outside linebacker prospects if they were fast enough.
Arguably, this year's class is so diverse in style and size among the top 10 that there are enough talented players that can fill up both categories in the April 26-27 draft. But the top four defensive ends – all likely to go in the first round – are each less than 280 pounds, with 270 or less their comfortable playing weights.
And that's not a bad thing.
"Pass rushers have kind of become the thing, so you'll give a little bit on size to get the pass rush," Seahawks vice president of player personnel Ruston Webster said. "He doesn't have to be 290 pounds, especially if you're in a 4-3 scheme as long as he can get up field and rush the passer. Because of that, you're going to give a little bit on the size.
"That's why you see guys these days playing at 250-255 that can really rush. So from that standpoint, maybe it has changed a little bit. That works for our scheme."
Indeed, there is no shortage of defensive ends that fit the mold of shorter, lighter and faster – although strength doesn't appear to be a problem.
Beginning with Chris Long, with Vernon Gholston, Derrick Harvey and Phillip Merling hot on his heels to get into the top 10, the quartet of top flight guys is deep and talented. Long, the Virginia All-America and son of Hall of Fame defensive lineman Howie Long, is the consensus head of the class, and possibly the first pick overall. He is 6-3, 272 and runs the 40 in 4.75 … a little bit too slow for an outside linebacker and just right for a defensive end that plays the game full throttle from the opening kickoff to the final gun.
"My dad taught me to work hard and to be the same guy every day," Long said. "If that's going 100 miles-per-hour and working hard, then that's what I'll do. I don't think of myself as doing anything extraordinary with my effort. I think that's just the way football is supposed to be played, at a high speed. I'm not a guy who does things half-speed well. So it's been pretty natural for me to go that fast.
"You want to jump off the screen when people watch film of you. Obviously everybody, all 330 guys who are here jump off the screen and that's why they're here. So the goal is to take your game to the next level so at the next level you can adjust that speed and then surpass it."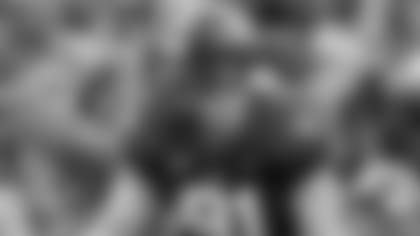 Gholston fits into a similar category, and on the heels of a spectacular workout at the Combine, has reason dramatically in the draft despite coming out a year early. At 6-3, 265, he ran the 40 in 4.67 and showed extreme agility and athleticism that makes him a possible linebacker prospect as well. On the other hand, there is his strength.
Gholston equaled the Michigan offensive tackle Jake Long with 37 reps of 225 pounds in the bench press to lead everybody. He recorded the only sack this season against his rival from Ann Arbor, had three in the big game and ironically he is one of the few Buckeyes to have grown up in Detroit.
"In high school, actually, I played linebacker, I played all around," Gholston said. "So when I got to Ohio State the biggest adjustment was becoming a defensive end, with my hand on the ground. I love playing defensive end. I love getting after the quarterback and affecting the game that way. But at the end of the day, whatever the team that picks me wants me to play, that's what I'll play."
And really, as Merling says, there appears to be a defensive end to suit everybody's taste in this draft. At 6-4 and nearly 276, Merling also played a lot of tackle at Clemson, so he's eminently capable of playing inside or out on the edge – which is what is making him more attractive to suitors. At 6-5, 271, Harvey is also bigger with more weight potential, but Miami's Calais Campbell (6-8, 290) and Kendall Langford (6-6, 287) from Hampton are more of the massive old school kind.
"You've got Chris Long, who is very powerful, Calais Campbell is big, Vernon Gholston is real athletic – there are a lot of big names in our class," Merling said. "I forgot about (Derrick) Harvey, he's real good too. There are a lot of people and we're real different. I don't think any two of the defensive ends is alike. We're all a lot different. We all
bring different things to the table so we should be able to make a lot of teams happy."
The following is an alphabetical list of the best offensive tackles in the draft by a consensus of draft information compiled by the writer, and is not reflective of the Seattle Seahawks personnel department.
Calais Campbell, Miami, 6-8, 290, 5.02
Johnny Dingle, West Virginia, 6-2, 265, 4.86
Chris Ellis, Virginia Tech, 6-4, 263, 4.71
Vernon Gholston, Ohio State, 6-3, 265, 4.67
Derrick Harvey, Florida, 6-5, 271, 4.82
Lawrence Jackson, Southern California, 6-4, 270, 4.79
Kendall Langford, Hampton, 6-6, 287, 4.94
Chris Long, Virginia, 6-3, 272, 4.75
Phillip Merling, Clemson, 6-4, 276, 4.73
Darrell Robertson, Georgia Tech, 6-4, 255, 4.76
Also considered: Wallace Gilberry, Alabama; Chris Harrington, Texas A&M; Kenny Iwebema, Iowa; Jason Jones, Eastern Michigan; Jeremy Thompson, Wake Forest.