You may know him as "KPL." DeShawn Shead calls him "P-Lou." Seahawks coaches have taken to calling him "Peanut." Say what?
The story behind that nickname tops our list of 12 things you (probably) don't know about Seahawks second-year linebacker Kevin Pierre-Louis:
1. His nickname is "Peanut"
Pierre-Louis: "There was a game last year we were playing in, and on the screen you see Bruce [Irvin], who's about 6'3, 250-something pounds, KJ's about 6'4, and then you see me – about 6 feet, 225 or such, and one of the coaches said, 'Hey, look at little Peanut.'"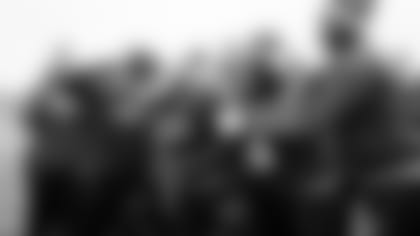 ---
2. He's a cat person
Pierre-Louis: "Right now, I just have my orange tabby, Cash. He's about 9 months old. But before, I had a bunch of reptiles. I actually brought my snake to work last year and scared the mess out of people. It was in my backpack."
---
3. His prized possession is a poster
Pierre-Louis: "It's a picture of my last game senior year of high school, with four other captains walking out to the coin toss. If there was a fire and I could grab one thing, I'd grab that. It just means the world to me."
---
4. He has a hidden talent
Pierre-Louis: "I'm very artistic. I can draw very well. I've always been told by peers I should draw more because I don't draw that often, but when I do, I'm not gonna lie: It is pretty good."
---
5. He's a picky eater
Pierre-Louis:"I won't touch anything with peppers or onions in there. No, thank you."
---
6. He's from Haiti
Pierre-Louis: "My favorite food is a bunch of Haitian dishes."
---
7. His favorite show is...
Pierre-Louis: "Oh, Game of Thrones, obviously. That's number one. Bring Jon Snow back. That's all I have to say."
---
8. He's embraced the Pacific Northwest
Pierre-Louis:"I've gone hiking a lot. Mailbox Peak kicked my butt, humbled me. I went to a roller derby game. I try do a lot of quote unquote random things, because this area has a lot to offer."
---
9. He's a fan of Katy Perry
Pierre-Louis: "But I make sure when it comes on my shuffle, I turn it down a little bit."
https://open.spotify.com/track/4lCv7b86sLynZbXhfScfm2
---
10. He's also a fan of Alaska
Pierre-Louis:"If I could vacation anywhere, I would go back to Alaska. That place is so beautiful. There's a lot of 12s out there."
---
11. His dream job is…
Pierre-Louis: "Aside from football, it would be a Marine."
---
12. He idolizes his father
Pierre-Louis:"He's the reason why I'm here. He's a single parent. He's allowed me to keep my head on my shoulders."