The Seahawks are back on the road in Week 4, heading to Detroit where they'll look to snap a two-game losing streak against a Lions team that looks to be on the rise after years of struggles.
"This is a really emerging team," Seahawks coach Pete Carroll said. "Coach (Dan) Campbell has done a great job of taking over this place and putting his stamp on it, because you can see how they play in all phases. They really get after it and they are really aggressive. I'm sure he's pleased with the progress they are making because it's a good-looking football team."
Here are five things to watch when the Seahawks and Lions face off on Sunday:
1. Can the Seahawks continue to thrive in 10 a.m. PT games?
Traveling from west to east presents a unique challenge for games that kick off in Sunday's early time slot, because for those West Coast teams, that means the game is starting at 10 a.m. Pacific Time, which means, to their body clocks at least, players are getting a very early start to their day. And for years, the Seahawks struggled in those early games, creating a sense of foreboding every time they had to go east.
Over time, however, the Seahawks have managed to turn those early starts into a non-factor. The Seahawks travel on Friday when they go east, giving players more time to adjust, and they have their own unique ways of getting players awake and energized before they leave for the stadium.
"We have a way of doing it," Carroll said. "We have a whole format of getting everybody woke up in the morning. That's the difference because you are playing at 10 o'clock. It's a real committed process and everyone is tuned in, and we have to do our part as coaches to make sure we carry out the plan and we just minimized that factor over the years. So, hopefully we can do it again."
And the Seahawks' ways of traveling east have worked well in recent years, with the Seahawks going 21-7 in their last 28 games that kick off at 10 a.m. PT. The record is even better in recent years, with the Seahawks winning 13 of their last 14 in the early time slot dating back to 2018.
"Coach has put together a great schedule for us going on the road," quarterback Geno Smith said. "We do a lot of two-day trips, especially going to the East Coast. Coach does a great job of getting us ready. You have guys like our strength staff that are fired up in the mornings on gamedays. You can hear them yelling from the room, there's music blasting, and the environment is up-tempo, so when the games come about, you have no choice but to wake up and be ready. I think the two-day trips help a little bit as well. For the most part, it's all coach and his staff in the way they get us prepared."
2. Quandre Diggs back in the Motor City.
And if the Seahawks are going to clean things up on defense after a tough outing last week, getting strong play—and perhaps even a turnover—from their Pro-Bowl safety and defensive co-captain would certainly help.
The good news for Seattle is that Diggs has had success against Goff, recording four of his 19 career interceptions against the former Rams quarterback—one in 2020, two in a 2019 game, one of which he returned for a touchdown, and one in 2018 while with the Lions. Diggs has also might enjoy facing his former team considering the success he had last season against a former teammate and close friend, quarterback Matthew Stafford. When facing his former Detroit teammate, who was traded to the Rams last season, Diggs intercepted Stafford in each of the two meetings between the Seahawks and Rams.
More than anything else, however, Diggs and the Seahawks need his return home to coincide with the entire defense taking a step forward, which brings us to…
3. How will Seattle's defense handle a high-scoring, albeit shorthanded, Lions offense.
Atlanta's ability to move the ball in big chunks of yardage was a big factor in last week's loss, and through four games Seattle's run defense—one of the team's strengths last season—has been inconsistent, leading to opponents averaging 4.9 yards per carry against Seattle this season, more than a full yard better than last year's opponent yard-per-carry average.
While the Lions' 1-2 record isn't where they'd like to be, the offense hasn't been the problem, with Detroit averaging the second most points (31.7 per game) and third most yards (409.0) in the NFL through three weeks. Dating back to last season, the Lions have scored 24 or more points in five straight games, the longest active streak of scoring 24 or more in the league.
"They've scored a lot of points, the (second) most in the NFL, and that's a real obvious contention for us," Carroll said. "We have to get after it, and we are going to need to slow down the running game that's one of the best in the NFL, and we haven't done great there. So, we have to really pick up our action on that end of it. We know a lot about the QB. We've played him a lot and we have a lot of respect for Jared (Goff) and what he does."
The biggest goal, as Carroll mentioned, will be improving a run defense that has given up 157.0 yards per game, tied for 30th in the NFL.
"Really, this game is about the ability to strike blocks, defeat blocks so you can get off and make tackles," defensive coordinator Clint Hurtt said. "That pertains to everybody whether you are a D-lineman, edge player, off the ball backer, or safety. That's what this game has always been about no matter what era you talk about playing in. So, that's the area that we need to do better."
The Lions will be short-handed, however, with leading rusher D'Andre Swift and leading receiver Amon-Ra St. Brown both ruled out due to injuries.
4. A standout rookie edge rusher vs. a pair of rookie tackles.
The Lions used the No. 2 overall pick on a local kid, selecting University of Michigan standout Aidan Hutchinson. The rookie pass-rusher has shown impressive flashes, most notably recording three sacks in a Week 2 win.
"He's doing a great job," Seahawks offensive coordinator Shane Waldron said. "Another guy you say, hey, he's a rookie, but he stepped right in and he's putting a lot of pressure on the quarterback. I know he had a three-sack game. He just does an excellent job with his pass rush lanes. His motor is nonstop. He doesn't stay blocked very long, so having the awareness of him, he's doing a great job as a rookie."
The Seahawks will counter with a pair of rookie tackles, Charles Cross on the left side and Abraham Lucas on the right side, and will go into the game with full confidence in that tackle duo, the play of which has been one of the bright spots of the season so far.
"They have done a good job right from OTAs on like I mentioned in the past," Waldron said.
"They really gave us that comfort level to jump right into our offense. Like any tackle in the league, there's going to be certain looks and certain instances where you have to protect the guys. There are elite edge rushers every week that you are going to play. This week will be the same with a great pass rush, great stunts, great blitz packages, and all of the stuff that we are going to see from Detroit. Just being mindful of that every week, but these guys came in as pros and demonstrated that they were ready to step right in and play. They have done a great job of really eliminating that rookie tag behind their names in terms of our minds as coaches. We are just out there playing football."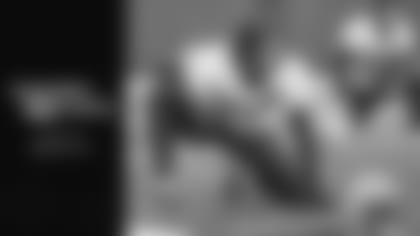 Listen To The Seahawks Insiders Podcast
Hosted by sideline reporter Jen Mueller and Seahawks Senior Digital Media Reporter John Boyle, the Seahawks Insiders podcast takes an in-depth look at each week's Seahawks game and analyzes the previous week's matchup. Available on Spotify, Apple Podcasts, and wherever else you get your podcasts.
5. Who wins in the red zone?
In one of the odder matchups in this game, the Lions and Seahawks both rank among the league's best in the red zone on one side of the ball, and among the worst on the other side of the ball.
The Seahawks have been strong on red zone defense, allowing opponents to score touchdowns on only 38.5 of trips inside the 20, a mark that ranks fourth in the NFL. On the other side of the ball, the Seahawks are scoring touchdowns on just 25 percent of their trips into the red zone, ranking 31st in the NFL. That was an issue last week when the Seahawks settled for three short field goals after failing to convert on third-and-3 or less three times.
"We've got to make our touchdowns," Carroll said. "We've got to get in the end zone. We haven't had negative plays and stuff where we break down, but we haven't converted on our third downs down there. We missed three last week, and those are huge, because you wind up having to kick the ball. Hopefully the execution we've found on third downs up to this point, we can carry it over more so in the red zone and make sure and make sure we can finish drives." 
On the flip side of those numbers has been Detroit, which seems to both score at will in the red zone while also struggling to get stops in that area. The Lions offense ranks second in the NFL, scoring touchdowns on 84.5 percent of their red-zone possessions, but their defense ranks dead last, allowing touchdowns on 90.1 percent of opponent's trips to the red zone. Whichever team can keep up their positive red-zone trend while correcting the negative one could very well emerge as the winner on Sunday.