Postgame quotes from the following:
"Most difficult loss for us today because there was so many good things that happened and it was such a great day at the stadium, the fans were ready and rocking and we wanted to reward them with a big win as well. We did so many good things and then we really hurt ourselves just too many times when you're playing a good team. The penalties were just so costly, so many first downs off penalties when we had them and really had control of the situation and it was really unfortunate that we weren't poised enough and I totally take that on myself. There was just opportunities for us to make better decisions that we didn't make. And I know sometimes I get these guys so fricking crazy that, you know, they're just going out after it. And, I mean, there was -- and I'm not even -- I don't have any question about the calls or any of that kind of stuff, I'm not talking about the refereeing or any of that. We have to do better. We have to play better with, and handle the situations so that we get the benefits of all of the good play. And we gave them way too much stuff. Like I said, you give a good team that much, they keep hanging. They're tough. They got great players and a terrific approach to the game and all that, and it came through and they won a game with it. Credit to them."
With Derek Henry, did they change things up or is that just a good back getting going over time?
"No, he had a big play. We were -- I don't know what his numbers wound up being, but they were in a game that they like, where they can keep on pounding away and they were very conservative with it and after awhile you're going to make some yards. We didn't have to give them, whatever the big one was, 60 or something whatever that was."
I know that you still have to review the tape and it's probably too early to ask, but what did you see on that play that --
"We were too aggressive on the edge. Just got Jamal (Adams) fired up about taking a shot at something and he, the combination of how we played the edge right there, the ball bounced and he's been doing that for years, he takes off and gets on the edge and nobody can take him down. All day long we fought to not let that happen and then it finally did."
The offense in the second half got the big play, but there was some three and outs there. Did anything kind of change there in the two halves?
"No. I don't think anything changed. We got, they made a mistake and we took advantage of it really well. And just not as, we just weren't as clean as we needed to be. The third downs we need to go a little bit more in our favor, keep the thing moving. But no, not in particular."
Was DK hurt? He didn't look right on that overtime.
"He was a little sore, yeah. I'm not sure exactly what it was. He banged his knee or something like that."
Do you have an update on Brandon Shell?
You said there was a lot of good stuff within the bad. Bobby Wagner 20 more tackles and the sack. Just what did you think of that?
"I thought he played a phenomenal game. And defense did a lot of great stuff. We were really aggressive and really on the attack. To hold them down like that in the running game when they really were trying, that was a good effort. You could see the line of scrimmage how many times we tackled them for nothing."
"But they stuck with it and they stayed with their philosophy. They know they got in trouble a week ago not being able to do that, and so they were able and they it won for them."
What did you think of your running game on offense today?
"I thought it was spotty. I didn't feel like we took control of it like we would like to."
Other than that play that Freddie Swain on the blown coverage, there wasn't a really big offensive spark in the second half. Did they make an adjustment? Were you not guys doing something right? What did you see?
"They played it pretty much the same. We didn't execute quite as well. But they didn't change much."
It seemed like it was kind of a feast or famine day with the pass rush, a few drives where you were able to get after Tannehill and then the rest of the game he was just kind of sitting there comfortably. Were you surprised, with them having a couple backups on the offensive line?
"We really thought that we would get more pressure just watching what happened last week, but they did a nice job and we didn't do as well as we needed to."
What was the thought behind not using your last two timeouts when the Titans were driving in regulation?
"We were ready to do that, but the ball got down, all the way down, and I didn't want to concede the opportunity right there that early, and then they scored fast enough, they left us 24-something seconds. That was about what we were going to get. Could have done that a little better."
Did they take away your tight ends more than you expected?
"No, late in the game, or middle of the third quarter some time, I made mentioned that Jamal hadn't gotten the ball much, and we had had some stuff called and we had tried to get some things done and it just didn't work out, as it happens sometimes."
But there was not a change in our approach other than we just didn't get the ball to him.
What did you see from Russell on the late-game sequences --
"The last drive, we just, we took a big shot and we missed by a hair on the sidelines and then the second down play, that's the only three plays that I thought were really of question, that we didn't handle those three plays as well as we needed to. We wound up on the goal line backed up. So we messed that sequence up getting out of there and made it really easy for them and not getting a couple first downs there and moving the football and kick it deep, at least. We didn't get that done. So, disappointed in that sequence, but that was it."
As much emphasis as you put on the fourth quarter and finishing to have this game kind of go that way, how rough is that for you?
"I mean, I hate this. I hate having to -- 24-9 at halftime, come on. We took care of the ball all day long, did a great job with the football and wound up plus and give the game away, it had to be other really big things which happened which were the penalties and the big, the two hits on the quarterback, those were huge plays for them. And the out of bounds is unnecessary. They're just unnecessary things that happened. We need to be better than that. I need to be better, I need to help our guys be better than that."
You mentioned you said you need to help your guys better and before that Derek Henry big run you'd gotten Jamal Adams juiced about something. What do you mean by you need to be better when you're talking about that?
"When there's that many plays where guys do stuff like kind of after the fact, we're trying too hard. And I get them too fricking jacked up and they're going for it and we're feisty and we're all of that, you know, that's not the first time that's happened to my guys. So that's why I got to do a better job."
Brandon Shell, do you have an update?
"I don't know. Didn't get any update. But it was an ankle sprain is what it was."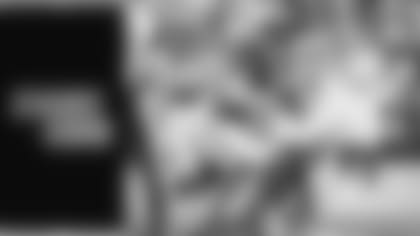 Re-live Each Game With The Seahawks Rewind Podcast
Re-live every Seahawks game this season with game highlights, player and coach postgame interviews, and a whole lot more. Available on Spotify, Apple Podcasts, and wherever else you get your podcasts.
Quarterback Russell Wilson
Russ, you guys pride yourselves on finishing. How tough is a game like that for you?
"Yeah, to lose that kind of game, we were up pretty good there in the second half and all that. The game just kind of slipped away from us. We could have played tighter across the board. They got a good football team. And they've been a playoff team for a while now. And they got good players. We got to be sharp, be on our stuff and we got to make plays. And, unfortunately, it didn't happen. We did some really great things, though. It's a journey. It's not -- you don't get to the championship over night. It takes a lot. But we could have handled that game and played better. And that's really it."
Did they do anything differently in the second half or just make it a little harder for the offense to get going?
"Not really. I think we had the ball once in the third quarter, I think. It was once in the third quarter, right? So we had the ball once in the third quarter. They had the ball for quite a bit. I think they were trying to play the game slow in a way. And we got the ball once in the third quarter. And then in the fourth quarter, we hit Freddie. And they answered back and that was kind of the end of the fourth quarter in a way. Next thing you know, in overtime. We had some unfortunate penalties and things that were good plays, this and that. On both sides of the ball. And it just didn't work out our way on those. And that's just part of the game. We still got to stay poised and answer and find a way to win. We should have had a great opportunity to win this game and it's unfortunate. But, we're staying focused on what we can do."
Russ, you guys had a great drive at the end of the half, 75 yards in less than a minute. But then did you guys take it easy and lose your edge because it came so easily in the first half?
"No, not at all. I think that they're a good football team. The reality is they got the ball in the third quarter for most of the whole quarter. I mean, we had the ball one time. And in the fourth quarter, we scored. So we didn't lose our edge there. We scored a good amount of points. They made some plays when they needed to. So I don't think we lost our edge by any means. I think across the board we could have played tighter and better. And like I said, it's unfortunate."
What did they do to take away your tight ends today?
"They didn't -- I mean, they didn't necessarily do anything in particular. I think Tyler had such a great game. He was remarkable. To think about what he did today. Freddie Swain had a great game. DK made some plays. And so, I think those guys just -- we didn't have the ball that long. But when we did make plays, those were the guys who were making them. So nothing in particular. I think that we can always get those guys the ball. There was a couple of opportunities here and there. But other guys had made -- showed up. Down the field, we took those guys. So I know -- and then the two-minute drive when we were going up and down the field, Gerald was open on a couple of them. It's a good thing to have guys that can get open and make plays."
Russ, what happened on the possession in overtime when it kind of fell apart?
"Yeah, they stopped us. We almost had Tyler on the sideline on the first play. On the second one, we tried to throw it away because it looked like something was going on over there. I'm not sure exactly. And then the third play, they just covered it well. Tried to move and make a play, you know? And then that was it. I think that, no second-guessing, we feel like we're always great in those situations. And more times than that, we're always going to be great in those, win those, make those plays. We always have. And so, it doesn't happen every time. And even when we punted the ball, we still felt like we could win the game. And they made their plays."
You're somebody who thrives in that neutral mentality and try not to get too high, too low. But afterwards, Jamal and Bobby were talking about the emotions of having the 12s back in the stands and the first home game. Did you feel like there was an element of added emotion on the sidelines that could have led to that, like, undisciplined shooting yourselves in the foot that you're talking about?
"That's a great question. I mean, I have -- I felt super poised. I felt like we were poised for the most part throughout the game. I mean, obviously, it's a football game. It's going to bring emotions. And you like that. You got to eliminate them and eliminate them throughout the process but still play with great passion. It doesn't mean that you can't play with great passion. I think there's a difference between passion and emotion. So I think the thing is that -- I think that for us, I think that as we're continuing to play to find that poise throughout the whole game. It's a long game, it's a long battle. It's a good team over here, good team over here. It's back and forth, back and forth, back and forth. They made some huge plays. Henry had that nice run after we scored."
"So it's high, and then some tough moments there. But I think that's why that neutral thing is so important. It's -- for me, in particular, playing this game for so long it's -- I know there's going to be ebbs and flows of the game. And so I think as we all talk about it, what can we do better in groups and stuff like that or whatever? I think we did a good job. Listen, we scored 30 points or whatever. We had a chance to win that game and they made some plays. That's really what it comes down to, a good football team against us. And we're a good one, too. We knew it was going to be a battle, we knew it was going to be a tough fight. We had a feeling it was going to be a long, drawn-out game that we may not even get the ball all the time, just because how they play football and they're going to hand it off quite a bit. I'm not sure how many runs he had. But they gave it to him quite a bit. But when we capitalized, we capitalized in a good way. But Chris Carson, had those two nice runs down near the goal line. But that was great by the offensive line powering that in there. Like I said, Tyler had a spectacular game, Freddie. So there was a lot of good things. But not good enough."
Apologies if this feels too prime, but how personally difficult was this week for you?
"I think that throughout the week it's been challenging in a way. You think about Trevor because he's such a good friend, one of my best friends in the world. To lose him is devastating. But I also know that he's up in heaven somewhere smiling down with my dad. And heaven's a good place. And I just think about everything's he's fought through and battled through. He didn't tell many people, just kept going, and kept trying to lead and help people and serve. And I love Trevor. You know, he was with me all day today in a good way. And, you know, I really, truly felt like, you know, all his thoughts and everything else was with me today. So I'm grateful for that and grateful for all the time we spent together. And, long days, man. We spent a lot of time together. We spent a lot of hard moments. A lot of great ones, too. A lot of great ones. And so, I wrote him on my cleats today and did some -- just some of his quotes that really kind of stuck with me always. And so, he'll forever be with me."
"But, today, just tried to, you know, once again stay neutral as possible knowing that, it was going to be a tough one in that sense. But also knowing that I've gone through some stuff in my lifetime and you lose people and people come and go. But, what I'm grateful for is he got to know God and got to know just what that's like. And, seeing him in heaven is going to be a good day one day. So he means a lot to me."
The work that you guys did together, does that prepare you in any way to deal with something like -- you know, play through something like that?
"Yeah, I think so. For sure. Without a doubt. I think all the things that we have talked about -- I think, first of all, my faith is No. 1. No. 2 is being through some things. Losing my dad is the heaviest thing I've ever dealt with, and in the highest of the high, I got drafted the day before, the next day, my dad passed away. The highest of the high and the lowest of the low within 24 hours like that. That was challenging. I think about, how my mom would always be at the hospital. That's pressure. You know, that's challenging. That's not easy. I think about all the things that just you go through throughout life, that we all go through. And we all go through different circumstances in different ways. And what I think is so important is, you know, surrender and surrounding around the right people. And that's the thing that's always kept me, blessed and knowing that, hey, you know what, know, there's going to be a better day ahead. And that's what Trevor always said. He used to always say, The best day's ahead, the best days are ahead. So I really believe that. So, in life, I think that we're going to go through all these circumstances and everything else, but we all have challenges and everything else. But I do believe our mindset is everything, how we think about things, talk about things, our language. Trevor would -- language is such a big part of it, what we say, don't say. That's part of the battle all the time, is, like, what we don't say sometimes. And, how do we speak to one another, care for one another, uplift one another. And, even as you're going through life things, but even as a team. As leaders, like, what do we say, how do we say things like that? And that's why I've spent my time and energy around that, because I know that's something that I can control. I know I'm going to go through obstacles and adversity, but if I can control my mind, that's the part that I really believe is really key. And so that's why I control my language and making sure that, Hey, I'm on the same page and the people I'm around and all that. I think that's really critical. And that's why I've invested so much time and energy amongst the mind and all that stuff. It means something to me."
"Thank you, guys. Go hawks. Thanks for all the fans who came, too, obviously. Just to see you guys, again. Obviously, we weren't able to finish it the way we wanted to, but everything we've gone through with COVID and everything else, and what everybody's going through, it was really special today just to be around the 12s again. So we'll be better and back. And we'll see you guys soon. We'll see you guys in Minnesota. Go Hawks."
Wide Receiver Tyler Lockett
On what happened offensively in the first half and what changed come the second half
"I think that Tennessee did a great job in the second half. Even on the first drive when we got the ball moving, just the fact that they kind of did a corner blitz, it caught us a little bit off guard. It kind of stopped the progression that we had moving the ball down field. I think they just had some good calls going into our last couple of drives. I don't think we were able to get first downs like we were earlier in the game and the first two quarters, which allowed us to be able to keep them on their toes. Do what we want to be able to do offensively. When you are getting three and outs and we're getting flags, it almost goes back to us shooting ourselves in the foot."
On finding the balance between being excited and not over doing it
"The game is emotional, so you're going to see a lot of emotion coming out. It's the first time we had fans back in the game, so even that type of atmosphere is going to get you pumped up. It's going to get you rowdy, all the different type of stuff. This game is way different than it was last year just because of the atmosphere and everything that we know last year brought. Everybody is ready and everybody is excited, but we also got to learn how to be able to hold our composure and be really detailed in understanding why we're getting the penalties, how can we improve from it, stuff like that. At the end of the day, all you can really do is learn from it. I think that's something that we're going to do. We've got 'Tell the truth Monday', so we'll hear a bunch of truth while we're out there. Just learning from it and getting better form it. Even if we would've won, it's the same thing, you've got to be able to learn through those wins and through those losses."
On if there was anything specifically he saw, besides the blitz, out of Tennessee today
"I just feel like that was one play that they did that they don't really show. It just happened to work out at that right time. I don't really think they did anything different that we saw. I think we adjusted to everything that they threw at us. It was more so that we just weren't able to get a rhythm in the third quarter. It kind of goes the same from the first game too. We kind of didn't have a rhythm in the third quarter as well. We've just got to be able to come out in the third and fourth quarter and just be able to finish. We see what we can do in the first half, we know what we're capable of. We've just got to be able to learn how to be able to play when we're on top."
On what the locker room vibe is like after a loss like this.
"Definitely disappointed to have the lead and give it up, and be in a position to make some plays. It's definitely not a great feeling, but it's something we can learn from. It's early in the season and so we have to watch this film and get better."
On what lessons can be learned from this.
"Just making sure we're all accountable, making sure we're doing our job, and just executing. And not hurting ourselves. We had some untimely penalties in this game, we have to clean that up. That's on us, that's nothing that they're doing. That's hurting ourselves."
On Derrick Henry getting going in the second half.
"Once he gets going and once the offensive coordinator gets a good feeling about getting him the rock, he's very talented, a very special player. He showed that today."
On the Tennessee drives in the second half.
"It's really frustrating. In a couple of those drives, we hurt ourselves. We have to get out of our way and find a way to get off the field."
On the keys to moving forward.
"We just have to be smarter. We have to look at the film. We have to understand what they did against us in the second half, that teams are going to start mimicking. We just have to play better, execute better. Definitely in big moments and big times when we really need a stop or we really need to be on our jobs and make sure that we're focused and locked in."
On what broke down on Henry's 60-yard touchdown.
"I think everybody just got really aggressive when we hit our gaps, and he bounced it outside and we left a lot of space for him in the corner, which you don't want to give. Anybody by themselves with that much space is a hard to tackle. We have to make sure that we don't leave the corner out there."
On a franchise record 20 tackles.
"It's cool, but we lost."
Strong Safety Jamal Adams
On what is going through his mind.
"A lot. Frustrated that we didn't come out on top. We beat ourselves. Hats off to Tennessee, a great football team, but we put ourselves in a hole, and just couldn't get out."
On whether Tennessee did something different to make Derrick Henry more effective in the second half.
"He just kept running the ball. Obviously, he's a top back for a reason. One of the best, if not the best, back in the league. Bigger back. Everybody has to do their job, have to stay in our gaps, as firm as possible. If we give him a little bit of a crease, he's going to hit it, because he's that good. He got rolling, and when he gets rolling, he's dangerous."
On what happened Henry's long touchdown run.
"He scored. I was behind him. We obviously didn't get him down. He scored."
"It's about just playing our gaps. We just have to stay in our gaps. If we give a little bit of a crease for a guy like Derrick Henry, he's going to hit it."
"I'm not really into going back and forth with the refs and what not. Obviously, this is an offensive league. They're going to protect the quarterback. Bang bang situation. I don't agree with it, but at the end of the day, they called it; can't happen. I have to be smarter in that situation. But, I don't really agree."
On keeping an even temperament during the game.
"We can't have those penalties. At the end of the day, we have a job to do. We have to have controlled chaos, is what I call it. It's an even keel mindset. We can't have those penalties in crucial situations. Some are ticky-tack. Like D.J. Reed on the taunting penalty. Come on, man. You're taking the passion and the emotions out of the game of football. At the end of the day, that's the rule, we have to play smarter. But, we definitely shot ourselves in the foot with a lot of our penalties, that led to points and extended drives."
On what lessons the defense should take from this game.
"Just doing our job. Just staying disciplined for four quarters. Anybody can swing in the first half, but we have to swing it in the second half as well. We gave ourselves chances, we just didn't come out on top. It was a tough ballgame. It wasn't like we didn't go out there and compete, or didn't go out there and make plays, toward the end. We gave ourselves a chance, but it didn't roll our way".
On what it was like to play in front of the 12s.
"It was phenomenal to get out there and experience the 12s. The last time I've experienced something like that was my LSU days, back in Baton Rouge. I'm not going to say who was louder, but they both were going. The 12s are phenomenal. When you can get behind fans like that, that have your back, as a defense, we feed off of that, just as well as they feed off of us. Tannehill and the Titans did a phenomenal job of controlling it. You notice that they started going tempo. When they were going tempo, they knew what we could throw at them on third down. They were just keeping us on our toes. At the end of the day, the tempo didn't affect us. We just have to continue to do our job at all times and can't get distracted by what's going on or what they're trying to disguise, in a way. At the end of the day, we didn't execute, and they did."