Featuring postgame quotes from the following: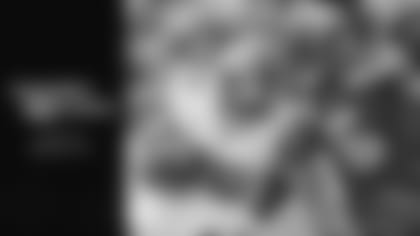 Listen To The Seahawks Insiders Podcast
Hosted by sideline reporter Jen Mueller and Seahawks Senior Digital Media Reporter John Boyle, the Seahawks Insiders podcast takes an in-depth look at each week's Seahawks game and analyzes the previous week's matchup. Available on Spotify, Apple Podcasts, and wherever else you get your podcasts.
ARTHUR SMITH: It was really awesome to watch those guys fight through that game and our players and staff, hats off to them. It's a resilient group and we were out here all week and we were able to get that win. It was a really great effort by our players and staff and really our whole football staff. I want to thank them. I'm not going to sit here and name every single person, but there's a lot that went into this trip. And very grateful, because everybody out there, it's been a great week at the University of Washington. Can't thank them enough either. Unless they're playing North Carolina, I'll be rooting on the Huskies, University of Washington, so can't thank Coach DeBoer and his staff enough either. So with that I'll open up for questions.
Q. Coach, the NFL security situation, what did they tell you about that?
ARTHUR SMITH: Yeah, all they told us was a drone, and I've probably read too many CIA fiction thrillers, maybe too many Brad Thor books. So I'm looking up, and they're telling me to get over to the sideline, there's a drone. Some interesting thoughts go through your head when they told us to go to the bench, but luckily nothing happened.
Q. And the defense on that last drive, Grady's sack on third down?
ARTHUR SMITH: Yeah. Zo (Lorenzo Carter) too right. Zo got one early in the drive. It felt like a heavyweight fight. That's a good football team, and I've got the utmost respect for Pete Carroll and his staff, and we knew it was going to be a tough environment. It's one of the better environments in all of sports. Coming up here to Seattle on the road, it's just loud. I mean they've got a reputation. And they were on brand today. So for the most part, it's never perfect. We talk about progress. There's a lot of things we can clean up and a lot of things I can do better, but very happy to get a win.
Q. The run game, you stayed with it?
ARTHUR SMITH: Absolutely.
Q. And it busted open there in the third a little bit?
ARTHUR SMITH: Yeah. Depending on the game plan, thought we'd have a little more access there for some of the other guys and so there's some things we wanted to do early, and we're never going to stay with it. It was cool to watch those guys finish the game. We needed a first, and hats off to the offense and C.P. (Cordarrelle Patterson) for finishing it out.
Q. Where do you feel like Cordarrelle is going to be progressing from last season?
ARTHUR SMITH: It's all of us. Like I tell folks all the time, it's not just speaking words. I mean even though he's 31, he's continuing to evolve, and he works to improve. And it's fun to coach him.
Q. Where did you feel like --
ARTHUR SMITH: It's just different matchups. You have different matchups up front. It's a different scheme than we've seen the first two weeks. So we'll continue to evolve. That's the whole thing is how do we get better. And you gotta be critical and objective and I'll do that on the plane. We got a big game next week at home, Cleveland. They got a couple days jump on us. So we gotta turn the page quick and get ready for a big game at home.
Q. You had talked about being better about this team but how important was it today?
ARTHUR SMITH: Absolutely. That's what it's about, Josh. You're right. I said it last week. No moral victories, but you gotta be objective and understand there's progress being made and it's good to get a win and break through. So now the challenge is can we sustain that, can we improve with the big game coming up at home.
Q. Can you assess, Marcus's performance today?
ARTHUR SMITH: Yeah. I thought like all our players, never perfect. Made some big plays for us. You know, it's the job of the quarterback, right? It's the job you signed up for, so you dissect a play or two, just like trying to be too cute before the half. I won't do that again. You try to do that, try to be greedy and it's kind of an oh, well, but it almost was whatever. So I won't do that again. But same thing with the quarterback. He's trying to make a play at the end. He made some really big-time throws, staring down the pressure, throws it to Drake London. He's hot. And no flinch in Marcus's game. Really great poise on the road. Some things we changed up that he handled really well. Situation, like I said, never perfect. Same thing with A.J. Terrell. He's got a special mindset. There he was on island again today. You talk about growth and improvement. Those guys aren't going to hide. And I appreciate both him and Marcus.
Q. A lot is made of the youth on this team, but when it really came down to it in the final moments of the game, what did you see from the veteran leaders like C.P. and Grady and Lorenzo and Sean to step up?
ARTHUR SMITH: Yeah. Those guys do a terrific job. But it's the mindset of the whole team. I've been around teams where people were wishing and hoping. It happens. And we'll continue to evaluate that. And trying to make a play, trying to do too much and the ball spit out. So, yeah, nobody wants to see that happen. But we've been around this long enough. We know you gotta play 60 minutes and maybe sometimes more, but there was no flinch on the sideline, and that's what's awesome is nobody sat there, defense said, hey, ready to go and I can't remember the exact order but I believe Zo came out, got a sack. Again, they converted one, they made a play. It felt like a heavyweight fight. It's a tough team. It's a tough place to play. I got a lot of respect. They wanted to run the ball today, so did we. And we were last team standing. So proud of our guys.
Q. What was the decision to run the defensive line when you guys ran a good portion of the game?
ARTHUR SMITH: It's how you break it down. There's so many different looks, to be multiple. I know the personnel, whether you're trying to break it down as 3-3 or 2-5 or whatever it really is. But there's multiple fronts you can play and we threw a lot of different personnel groups, and we're trying to build this thing right. Some guys got some more snaps today. Guys like Landman and Bernie. They played a little more today which was good for them. We need to continue to develop depth in these young guys and it takes everybody to win.
Q. What did you see out of Troy Andersen?
ARTHUR SMITH: Yeah. Bring him along and threw some different packages. Again, go through the tape and we'll talk about it as a staff and go put a plan in for Cleveland, see what we need to do to try to win that game.
Q. With C.P., people look at that stat line and see 141 rushing yards and 8.3 average per carry but for this offense live to get into the second level, what did you see from that group?
ARTHUR SMITH: We pride ourselves on it takes all 11, and Marcus in certain areas, and he's legitimate. You gotta account for him. So that could change your number count. But we pride ourselves on everybody is out there and blocking part of our game. We don't have receivers that take plays off. That's not our mindset. Going out there just like the linemen it's a coordinated effort, and those guys were finishing and they sprung that big run by C.P. So really good effort by our team. Like I said, it wasn't perfect. We know we got things to clean up.
Q. The timing of the stoppage it looked like the run game was rolling there. Were you at all frustrated?
ARTHUR SMITH: No. Talking about the drone?
ARTHUR SMITH: It is what it is, you know. You can control the things you want to. Nobody can control that. I appreciate the people looking out for everybody that's in that stadium. I mean as we all know, there are some bizarre things that can happen around the world. I'd rather be safe. So that didn't frustrate me.
Q. You watched Colby a little bit. What was your sense of how he played left guard?
ARTHUR SMITH: Colby Gossett? Thought he played pretty solid. I'll have to watch the film but thought it was a pretty productive day on the offense. We punted once. Obviously we're greedy. We were three for four in the red zone. Really that's seven -- is that right? Fact check me. Four for seven on third down. Had a lot of third downs. That means probably a pretty efficient day.
Q. Have you ever been involved in something like that with a drone?
ARTHUR SMITH: Not with a drone, that I can remember. I think the game got slowed down when something caught on fire a couple years ago in Tennessee in pregame. I think it slowed the game down for a second, but not a drone, not that I can think of.
Q. And how pleased have you been with Dre?
ARTHUR SMITH: Very. I've been pleased with a lot of those young guys, Tyler, Bernie. All those guys contributed. Frank Darby. Frank's done a good job and with the plan, and happy to see him out there and contributing. Feleipe a little bit. And got so many young guys that are stepping up.
Q. Marcus, two close ones. How big of a win was this for you all?
MARCUS MARIOTA: Huge. Huge. You know, to start 1-2 is always tough. You kind of dig yourself in a little bit of a hole. But it says a lot about our guys, their ability to bounce back, and that was a huge win for us.
Q. And the running game, it looked like y'all stayed with it and finally started to break some runs there and took control of the game a little bit with it. Was that the plan there?
MARCUS MARIOTA: Yeah. And that's sometimes how it's gotta be, right? Seattle did a great job early on of kind of boxing us in, and we made some plays in the passing game. Once you're able to do that, it loosens it up, and our guys up front did a great job with just kind of pushing that line of scrimmage, and we found some ways to break runs and really broke the game open for us.
Q. It looked like really you all eight passes went to Kyle Pitts in the first half, and I don't know if they took them away or what that helped to open the run game, that y'all were going down field and so forth?
MARCUS MARIOTA: Yeah, yeah. Absolutely. And that's kind of the intent, right, is to be able to be multiple. Our guys did a great job of making plays in the pass game early to be able to open that up in the run game, and guys made plays.
Q. And that's a tough one, the fumble, RPOs, but what happened, and you tried to pull it or you tried to take it?
MARCUS MARIOTA: Yeah. That's on me. You know, in that situation just being smarter with the football. Selfishly I was trying to go close it myself. You know, I thought I could have got around the corner there. But it's all part of this learning process. You got a young back. This is my third game, again, for a couple of years. And those are processes, those are things that we'll continue to grow on and things we'll work out.
Q. And on Drake's touchdown pass, was that a hot read? Looked like they were on him pretty quick.
MARCUS MARIOTA: Yeah. And, again, Drake just his ability, his natural ability to feel zones. He felt it right away once the guy vacated it, that he could look quick. And it's always, like I said before, it's always nice to throw a four, five-yard pass for a touchdown. And he made some incredible moves after that. But hats off to the kid. He's got good feel.
Q. What does it say about moving forward that you guys were able to overcome drone delays and fumble and being able to come through with a win, moving forward from a psychological standpoint of the team?
MARCUS MARIOTA: I think a lot of credit is due to our guys, for sure. It's kind of a weird deal with the drone, but then a couple plays later we fumble and our defense comes out and makes a play. You know, the last couple weeks we were just talking about playing complementary football. You know, sometimes offense is going to stumble, defense has gotta be able to pick it up, and they did at the end. You know, as for us as an offense we're going to have to go make plays sometimes, and that's just the way it is. And in order for our team to be good and to win these games, you gotta be able to have those moments, and our guys on defense did a great job of pulling it out at the end.
Q. Do you feel a sense of relief of getting your first win?
MARCUS MARIOTA: Not necessarily relief. I think the expectation for us, especially these first couple weeks, you know, were to win games. So it feels good. Not necessarily like a relief. I think our expectation as a team is to be playing in games like this, to continue to win and put some of these together.
(On the defense closing it out and his sack at the end) "We definitely had to go out there and close it out. We just had to respond. We talked to each other as a team and how we need to play complimentary football. We had the offense's back when they made that mistake because they put up some points for us when we were struggling. We came through at the end, got a nice sack on third down and got a nice pick by [safety] Richie Grant on fourth down so the defense came through and helped the team get a win today, but it took a team effort."
(On sticking with it on defense after giving up almost 300 yards in the first half) "It was definitely a tough mentality to be able to keep our heads down and keep working. We talked about just making something happen. Everything wouldn't go our way, but we have to be able to outlast and keep going, and that's what we did today. I'm happy to be able to come out with a win."
(On what they did to slow down Seattle's run game) "We definitely tried to find an answer for it. It got going hot early with [Rashaad] Penny and we knew that they were going to try and run downhill and we tried to make some adjustments. We made some, but they still got a little too much on the ground today. We need to do better across the board against the run. But at the end of the day, we got the win and that's what counts."
(On getting the win after two close games to begin the season) "Super gratifying. Super tough losses that we too, the first two games. To be able to win a tough one on the road in a hectic environment, that's going to propel us in the right direction. It's just something that we could overcome and not have that dark cloud when something goes wrong like here we go again. We were able to overcome and get a stop."
(On what it says about the defense being able to close out the last drive) "That was big. Our identity is something that we pride ourselves off of, just being able to finish a game off. We weren't able to get those done the past two weeks. Coming in at halftime, just understanding that we need to finish the game. We came up with a pick and two sacks which gave us a lot of juice during the end of the game."
(On if they thought the game could end up like the first two weeks with close losses) "It's always in the back of your head. You can't say it's not, but this team is incredibly resilient. We have a great group of guys that definitely come out and fight until the finish so we knew we were going to come away with this one."
(On how they were able to close this game out) "It's the NFL. It's hard to win. You never know which way it's going to go. We're going to finish the fight every week and we'll see what happens from there."
(On only having one false start in Seattle) "Like I said, it's just resiliency. You can say that for the entire team. This offensive line is incredibly tight. We flow really well together and I'm excited to see what we can do for the rest of the year."
(On what it's like blocking for Cordarrelle Patterson) "It's incredible. The guy can do whatever he wants to do back there. It's nice to have a group of guys like our offensive line and we can communicate and get him open and watch him run down the field."
(On what the locker room was like after two close losses and then a close win) "It's a great time. You have [owner] Arthur Blank's birthday coming up on Tuesday so it's great to get that win for him and it's incredible to see the guys with a smile on their face and everyone enjoying their day."
(On sticking with the run game and finding success) "That's just part of being an offensive lineman. We're going to sit there and we're going to hammer away and chip away until we can break one off."
(On his performance) "I've got to give all my hats off to the offensive line and coach Smith. The tight ends, they were blocking their butts off. They're doing what they're supposed to do, man. Tight ends, you think they always want to catch the ball, but you look on the perimeter, you've got Avery Williams blocking, Feleipe, Kyle, you got Drake out there busting his butt off. All those receivers do a good job blocking. As a great receiver, you've got to block, too. You can't always just get the ball."
(On what goes through his head when he ponders his lofty stats) "Honestly, man, I love football so much, I don't think there's really one guy in this world who loves football as much as I love football, I just like to have fun and enjoy it the way I do, man. It's a kids' game, and I have so much fun playing this game. I enjoy myself, man. I don't really care about the stats. When my number is called, I'm going to go out there and ball out. That's just what I do."
(On having so many open runs) "At first they did a heck of a job. I felt like they knew what we were going to do. But like I said, the offensive line, they stepped up big. They step up big each and every week, man. I couldn't do it without the offensive line, man. I've got high praise for those guys. Unbelievable work with what coach Ledford does with those boys. Each and every day, they really work harder than everybody else on this team, and that's no BS. They work so hard."
(On when it feels like he's in kick-return mode) "As soon as I get the ball. I just feel like, this is a kickoff return, let's get a touchdown. That's just my mindset every time I touch the ball."
(On his big third-quarter run) "Honestly, they were playing us so good, all game, we were running it, they knew where we were going. I just felt they had our game plan down. But I just seen a crease on the backside, and Feleipe, Avery, they did a heck of a job down there, just blocking and gave me the crease."
(On O-line play) "You know it's good when the offensive line says, "Let's run this play, and let's run this play.' They were feeling themselves a lot today. And I loved it. My offensive line, they get that aggression in them, and nobody can stop them, man. They are so dominant. Like I said earlier, the way they put the work in is unbelievable."
(On pregame preparation) "Coach let all of us speak last night. Everybody said some good stuff. To come out and get that win, you know, we've been away for eight days, I told them there ain't no way I'm coming home with an L, man. My family would kill me if I come home from being gone that long and lose. But it was great. I just appreciate every guy in this locker room."
(On if he saw the drone) "I did not see it. I wish I would have saw it. We all said they were just trying to slow us down, because we knew they were. But we was going. We was rolling. They can say it was a drone, but I don't believe it."
(On what Cordarrelle Patterson brings to the offense and what it does for him) "It opens it up. You have to stop the run, stop the pass, and he does a great job running hard for as big as he is. He's a great leader and he helps this offense."
(On how they were able to exploit Seattle's pass defense today) "I would just say conceptually just beating some of their defense and their matchups."
(On what was going through his head during Drake London's touchdown in the third quarter) "I was on the other side so I didn't see who he had, but when he scored, I knew I was happy for him because he's been doing a great job."
(On having a team meeting last night and what it meant coming into today) "It kind of put it into perspective. We're all in this together and there's things that we said that I would say brought us even closer. This week, in terms of camaraderie, I feel like that brought us closer and helped us get this win."
(On how impressed he's been with Drake London's impact already) "Specifically speaking, I've been trying to working on myself, but he's doing a great job on the outside and we try to get better each week."
The Seahawks take to Lumen Field for their second home game of the 2022 season against the Atlanta Falcons on September 25, 2022.