To say last year's Seahawks scrimmage is still clear in C.J. Wallace's mind would be an understatement.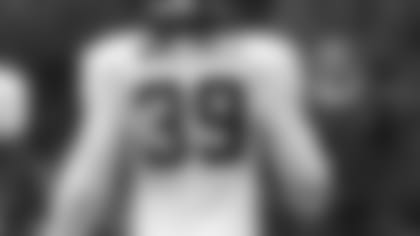 As a rookie free agent safety from the University of Washington, he felt he was doing only what he was paid to do - play football at the highest level possible, even if it was against his own teammates.
And from any perspective, it set the stage for him to make the team.
"I remember that scrimmage last year like it was yesterday," Wallace said. "I think that's what started my NFL career - things really took off for me after that."
So when the Seahawks meet Saturday at 11 a.m. at Qwest Field for their annual intrasquad scrimmage, it will be the first time the rookies get an opportunity to show what they're learned in practice without the benefit of coaches in their ear as it is in practice. And perhaps more importantly, they'll be not only hitting, but tackling.
Coach Mike Holmgren gave the rookie free agents his annual speech that includes, "Don't let us cut you," and Wallace - the old pro - emphasized that to this year's crop.
"I talk to some of the younger guys and tell them I was in the same position last year and it's a good opportunity to show what they can do," said Wallace, a second team safety and stalwart on special teams. "We don't really hit as much in practice, so you get the chance to prove what you can do in live action. So this is really a big opportunity to take it to another level. It's not only another opportunity for them, but for me too.
"Having a crowd there is a big difference. The play is more serious, your adrenaline gets going and everybody plays faster. It's like a boost of energy. It's an energy that seems like a game."
Two good examples of being in Wallace's shoes are former Washington State wide receiver Michael Bumpus and Texas Christian linebacker David Hawthorne. Both are ignoring that bubble they're playing within and just doing their jobs. Some days are better than other days.
The scrimmage will be the biggest day.
"I'm excited for tomorrow - it's a game day for me and I'm going to treat it like a game day," Bumpus said. "I'm going to get to sleep early tonight and make sure I'm ready to go tomorrow. You've got to have tunnel vision coming here as a rookie free agent. Guys are all at different levels here. Some are established starters, two-year guys who are pretty solid in their positions, and then there is a guy like me.
"I know every practice; every day is a job interview for me. And I treat that way. I'm serious, but at the same time you can't be too serious. You have to realize what the situation is and take full advantage of it."
Whereas the 5-11, 195-pound Bumpus will be all about catching punts, making receptions and hitting his blocks during running plays, Hawthorne is in the same boat as Wallace was in last year. As a linebacker, he certainly won't hold anything back.
And with the adrenaline rush from the crowd, he should be that much more effective.
"Tomorrow gives me an opportunity to play at a higher competitive level," said the 6-foot, 240-pound Hawthorne. "Not only will be running around, but we'll be more competitive hitting because we can tackle. That will be a difference. It will be the time I can put everything together that I've been learning and show the staff what I can do in a live situation. A crowd will give us a momentum boost.
"I've done a pretty good job of not counting the numbers and let my play on the field dictate what's going to happen. All I can do is go out every day giving it my best and they can evaluate it. I've learned a lot. There are a lot of coaches helping me with the little things. I've got a lot better grasp on everything that I had in that first minicamp and I'm pump up for tomorrow. That will be my kind of game."
That was certainly the case for Wallace. He did make big hits that would have turned heads whether it was a scrimmage, or the Super Bowl. But that's what seizing the day was all about for Wallace in the game last year at Memorial Stadium.
Saturday will be that day for another rookie free agent at Qwest Field.
"My defensive coaches assured me I was just doing what I was supposed to do. They told me to let it loose and that's what I did. That's how I played. I knew I could play with these guys, but I think the scrimmage played a big role toward showing the coaching staff that I can."
---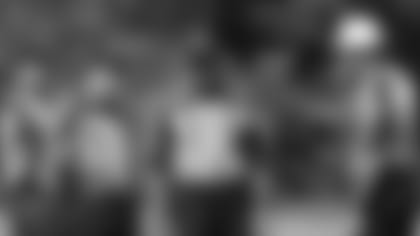 The officiating crew that will handle the scrimmage Saturday was at practice for the second day on Friday and spoke to the media. Referee Pete Morelli, and head linesman George Hayward, back judge Kirk Dornan and side judge Greg Wilson were on hand to discuss the six rule changes for the coming season.
There no longer is a force out rule, which previously was called if a player was deemed capable of making a catch or retaining possession of a fumble but a hit prevented it. Now, if the hit take a player out of bounds, it will not be ruled a possession.
There no longer will be a 5-yard facemask penalty. If a player gets his hands on a facemask or any part of the helmet and releases immediately, it won't be a penalty. If he does not release, it will be a 15-yard penalty and the player is subject to discipline.
There will be a defensive player on the field with a communications speaker in his helmet other than the quarterback. There may not be two players on the field at the same time with a speaker or it's a 5-yard penalty. Also any player with a helmet must check into the game or it's also a 5-yard penalty.
A muffed snap is now a live ball, as opposed to previously it was the same as incomplete pass. A forward handoff, although a penalty, if fumbled can be recovered and advanced by the opposing team – and they would decline the penalty.
Any field goal or extra point may be reviewed unless it goes over the uprights, and then it may not be reviewed.
A team that wins the opening coin toss may not defer the decision to receive the kickoff until the second half. Previously, if you opted to kickoff, you would not have the option in the second half.
---
Running back Julius Jones comparing Seahawks training camp to the Cowboys:
"Well the atmosphere out there (with the Cowboys) is like a circus. Not in a bad way, but people will take their summer vacation to come watch the Cowboys do training camp, if that tells you anything. Here, you might get a couple of families coming to watch practice, but here you get to know your teammates really well.
"There are no outside distractions or anything like that. It seems to work really well for me. It doesn't bother me. Of course, I'd rather be living in a hotel than a dorm room, sharing a bathroom with 20 other guys."
---
The young receivers all looked particularly good Thursday morning, with Ben Obomanu going high into the air to snatch a throw from Matt Hasselbeck, but Jordan Kent topped it at the goal line, using all of his 6-4, 220 pounds to bring down what was a touchdown pass. During the two-minute drill, Hasselbeck hit rookie John Carlson with a big third down pass that led to a touchdown run from Leonard Weaver. The second team took over, and Seneca Wallace hit Joe Newton on a clutch fourth-down connection, and that ultimately led to a touchdown pass from Wallace to Joel Filani to end practice.
The afternoon special teams practice was a 45-minute run that went smoothly as coach Bruce DeHaven barked out instructions with his mobile voice amplifier. Obomanu looked particularly good returning punts. ... Scrimmage tickets will be available at all Ticketmaster outlets in the Puget Sound region and ticketmaster.com. Ticket prices are $12 for adults, $5 for youth (ages 6-17) and children under the age of five are free. Qwest Field gates open for the 90-minute scrimmage at 9 a.m. ... All proceeds from the scrimmage will benefit "Play It Smart" programs in King & Pierce Counties. The Seahawks, in partnership with the National Football Foundation, fund "Play It Smart" programs at Clover Park and Rainier Beach High Schools during the 2008-09 school year.