Tyler Lockett sat on the bench with his head buried in his hands, trying to come to grips with, what for him at least, is one of the rarest occurrences in football. 
Lockett didn't just drop a pass, he dropped a perfectly thrown ball from Geno Smith that should have given the Seahawks a touchdown and a seven-point lead. It was a stunning miscue for a player who throughout his career has been one of the most sure-handed receivers in the game, and instead of a touchdown and a seven-point lead, the Seahawks settled for a field goal that gave them a 13-10 lead, and the Giants responded with a field-goal drive of their own to tie the game early in the fourth quarter. 
It was the second costly mistake in the game for Lockett, who since joining the team in 2015 has been one of Seattle's most dependable players. In the second quarter, with the Seahawks backed up near at their own 2-yard line, Smith dumped off a quick pass to Lockett, who just as he secured the catch had the ball stripped by cornerback Adoree' Jackson, who also recovered the ball, giving the Giants possession at the 2 to set up their only touchdown of the game.
So after the drop, Lockett was visibly upset, and in between that play and Seattle's next offensive possession, Seahawks coach Pete Carroll went over to Lockett to give his veteran receiver a pick-me-up. 
"I told him he's the best receiver I've ever seen," Carroll said. "You're going to do something; I can't wait. You're going to score twice. I know something is going to happen right here. Anyway, it's no prophecy. It's just loving the kid up because he is who he is, an amazing player."
"He was disappointed. He's trying to be the leader and he's one of the great players to ever play this game, and so he's got high expectations for himself. I love him, and that's it. Just loved him up. Just like he deserved."
Carroll's prediction didn't quite come true, because Lockett only scored once, but it was a massive play in an eventual 27-13 win over the Giants. After New York tied the game early in the fourth quarter, Geno Smith went about carving up the Giants defense with his and the offense's best drive of the game. Smith started the drive with a quick pass to DK Metcalf for 11 yards, then hit Marquise Goodwin with a quick pass to beat a blitz for another 6 yards. Next up was a 12-yard catch and run by Lockett down the sideline, followed by a 13-yard pass to Metcalf. That set up first down from the 33-yard line, and recognizing the aggressive tendencies shown by Jackson, Lockett ran a double move that left Jackson in the dust, and this time when Smith delivered a strike, Lockett secured the catch for the go-ahead score and a lead the Seahawks would never relinquish. 
Despite Lockett's struggles earlier in the game, it surprised no one that he came through in a big moment. 
"Tyler is the best receiver I've ever been around," Carroll said. "I've never seen anybody do all the things so consistently for such a long time. Of course, he's going to make a double move and score a touchdown. Of course, he's going to come back. I told him I think you're going to get two. Before it happened I just had a feeling he was going to do something and sure enough he runs just a great double move and gets in the end zone just to let you know who he is again. Everybody is going to make a mistake sometime."
Lockett, like everyone else at Lumen Field and watching at home, also struggled to wrap his head around the fact that he dropped a pass, but he also knew there was a lot of game left and that he couldn't let that play, or the fumble before it, define his day. 
"When I dropped the pass it was kind of one of those things where I couldn't believe I had just done that," said Lockett. "It was kind of frustrating, but I just had to breathe a little bit. I had a lot of teammates behind me, talking to me. Pete was able to come talk to me. I just had to breathe, man, that was the biggest thing. Luckily, I had an opportunity just to be able to go out there and be able to overcome it just with another play. Sometimes that might not even happen, and you have to be able to carry that to the next week and try to overcome it. Just thank God I got the opportunity to overcome it with the next play. Geno threw a great pass and I was able to catch it and secure it and score."
On Carroll telling him he was the best receiver he's ever been around, Lockett joked that he wasn't sure if Carroll was being serious or just trying to help him move past the play. 
"I didn't really know if he was telling me the truth, or if he just wanted me to forget about the catch," he said. "It really did mean a lot to me when he said that. It's kind of like what (receivers coach) Sanjay (Lal) says, if we have a bad day, and DK was doing it today, too, he'll ask 'What did you eat for breakfast?' Because it just mentally takes you out of what's going on and makes you think about something else. So, when Pete did that it kind of did that to me a little bit. It was just one of those things where you need to be able to fight through adversity. Sometimes you don't like the story of how things happen, but if we ever knew what the outcome was going to be, we would be willing to go through that story. I just was able to go through that today."
And for both Lockett and Metcalf, the day required fighting through some adversity before the game even started. Both players were dealing with injuries coming into the game that had them listed as questionable, and both were limited in their workload during the week. And yet both came through with touchdown receptions, and both made plays in the biggest moments, including that aforementioned touchdown drive. 
"For both those guys to play, Lockett got hurt on Thursday, I think it was Thursday the last play of practice he got a little thing going in his rib cage, but he never wavered," Carroll said. "He was going to play. When DK showed up in Friday's practice, we didn't know if he could play or not. We didn't know if he could go. He ripped around the field, showed us he could do it. However he pulled that together, that was a phenomenal effort by him to hang through it, and then to play like that, too, and play great football for us. Those two guys, they're just champions, man."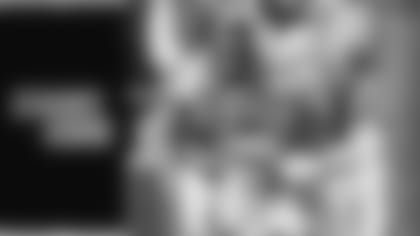 Re-live Each Game With The Seahawks Rewind Podcast
Re-live every Seahawks game this season with game highlights, player and coach postgame interviews, and a whole lot more. Available on Spotify, Apple Podcasts, and wherever else you get your podcasts.
And no moment defined the championship-level play of that duo that the way Lockett came through in a clutch moment even on a day when so much had gone wrong up until that point. 
"What I've learned with Tyler is that if he drops 10, be on the lookout for the next 10, because he's going to make a spectacular play somewhere in there," Metcalf said. "I've played with him for four years now, he's been the same person since day one. Always works hard, always reliable, and like a big brother to me. I'm just happy I get to play with him."
Check out some of the best action shots from Seahawks vs. Giants at Lumen Field on October 30, 2022. Game action photos are presented by Washington's Lottery.