Ahead of this week's NFL Scouting Combine in Indianapolis, Ind. where more than 300 NFL hopefuls will gather for a series of on-the-field and off-the-field workouts in front of representatives from each of the League's 32 teams, NFL Media draft guru Mike Mayock fielded questions on some of football's top professional prospects.
Three key takeaways - from a local standpoint - to come from Mayock's nearly three-hour conference call with reporters are outlined below.
1. It's A Deep Draft For Running Backs
In his 30-second opening on Monday, Mayock called this year's draft "particularly deep" at the running back position.
Mayock said he has eight running backs with a third-round grade or better, including Gordon and Gurley, players Mayock has off the board in the first round - something that hasn't happened in either of the past two drafts. He gives second-round grades to Abdullah, Johnson, Coleman, and Boise State's Jay Ajayi and third-round grades to Northern Iowa's David Johnson and Alabama's T.J. Yeldon.
The Seahawks last used a draft pick on a running back when they selected Christine Michael out of Texas A&M in the second round of the 2013 draft. The year prior, the team nabbed Robert Turbin in the fourth round out of Utah State. 
Michael and Turbin, along with incumbent starter Marshawn Lynch, make up the current state of the Seahawks' backfield. But with head coach Pete Carroll and general manager John Schneider acknowledging Lynch is mulling retirement, it's a position group worth getting to know as the Seahawks move closer to May's draft.
2. Bow Down To Washington
As tough as it is for this Washington State Cougar to admit, the Washington Huskies have a lot of talent on the defensive side of the football that's expected to go early in the 2015 draft.
Defensive tackle Danny Shelton, cornerback Marcus Peters, linebacker/running back/safety Shaq Thompson, and linebacker Hau'oli Kikaha each earned high praise from Mayock on Monday.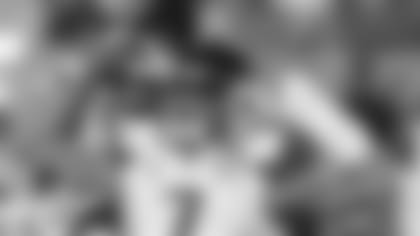 On Shelton: "Shelton is a top-10 pick for me. I love him. Reminds me of [Baltimore Ravens defensive tackle] Haloti Ngata, I think everybody sees that comparison. Powerful, better feet than you think, and I'm surprised at how many snaps he can play at a high level."
On Kikaha: "Had a couple ACLs [injuries] early in his career. Has played, been healthy the last two years. Great motor off the edge. Has some edge skills, not as long as you would like. I'm anxious to see what he learns and how he looks. I think he could be a second- or third-round edge rusher."
On Peters: "Peters is a top-20 player just off tape. Love him as a press corner. My only issue with Peters on the field is he gets sloppy in off-coverage. I think he's much better when his concentration is fully engaged in the press. I don't think he's as good off. Obviously, you've got to qualify all the off-the-field issues."
On Thompson: "Shaq Thompson is one of the most fun guys to watch on tape this year. I know GMs that are looking at him as a running back, linebacker, and safety. Most teams as a linebacker. I've got him as a safety. He can be a Kam Chancellor type on first down in your base and then drop down and play linebacker in your dime, and that's really important in today's world."
3. What Will The Seahawks Do In Round One?
Coming off its Super Bowl XLVIII championship last year, Seattle traded the No. 32 overall pick to the Minnesota Vikings for second- (No. 40 overall) and fourth-round (No. 108 overall) picks. The Seahawks made their first selection of the 2014 draft when they took wide receiver Paul Richardson at No. 45 overall, a pick that came after the club traded down again, this time with the Detroit Lions.
The year prior saw the Seahawks trade their first-round pick (No. 25 overall) to the Vikings as part of the deal to acquire wide receiver Percy Harvin. The team's first choice in the 2013 draft came in the second-round with the running back Michael, taken at No. 62 overall after the Seahawks had traded down with the Baltimore Ravens.
The last time the Seahawks actually made a pick in round one came in 2012 when they selected linebacker/pass rusher Bruce Irvin at No. 15 overall. Like the past two drafts, the Irvin pick came after the team had traded down for more picks, moving out of the No. 12 spot in a deal with the Philadelphia Eagles.
In this year's first round, the Seahawks own the No. 31 overall selection. At that spot, Mayock said he can see Seattle jumping on a player it likes but didn't expect to become available, or trading out of the slot because of the success it's had in years past.
"I think the teams that consistently draft late - the New England's, the Seattle's, the Green Bay's, the Baltimore's - have got really good at trading down," said Mayock. "The reason they do so is there may be a guy that they fall in love with, in this case No. 31 in Seattle, all the sudden, 'Well, we need a tailback and Todd Gurley's still there.' Well, you don't trade down because there's a pretty good chance he won't be there. However, if somebody's going to come up to get a quarterback ... move down, pick up an extra pick or two, and you still know that there's going to be a group of players available to you a few picks later that you're OK with."
Mayock said the call of whether or not a team will trade down usually doesn't come until the day of the draft.
"I think it becomes a situation where you don't make that decision in February, or even April," he said. "You wait until you're getting closer on the clock and you're going, 'Hey, we're three picks away and here's five kids we're happy with. If somebody wants to come up and get that third quarterback or whoever, sure, we'll move down.'"
If you're interested, the full audio file & transcript from today's call with Mayock can be found right here.