The irony can't be lost on Seneca Wallace, in his sixth year for the Seahawks.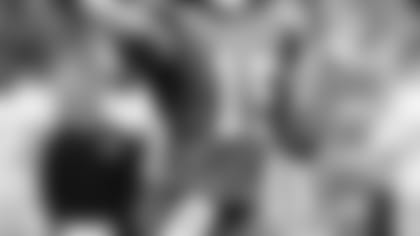 The shouts are always out for the 5-11, 205-pound uber-athlete. You know Wallace, always in perfect shape, winning the sprints during strength-and-conditioning workouts, maturing into a superb passer, always piquing the possibilities as a wide receiver and kick returner.
He always has wanted to play any time possible at any position. At the same time, he would battle in his own mind the desire to be on the field while overflowing with gratitude that Seahawks coach Mike Holmgren – drafting him in the fifth round of the 2003 draft out of Iowa State – opted to develop him into a quarterback and not move him to wide receiver or defensive back as so many other teams would have.
He was presumed to make his first significant debut at wide receiver at Qwest Field against the San Francisco 49ers in this season's second game only to strain a calf muscle in warmups making a cut. He couldn't play. He was out indefinitely. Gradually, he worked his way back, ready to go after the bye week for Game 4 against the New York Giants. At the same time, both Bobby Engram and Deion Branch had worked their way back to health as the primary receivers – so Wallace was back to being the backup quarterback.
Although starter Matt Hasselbeck hyperextended his knee during the first series of the game, Wallace didn't come in until late in the third quarter and finished 3-of-6 for 20 yards in the loss. Nonetheless, when it was discovered there was more to Hasselbeck's problem than just the knee, it was apparent that he wouldn't play last week against the Green Bay Packers. But by Wednesday morning, Wallace had aggravated the calf and that left Charlie Frye to start in the 27-17 loss to the Packers.
And at this point, Holmgren won't commit to Wallace for Sunday's game at Tampa Bay unless he proves to be mobile enough to play his normal game.
"I feel good," Wallace said after splitting reps with Frye on Wednesday. "There are different plays in the game, but I feel good out here, so we'll see. We'll take it day by day and see what happen. It's part of my game to be moving around, creating plays using my legs. If those things aren't working, it's tough."
Holmgren said depending on whom starts wouldn't change the game plan except for a few tweaks here or there, but the preference is to go with Wallace considering his experience, his impressive 2-2 record in 2006 when Hasselbeck went down with a knee injury, and his general explosiveness when healthy.
The operative word in this case being *healthy, *presuming he can utilize the combination of speed and elusiveness. If he doesn't have it, Holmgren will go with Frye.
"That's a part of his game that he will do naturally, he'll just react, and as a result, you could irritate an existing injury, perhaps," Holmgren said. "If he decides to favor it too much or he's too aware of that, then the decision (is): are you better off going with Charlie? That's the puzzle a little bit this week. So we'll see how it goes and see how he feels at the end of the week."
"I think that when (Wallace) had the opportunity to play in games when Matt was hurt before, with less experience than he has now, I thought he played quite well. He made some mistakes, but he had some very good games, too. I think you saw glimpses of how he could be and how he prepared when the team was his for a week. And then it's a judgment call. I've seen a lot of quarterbacks, I've coached a lot of quarterbacks, and you rely on that experience and just compare and contrast. I really like him a lot. He's proven to me that he can play, and play well."
It doesn't make it any easier for the receivers either, because Wallace and Frye are so divergent in their abilities to move in and around the pocket and the delivery of the ball. Plus Engram and Branch, in particular, have far more experience with Wallace in games and practice.
"It's tough on the entire team, especially the quarterbacks, because they don't know how to prepare—who's going to start, who's not going to start," Engram said. "But we're all professionals. We've got confidence in all of our guys. We just need to rally around them and just make plays. That's what we need to focus on: getting better in practice and having that carry over to the game."
Nonetheless, the last thing Wallace wants to do is pass up a start. It's that quandary of understanding whether he is healthy enough to play or hurting the team because he isn't capable of playing instinctively. He may not even know it until game-time and that's part of what the entire situation more difficult for both he and Holmgren.
And that's why he and Frye split reps on Wednesday, not ideal, but better than no reps at all.
"It's a fine line," Wallace said. "It's difficult to manage that, but you got to get a lot of mental reps, do the same thing that I normally do if Matt was starting the game. I've just got to get the mental reps, and when I get my plays, make sure I take advantage of them."
"(But) yeah, it was good day."
Quotable
Mike Holmgren on hiring Bucs coach Jon Gruden as a quality control assistant with the 49ers, the first such job in the NFL, including Gruden sleeping his car:
"Actually, I was the (offensive) coordinator and I was allowed to have the first quality control coach in the league. I interviewed Jon and I interviewed Greg Knapp, who is the coordinator in Oakland. I told Jon, 'You have a full-time job at the University of Pacific (Walt Harris was the head coach at the time). All I can offer you is six months, probably. I don't know if they'll keep you. It's not much money.' And he said, 'No. I want to do this.'
"And then the second thing was, I said, 'Okay, we're going to (incorporate) some computers into this for the first time. Do you know how to work computers?' And he said, 'No.' I said, 'Well, I'm going on vacation for a month. When I get back, I want you to be an expert in computers.' And he did that. And he is a whiz-bang with computers now. I mean, he's unbelievable. One of the harder-working guys I've ever hired."
Hasselbeck continues to work
There is no particular update on the condition of starting quarterback Matt Hasselbeck and the bulging disk that caused weakness in his right leg, other than he now has a specific regimen of treatment and exercise he will follow after seeing a specialist in Los Angeles on Monday.
The hope still remains he will be able to play next week at San Francisco. Of course, there are no guarantees at this point.
"He was working very hard today on his rehab," Holmgren said. "They've got him on this program. He will not play Sunday. The optimists in the crowd hope he can play against San Francisco the following week."
What wasn't understood was how and when the disk problem occurred. His back was bothering him after a hit in the opening preseason game against Minnesota in the first quarter. He had treatment and it limited him extensively throughout the preseason.
What wasn't realized was a pre-existing condition had already transpired, but Holmgren refuses to pin the struggling passing game thus far on Hasselbeck – particularly when you consider the loss of Branch, Engram and Nate Burleson, Ben Obomanu and Logan Payne … not to mention Wallace.
"He got treated and it kind of went away; it was symptomatic," Holmgren said. "It went away, and he played in the games. He might've been a little stiff, and on a long plane ride from, like, New York, as an example, where he had the knee thing, he was probably sitting there and that probably didn't help much. I don't think that has contributed to his performance. I think his performance is a direct result of our injury situation at wide receiver."
This and that
The Seahawks re-signed wide receiver punt-returner Michael Bumpus to the practice squad, and Holmgren said Justin Forsett, signed to the 53-man roster on Monday, will return both punts and kickoffs. …  The Seahawks are taking it slow this week with Deion Branch (heel), Koren Robinson (knee) and Deon Grant (knee), none of whom practiced on Wednesday, but the hope is all three will play Sunday. Tight end Will Heller didn't practice and probably won't this week with an injured right knee. Wednesday was the first full practice for second-year linebacker Will Herring, who was on the physically unable to perform list from since training camp, began practicing for the first time since the medical staff discovered an antidote to the joint inflammation he was suffering. He has a three-week window until he has to be signed to the 53-man roster, or another transaction must be made. … Sunday's game in Tampa is the NBC game of the week, and kickoff is 5:15 p.m. Pacific Time. The game will mark the first game that John Madden has missed after 476 weeks of calling an NFL game since he became an analyst in 1980. Cris Collinsworth will serve in Madden's place, with Al Michaels handling the play-by-play. Madden, 72, lives in the Bay Area and has struggled with continuous coast-to-coast trips this season.