The Seahawks returned to work Tuesday following a day off, and a number of players returned to action after short layoffs, while one, running back Thomas Rawls, was back on the practice field with his teammates for the first time since December. Rawls' return to action was the highlight of Day 9 of Seahawks training camp, but it wasn't the only thing that stood out in Tuesday's practice.
Here are six observations as the Seahawks begin preparation for their preseason opener at Kansas City, with the first three coming from team reporter John Boyle and the final three from digital media content manager Tony Drovetto.
1. Reinforcements Are Coming
Minor injuries have taken their toll on the Seahawks early in camp, leading to a series of roster moves last week, but as the Seahawks returned from a short break, it was evident that, barring further setbacks this week, they should head to Kansas City healthier than they were last weekend for their mock game. In addition to Rawls' return, the Seahawks also welcomed back safety Kam Chancellor and linebacker Brock Coyle Tuesday, though they were both limited in their workload. Running back Christine Michael also was back in action after missing Sunday's mock game due to illness. Defensive end Frank Clark was also a full-go after being limited in recent days because of a calf injury. In addition to the players who were back in action Tuesday, several more are expected back soon, Carroll said, including receiver Doug Baldwin.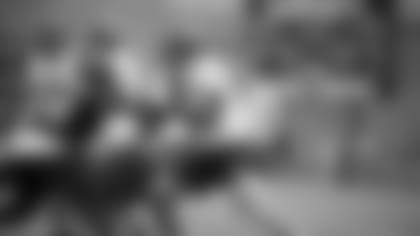 2. Don't Sleep On Bradley Sowell
For almost all of camp, Garry Gilliam and J'Marcus Webb have been the tackles with the No. 1 offense, and that was the case again when the Seahawks opened the team portion of practice Tuesday, but that doesn't mean starting jobs have been settled. Bradley Sowell, a free-agent signing this offseason, rotated in with the first team again Tuesday, something he has been doing regularly in recent practices, and without being asked about Sowell, Carroll went out of his way to praise the veteran tackle's play.
"Bradley Sowell has done a really nice job," Carroll said. "He's playing both sides, he's competing for playing time to start—he's giving Garry a run there, which is great—and he gives us flexibility."
At the very least, Sowell looks like a versatile backup who can play multiple spots, but neither he nor Carroll is giving up on the idea of him winning a starting job.
3. With Other Receivers Injured, Douglas McNeil III Took Advantage
In addition to Baldwin being sidelined, the Seahawks were again without receivers Kasen Williams, Kevin Smith, Deshon Foxx and Antwan Goodley, who all are dealing with hamstring injuries, which means there are plenty of opportunities to go around for the receivers who are healthy. One who stepped up in particular on Tuesday was Douglas McNeil III, who hauled in a few nice catches, including a touchdown reception from Russell Wilson in 7-on-7 drills, and an impressive leaping effort over a defensive back on a ball thrown slightly behind him. McNeil III is part of a big group of receivers battling for roster spots and playing time behind the established trio of Baldwin, Jermaine Kearse and Tyler Lockett, so being available and coming through with big plays will only help his chances.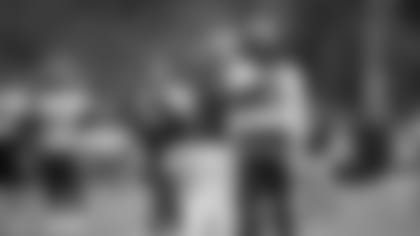 4. George Farmer Was At Running Back
George Farmer was a position-switching prospect for the Seahawks at this time last year, competing at cornerback after playing his college ball at wide receiver. But on Tuesday, Farmer found himself in yet another spot for Seattle, moving from the defensive side of the football to running back, a position he said he hasn't played in a game since his freshman year at USC, where he was recruited by Carroll before Carroll left to coach the Seahawks.
"I did it last year all throughout when I was on practice squad," Farmer said of his time at running back for the Seahawks. "Helped out the team, got a couple reps, and they thought I looked good at it. I think that's mainly where it came from. Obviously, we're also low on backs, so I think it's another opportunity for me to make this team and just to help the team out."
While Rawls is working his way back in the mix, the Seahawks are a bit banged up at the running back spot as Farmer mentioned. Each of the three running backs selected in the 2016 draft - C.J. Prosise (hamstring), Alex Collins (ankle) and Zac Brooks (hamstring) - sat out Tuesday, leaving more reps for players like Farmer, who Carroll sees in a third-down role like the club had envisioned for Prosise.
"I'm anxious to see how he fits," Carroll said of Farmer. "George is a fantastic athlete. He's done a lot. He's been a receiver and running back in college and all through his days, played DB and all that back in the past. So he's done everything. He's such a versatile player. We thought we could give him a shot. We're looking at him in a similar role to we might play C.J."
Listed at 6-foot-1 and 220 pounds, Farmer is one of the bigger running backs on Seattle's roster, but as a former basketball and track athlete, he still feels like he has the type of athleticism needed to excel at the position.
"I feel comfortable," Farmer said. "I feel like I'm a very athletic guy, so as far as the stuff on the field it'll take over. I've just got to learn the plays and the protections and all that. Get used to the system and I think all that stuff on the field will come."
Farmer's first day in an offensive jersey didn't go unnoticed by his defensive teammates, especially the ones he used to share the cornerback meeting room with like Jeremy Lane and Richard Sherman, who on one play Tuesday gave Farmer a few extra-aggressive swipes at the football he was carrying.
"When I'm running by them, they're all talking mess," Farmer said with a smile. "I'm in the room with them, so as soon as I'm running by them they're talking crap in my head. You know how it is."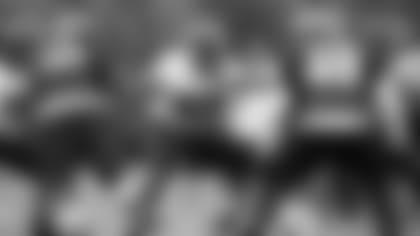 5. Personnel Watch
"This is really the first chance I get to see Jahri really on good film," Carroll said. "This is the first real practice for him to see if he can fit into the competition of it all as well."
DeShawn Shead, meanwhile, was working opposite Richard Sherman as the team's starter at right cornerback, while Mike Morgan was the first up at strongside linebacker, the same setup we saw in this past Sunday's mock game.
6. Give That Man A Gold Glove
Some of the loudest cheers from the 2,509 fans in attendance came not for the Seahawks making highlight plays down on the field, but rather for the team video staff situated high in the sky.
On two separate occasions near the end of Tuesday's workout, video assistant James Churchill, who was operating a camera tower behind the field goal post located at the east end of VMAC's southern-most field, reached out and snagged a football that had sailed through the uprights in his direction off the foot of kicker Steven Hauschka. When talking about building and maintaining a championship caliber team in the past, general manager John Schneider has called out the Seahawks' video staff for the quality work they do in the editing room. But Tuesday's display showed the group can excel in certain areas on the football field too if needed. Of course for Seattle's sake, let's hope it doesn't come to that.
Check out the best photos from the ninth day of Seahawks Training Camp held at Virginia Mason Athletic Center.