After getting Sunday off, the Seahawks were back at it on Monday for the hottest practice of 2019 training camp. And while the calendar says Monday, this was a "Competition Wednesday" for the Seahawks, who host the Denver Broncos Thursday in their preseason opener.
Here are six observations from Monday's practice:
1. Tight ends continue to thrive in the red zone.
The Seahawks are dealing with some depth concerns at tight end—Ed Dickson is currently sidelined by a knee injury, Jacob Hollister has a minor groin injury, and two players, Tyrone Swoopes and Justin Johnson were waived/injured on Saturday—which led to a few first-team reps for just-signed undrafted rookie Jackson Harris when the Seahawks were in a two tight-end set. But while the Seahawks are working through some injury issues, the players who are on the field keep stepping up to make plays, particularly in the red zone.
Will Dissly, who is showing no ill-effects of last year's knee injury, had one of his best practices of camp, including a stretch of red zone drills in which he had two touchdowns in the span of a few plays. Nick Vannett also had a pair of touchdown catches in the same red zone session.
"They've always been important," Carroll said of the tight end play in the end zone.
"Dissly had a great day today. He was all over the place. He's making a bid wanting to play this weekend. We are watching and listening carefully because he looks like he's ready to go. He's had excellent work. Nick has been great the whole time for us. He's a solid guy that can do everything and has been really good around the red zone. We count on him. Russ (Wilson) loves to go to the tight end."
2. Jason Myers can boom it.
Jason Myers has been very accurate throughout camp, but over the last few days he has really been showing off the big leg that helped make him a Pro Bowler last season when he made six of seven attempts from 50-plus yards.
During Saturday's mock game, Myers made a 58-yarder, then on Monday he drilled a 60-yarder that went through the top of the uprights and looked like it would have been good from 70.
"When I warm up, I usually go back to 60, 65 just to try to stretch it out and know where I'm hitting it from that day," Myers said. "It's nice to know we hit a longer one today. We don't always do that during field goal period or practice—we had the 58 on Saturday—but I can usually go back pretty far."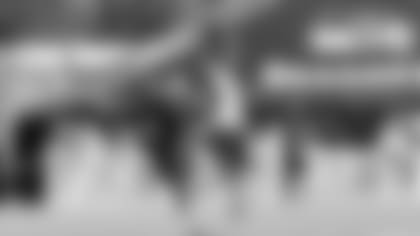 3. Tre Flowers had a strong practice.
After starting at right cornerback as a rookie, Tre Flowers is a player who could be a candidate for a breakout season in 2019, especially considering that he is heading into just his second season as a cornerback, having played safety in college before coming to Seattle. On Monday Flowers showed off the type of play that has Carroll so excited about the young corner, breaking up a couple of passes, including a near interception in which he ran stride-for-stride with Tyler Lockett before almost hauling in a pick 40 yards down the field.
4. Fullback Nick Bellore showed off his versatility on a day when linebacker depth was a little thin.
With Bobby Wagner, Mychal Kendricks and Cody Barton all out on Monday, the Seahawks starting trio of linebackers consisted of Austin Calitro in the middle, K.J. Wright at weakside linebacker and Shaquem Griffin at strongside linebacker. Of course there's a trickle-down effect, so if Griffin and Calitro are with the No. 1 defense, there is a need for more linebackers when the twos and threes are on the field. To that end, fullback Nick Bellore saw time at linebacker Monday, which is hardly an unfamiliar experience for the veteran. While Bellore signed with the Seahawks to play fullback and has played that spot in recent years, he spent most of his career playing linebacker before making the switch to offense in 2017, even starting 10 games at linebacker for the 49ers in 2016.
"We put him on the other side of the ball a little bit," Carroll said. "Nick was a linebacker for a long time. The more you can do… (Versatility) is huge. It makes them hugely valuable to us. He played linebacker for a long time. He's only played fullback for a couple years. It's getting back in the saddle for him. No problem. He can help us, he's a good, physical guy and if we need help, that's the idea. We just try and get ready and use this time to get him some background so if we call on him, he can go. Same thing we do that with (Barkevious) Mingo too. Bark has done a great job at the (defensive end) spot we we're playing him at. We just have to get him back in case we need him to go back to Sam linebacker, he can do that. His focus is 98 percent on where he is and a couple percent on helping us out in emergencies."
Utilizing a player's versatility is nothing new for the Seahawks, and having players capable of playing multiple spots is particularly beneficial when rosters are reduced to 53 players. Whether it has been DeShawn Shead providing depth at safety and corner in years past, or George Fant serving as a tight end and backup tackle, or an offensive lineman like Ethan Pocic who can play multiple spots, versatility is a valuable trait.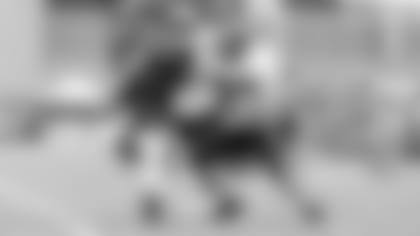 5. Nice hustle, Jamie Meder.
Turnovers are a big area of focus for Carroll, whose team led the NFL in turnover differential in 2018, which is why the Seahawks harp not only on ball security on offense, but on taking it away on defense. As a result, you'll see defensive players trying to punch the ball away from ballcarriers on every play, and on Monday defensive tackle Jamie Meder showed a ton of hustle running down running back Bo Scarbrough well down the field, punching the ball out from behind either just before or just after—depending on who you ask—the whistle had blown. Safety DeShawn Shead picked up the loose ball and ran it back for a touchdown. The play may very well have been over when the "turnover" occurred, even if the defense would deny it, but whistle or no whistle, it was a heck of a hustle play by the 308-pound defensive lineman.
6. D.J. Fluker's enthusiasm is contagious.
OK, so this is more of a press-conference observation than a practice observation, but when Fluker spoke to the media following practice, he once again demonstrated the level of passion that has made him such a favorite among coaches and players alike.
"First and foremost, it's his spirit," Carroll said. "He has a fantastic spirit. He loves to play football, he loves the game, he loves everything about it. You just never see him where he's not exuding energy and juice and all. Go along with all the rest of it, he's physical, big and strong as you can get. He's really smart and sharp on what he does, his assignments and all of that. Most of all, it's the unique spirit that he has that he brings on a regular basis that we love."
Asked about that "spirit," Fluker said, "The thing about it is, playing with a championship mentally, that's what you have to bring every single day—in practice, in the locker room and in the classroom. I think those things are very important. But being in practice, you've got to have fun, that's the best part. You may mess up a couple times but the thing about it is, it's practice; you go back and get better. That's to go out here, so on Sunday's you can become better, and I think having passion for the game, comes from just being a kid, a kid on the field. If I look at playing football as a job instead of being a kid with it, it wouldn't make any sense. I've been playing football since the ninth grade—I didn't play Pop Warner, I was too big, now don't get me wrong, I was too big. They had to check all of my birth certificates. I didn't play that, but ninth grade I started playing football, I started falling in love with the game, and I played defense actually. But I had fun with it, I started finding things I that I could get better at it. I think that was more fun for me instead of anything else."
Photos from the ninth open practice of Seahawks 2019 training camp, presented by Safeway held on Monday, August 5 at Renton's Virginia Mason Athletic Center.