The Seahawks were back on the practice field following a day off, and they were practicing with some significant reinforcements added at running back. Not only were rookies C.J. Prosise and Zac Brooks back in action, Thomas Rawls was also much more involved than he was a week earlier, which leads our three observations from the penultimate day of open-to-the-public training camp practices, with the first three observations coming from team reporter John Boyle and the final three from digital media content manager Tony Drovetto.
1. Thomas Rawls "Looked Terrific" Taking On A Bigger Work Load
Running back Thomas Rawls, who is coming back from last year's season-ending ankle injury, was eased back into practice last week after coming off of the physically unable to perform list, taking part only in the early part of practice and not the 11-on-11 team portion of practice. On Monday, however, Rawls was a full-go, or very close to it, including taking the first carry of team drills, a nice run that included a couple of decisive cuts before accelerating into the secondary.
"He looked really good," head coach Pete Carroll said. "He's been working really hard. This isn't like he's been waiting to work, he's been working like crazy, so just to fit him in is really what we're trying to do today, and he looked terrific."
It's too soon to say that Rawls is all the way back from the injury he suffered in Baltimore last December, but seeing Rawls cut and run in the open field four weeks before the regular-season opener is certainly an encouraging sign.
Prosise, who had been out since injuring his hamstring on the first day of camp, was also involved in team drills and "looked good too," Carroll said. Also back was fellow rookie Zac Brooks, who is also had been out with a hamstring injury, and the return of those two rookies provided "a real boost for us," Carroll said.
"He did really well, he looked really quick today," Carroll said of Brooks. "He looked like he's got the fresh legs that you see the first day back. He's done nothing but good stuff, he's right in the middle of all of it, so it'll be fun to see what happens."
Prosise called it "great just to be back out there" having missed all of camp up to this point as well as the first preseason game.
"It was rough coming out and getting hurt so early and not being able to practice," he said. "Watching everybody compete and watching them make plays, it was frustrating for me. But it's been a process and I've been working really hard in the training room, on time off that we get, just working hard trying to get back out here, and today was a very good day for me."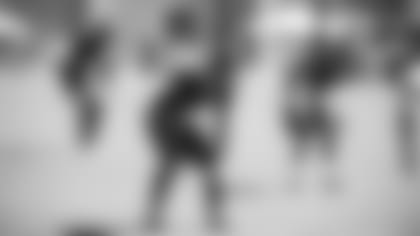 2. Linebacker Kyle Coleman Is Now Fullback Kyle Coleman, The Latest Position Switch For The Seahawks
The Seahawks signed Kyle Coleman this offseason in part because of his versatility. Coleman, an undrafted rookie out of Arkansas Pine Bluff, played tight end and linebacker during his college career, and when Seattle signed him, he was first listed as a fullback before settling in at linebacker. On Monday, however, Coleman was working at fullback, just the latest player in camp to play on both sides of the ball along with Taniela Tupou, who has played defensive tackle and fullback, Tanner McEvoy, who is currently playing receiver after spending offseason workouts at safety, and George Farmer, who recently moved from cornerback to running back because of injuries in the backfield.
And this is nothing new for the Seahawks; Will Tukuafu, who spent the past two seasons at fullback with Seattle, also an occasional defensive tackle and tight end; former USC running back Allen Bradford spent time with the Seahawks between 2011 and 2014, practicing at that position and at linebacker; and last year, current receiver Douglas McNeil III played both receiver and cornerback while on the practice squad.
Carroll attributes his willingness to move players from one side of the ball to another to his time coaching in college where it is more common to move players in an attempt to find the best fit for that player.
"There's a lot of places where coaches might want to do that, but guys don't let them do it or whatever," Carroll said. "It really makes sense, in college you do that all the time. You try to find guys and move them back and forth. Here guys kind of get this, almost sacred, 'I'm on the defense side, that's what I am.' Our young guys, they know, they've been flipped around a lot; we're just trying to figure it out. It is always for the best of their opportunities, I would never do it for any other reason than that. We moved Kyle Coleman today, he went to fullback today. You know, we are going to see how he does there. We brought him in originally to get work at fullback, and just because of the linebacker spot, we put him there, he did well early and so we left him. I just don't want to get through camp without knowing how he fits on the other side. We are very comfortable doing it and we've had pretty good luck with it."
3. C.J. Prosise Learns A Lesson In Ball Security
Early in Monday's practice, Prosise carried the ball in his first practice in more than two weeks, and after showing off some good moves and speed, he appeared to be free in the secondary for a big gain when the ball suddenly ended up on the ground. Normally, a running back being stripped, even after a play is all but over, would be frowned upon, but you'll have to forgive the rookie for this "fumble," because it wasn't a defensive player knocking the ball loose, but rather assistant defensive backs coach Ricky Manning Jr., a former NFL cornerback.
"Next time I'll be more aware of the coaches," Prosise said with a grin after practice.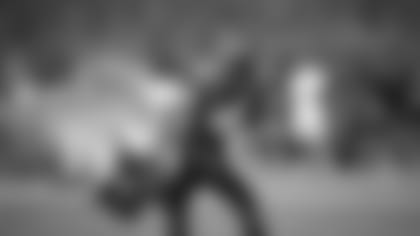 4. More Work For Tanner McEvoy
Make a touchdown catch on a Hail Mary pass to pull your team within one point of the opposition as the game clock expires - a play that led to a game-winning two-point conversion - and you're bound to get a little more attention from the coaching staff on the practice field the following week.
That's the position Tanner McEvoy found himself in at the team's 13th practice of training camp, when the undrafted rookie wideout was noticeably more involved two days after making three grabs for a team-high 77 yards in the preseason opener against the Kansas City Chiefs, including that 37-yard game-changing score. McEvoy even saw reps with quarterback Russell Wilson and the first-string offensive line during an 11-on-11 team session toward the end of Monday's practice, working in a three-receiver set with Paul Richardson and Kenny Lawler after Doug Baldwin, Jermaine Kearse, and Tyler Lockett had subbed out.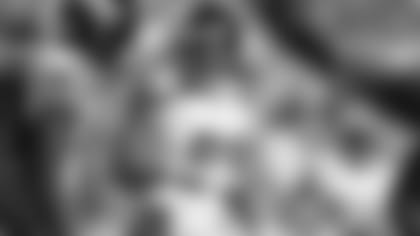 5. After "Standout" Game, Cassius Marsh First Up at SAM
Mike Morgan was absent from Monday's workout, with the sixth-year pro seeing a specialist in Philadelphia about a "groin thing" that coach Carroll said would not keep him out of Thursday's game. Morgan's absence meant more snaps at strongside linebacker for Cassius Marsh, who has been competing with Morgan and Eric Pinkins at the position. After seeing most of his play time at defensive end against the Chiefs this past weekend, recording two quarterback hits, two tackles on defense and one on special teams, Marsh was back running with with the first-team defense at SAM on Monday. Morgan has been the leader at the SAM spot so far, but however the strongside linebacker competition shakes out this summer, the way Marsh flashed at defensive end and on special teams in Kansas City shows how versatile a piece he is for the Seahawks moving forward.
"He played really well, did really well," Carroll said of Marsh's game at Arrowhead Stadium. "Did well on special teams as well. He rushed the passer well. Did a nice job at SAM backer and the plays he had there. He was one of the more standout players in the game. I thought he had a very, very good game."
6. Kasen Williams With A Highlight Grab
Kasen Williams was back on the practice field Monday, taking part in individual workouts and seven-on-seven drills after sitting out recent practices and missing this past Saturday's preseason opener with a hamstring injury. The former Skyline High School and University of Washington wide receiver didn't show any signs of slowness as he hauled in a back-shoulder grab near the left sideline from quarterback Russell Wilson, securing the football as he fell to the ground in between coverage from defensive backs DeShawn Shead and Brandon Browner.
As Williams went back to the huddle, coach Carroll could be heard shouting in his direction, "Way to catch that rock!"
After the Seahawks' game in Kansas City, Carroll said "the healing process" is done in regards to hamstring setbacks for both Williams and fellow receiver Kevin Smith, and that if both players get enough practice time under their belt they "have a chance" to make it back for Thursday's game against the Minnesota Vikings.
Look through the best photos from the Seahawks 13th training camp practice held at Virginia Mason Athletic Center on Monday.