The Seahawks were back at it after an off day, and there were a few new players taking part in practice Sunday, including Bobby Wagner, who practiced for the first time in camp having just signed a new contract extension, and defensive back DeShawn Shead, who signed with the Seahawks Saturday, returning to Seattle where he spent the first six seasons of his career before signing with Detroit last year.
Shead's return to the Seahawks is one of seven observations from Sunday's practice:
1. DeShawn Shead is back, and he's playing safety, for now at least.
One of the defining traits of Shead's six-year tenure with the Seahawks was his versatility, which is rather fitting for a player who was also a college decathlete. Shead saw significant playing time over the course of his Seahawks career at strong safety, free safety, cornerback and nickel corner, and was a standout on special teams before eventually settling into a starting role at right cornerback in 2016.
So it was only right that in his first day back, the safety-turned-corner was back at safety, primarily playing free safety on Sunday. Seahawks coach Pete Carroll said Shead is starting out at safety in part because of injuries there, and he could see time at corner as well in camp.
"We have a little depth issue with a couple guys still banged up," Carroll said. "Marquise (Blair) isn't back out there full tilt yet, he's on the field practicing, he's a couple days away and we're still waiting on Lano (Hill) too. With Lano not being out there there's more space and need right there. But he'll work in the one-on-ones to keep his technique up to par and all that, and we know that he can do both, so we'll just see what happens."
Carroll noted that Shead, who tore his ACL in a playoff game following the 2016 season, causing him to miss 14 games in 2017, looked markedly different in a recent workout with the team than he did last year.
"A year ago when we worked him out he just wasn't—in my opinion knowing him as a young man growing up—he wasn't fully back to the standards that we would expect and we couldn't come to an agreement then," Carroll said. "He came back out here and I've been hearing and I've seen clips and all kinds of stuff. He did a little bit of a campaign for me to understand what he's capable of doing. He came out here on the field the other day and he looked great, he looked as good as he's ever looked. Quick and strong and fit and in shape. He brings us the versatility of playing safety and corner. He can play in the nickel package, he's an excellent special teams player.
"Better than that he's a great competitor, and to have that guy battling here with our young guys and show them what it's all about will only make us better. So I'm thrilled that he's back with us and thrilled for him that he was able to get back physically, because he had a serious injury that he played with but only late in the year did he start to pop out of it and really start to gain some confidence that he could do stuff in a normal fashion. Then in the offseason he trained as a guy training for football not as a rehab guy this year and you can see the difference. He's an unbelievable worker so it's paid off."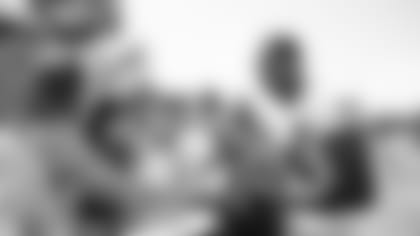 Shead had already moved back to the area this spring—his wife, Jessica, is from the area—but now he truly feels back at home playing for the Seahawks again.
"It feels good to be back," he said. "I was telling everybody I'm back home, I'm back home. So just to be back, a lot of familiar faces, but a lot of faces I don't know, it's a whole new team. But still the same feeling of being in Seattle, in Renton/Seattle, so definitely happy to be back on the team. Same feeling, same organization, what I know, got back to my same routine, the plays are a little bit different but the same philosophy, so I'm glad to be back."
2. An impressive trio of linebackers.
With Wagner once again taking part in practice, Sunday provided the first look at what should be one of the strengths of Seattle's defense—a linebacker trio of Wagner, K.J. Wright and Mychal Kendricks. The Seahawks added Kendricks last year when Wright was dealing with an injury, and he played in Wright's usual weakside spot. Wright returned late in the season, but that was after Kendricks had suffered a season-ending leg injury, so those two never were available at the same time. At full strength, Carroll envisions a linebacker group that could be the best he has had in Seattle, especially considering the depth behind those three.
"I'm real excited about that," Carroll said. "I've never felt the opportunity to have that much experience at that spot. Mychal brings a lot of background and a lot of savvy and natural play and all that to go along with what Bobby and K.J. can do. There's no question that this defense has a chance to be pulled right around."
3. A different linebacker made one of the best plays of camp.
As much as the Seahawks are excited about the trio of Wagner, Wright and Kendricks, they also know there's a ton of talent behind them, and that was never more evident than on Sunday when, during a red-zone drill, rookie linebacker Cody Barton made what might have been the best play of camp thus far, diving to make a fully-extended interception at the goal line of a pass intended for tight end Jacob Hollister.
"Cody's done everything right," Carroll said. "He's just been a joy. Hard-working, clear, smart, fast, hustles like crazy, and he's been making plays. He knocked a ball down two days ago that was just the same pick there that he made, and that play right there is as good of a play as we've seen in a long time out here in full-speed tempo, it was great. So he's making a claim, we're expecting him to really grow at the position. We know he can be a special teams player for us, we're expecting him to be really an active part in all areas. We can't hold him down, he just looks like he's really on point."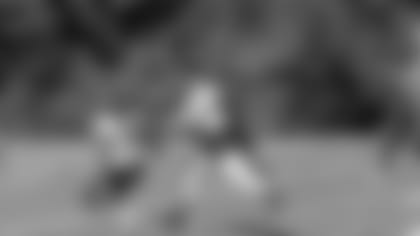 4. Ed Dickson had a very good day.
As offensive coordinator Brian Schottenheimer noted on Friday, the depth and versatility the Seahawks have at tight end means there may not end up being a clear-cut No. 1 at that position, and there have indeed been different tight ends standing out each day. On Sunday, veteran Ed Dickson came through with a big day, catching two touchdown passes in red-zone drills, and neither of those were his best play of the practice. Dickson showed great hands and concentration later in practice to secure a catch in traffic over the middle on a seam route.
5. Two rookies are getting healthier.
While neither Ben Burr-Kirven or Marquise Blair were full participants on Sunday, both were suited up and took part in some of the early position work, which is a good sign for the two rookies who both missed the first two days of camp. Burr-Kirven had sports hernia surgery in the offseason, while Blair is working his way back from a hamstring injury that kept him out of a lot of the offseason workout program. Blair and Burr-Kirven's return to health will be important not just for the competitions at safety and linebacker, respectively, but also on special teams where both are expected to be big contributors.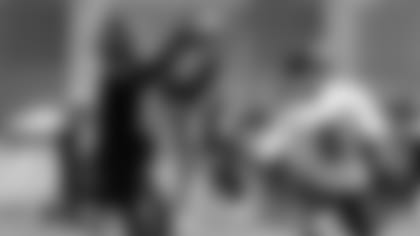 6. Daniel Williams is making a good early impression.
The Seahawks signed Williams, who went undrafted out of Jackson State in 2017, just before the start of camp, and despite being new to the system, the young receiver has made his mark early. On Friday, he caught a perfectly-thrown deep ball from Geno Smith for a long touchdown, and on Sunday those two connected again on an impressive throw-and-catch, with Smith ripping a throw into a tight window in the end zone that Williams was able to snag in traffic.
"He's really strong," Carroll said. "Changes direction real well for a big guy, gets in and out of his breaks. He's a nice catcher. I don't know he's two-twenty-something you know, he's up there. Big, big receiver, and he's gotten down the field real well. A couple deep balls for us already. So really good start and really excited for him to come out here and make a big play yesterday and show people and he's all pumped up about, he should be, he should be."
7. Good boy, Bubba, good boy.
We end today's practice observations with some very important dog content. Bubba, Jacob Martin's golden retriever and a frequent VMAC visitor, was on hand for Sunday's practice, and needless to say, fans were rather smitten with the pup.
Photos of fans attending 2019 Seahawks Training Camp, presented by Safeway on Sunday, July 28 at Renton's Virginia Mason Athletic Center.