There are a lot of perks that come with living in the Pacific Northwest. Close proximity to other NFL cities, however, is not one of them, which is why, as the case every season, the Seattle Seahawks will travel thousands more miles in 2016 than most NFL teams, and the third most of any team in the league behind the Los Angeles Rams and Oakland Raiders.
Seattle actually travels more miles than the Rams (32,038 to 29,730) when it comes to each team's 10 regular season and preseason road games, but the Rams' home game in London makes them the most-traveled team in the league by a wide margin at 36,983 miles. The Raiders, meanwhile, travel 32,748 miles, the most of any team for its 10 road games. All mileage totals are courtesy of Delta, the Official Airline of the Seahawks.
Seahawks coach Pete Carroll doesn't allow his players to worry about things out of their control, so you won't hear the Seahawks complaining about their travel demands, but there's no denying that West Coast teams have to spend a lot more of their time in airplanes than the rest of the league. Five of the six highest 2016 mileage totals belong to Los Angeles, Oakland, Seattle, San Diego and San Francisco, with Miami being the only non-West Coast team near the top of the list thanks to their road games at Seattle, San Diego and Los Angeles.
Seattle's relative geographic isolation means the Seahawks' "shortest" road trips are their preseason game to Oakland (1,344 miles round trip) and their Week 17 game at San Francisco (1,358). To compare that to teams that don't travel as far this year, AFC North teams have several short road trips such as Pittsburgh to Cleveland (212 roundtrip miles), Baltimore to New Jersey twice (338 miles), and Pittsburgh to Buffalo (372 miles). Three of the four lowest mileage totals in the NFL this season belong to AFC North teams, with Pittsburgh traveling a league-low 7,704 roundtrip miles, Cleveland traveling 8,686 and Baltimore traveling 10,094. For perspective, the Seahawks will travel 10,004 for consecutive road games at Tampa Bay and Green Bay in Weeks 12 and 14.
Long travel or not, the Seahawks have turned themselves into a good road team in recent years under Carroll, going 5-3 on the road each of the past three seasons. Last year, the Seahawks lost their first three road games, then won five in a row to close the regular season, and a sixth straight at Minnesota in the postseason.
And while this season again sees the Seahawks traveling a lot of miles, one improvement to this year's road schedule is that they play only two games that kick off at 10 a.m. PT after regularly playing four or five such games in recent years. The Seahawks also only play back-to-back road games once, going to Arizona in Week 7 and New Orleans in Week 8. Last year Seattle had three different road back-to-backs in the regular season.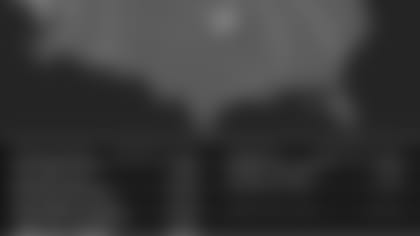 2016 Season Total Miles Traveled, Courtesy Of Delta
Los Angeles Rams: 36,983*
Oakland Raiders: 32,748
Seattle Seahawks: 32,038
San Diego Chargers: 29,914
Miami Dolphins: 29,906
San Francisco 49ers: 28,056
Jacksonville Jaguars: 25,250*
Arizona Cardinals: 23,808
Dallas Cowboys: 23,564
Tampa Bay Buccaneers: 21,408
New England Patriots: 21,116
Carolina Panthers: 20,834
Houston Texans: 20,676
Atlanta Falcons: 20,620
Indianapolis Colts: 20,046*
Denver Broncos: 19,816
New Orleans Saints: 19,718
Buffalo Bills: 19,412
Washington Redskins: 19,096*
Cincinnati Bengals: 18,526*
Kansas City Chiefs: 16,938
New York Jets: 16,648
Tennessee Titans: 16,116
New York Giants: 15,724*
Minnesota Vikings: 15,608
Green Bay Packers: 13,668
Philadelphia Eagles: 12,892
Chicago Bears: 11,106
Baltimore Ravens: 10,094
Detroit Lions: 10,722
Cleveland Browns: 8,686
Pittsburgh Steelers: 7,704
*signifies a team playing a game overseas in London *
The Seattle Seahawks announced today a multi-year partnership extension with Delta Air Lines as the Official Airline of the Seattle Seahawks. Take a look at the photos of the announcement and the team leaving for their business trip to the Bay Area.