Anyone who has ever watched Chris Carson play football knows it would be foolish to question the Seahawks running back's toughness.
But as physical and fearless as Carson is as a runner, he also knows that people take notice when a player misses games due to injury, particularly in each of his first three seasons, so Carson came into 2020 planning to be on the field for all 16 games.
"That's a goal that I set for myself this year, I want to play 16 games," Carson said. "No matter what the situation is, injuries stuff like that, I want to tell myself, if I can play through it, I'm going to play through it. I know that's one of the big knocks that a lot of teams have on me is, 'Can he play a whole season?' And I want to prove to myself and prove to everybody else I can."
Carson's goal of playing 16 games—or of playing any more games at all this season—momentarily looked to be in doubt in Week 3 when he left the game with a scary-looking knee injury that was the result of Cowboys defensive tackle Trysten Hill violently twisting Carson's leg after he was down, a play Carson described Thursday by saying… Well let's just say Carson wasn't happy with it and used some language we probably shouldn't print here.
Hill, who was fined for that play, as well as for a late hit on Russell Wilson, did reach out to apologize.
"I appreciate him reaching out and apologizing for everything," Carson said.
Fortunately for everyone involved, Carson's injury proved to be far less serious that it looked, and by Wednesday of last week Carson was telling Seahawks coach Pete Carroll that he was going to play in Seattle's Week 4 game at Miami.
"I told him I was playing no matter what," Carson said. "That was my mindset going in."
Carson didn't just play in Seattle's win over Miami, he had one of his best games of the season, rushing for 80 yards and two scores on 16 carries, while adding 20 more receiving yards on three catches.
"Chris is a stud football player, he isn't ever backing down from anything," Carroll said after the game. "He told us when we got back on Wednesday, he said, 'I think I'm OK. I'm going to make it.' So we took it easy on him the first couple days and got him through the week, and he looked great. It really helped us, because Carlos (Hyde) couldn't go with a sore shoulder, and Chris ran really well today. It was 80 yards worth of good running. He's such a tough football player and a great competitor that that's not a surprise to us that he would bounce back and get back up. He took a hell of a shot and got back up and got right after it again. He's a terrific football player."
Carson's toughness didn't just show in being available for the game, but in coming back from a nasty first-half hit that took him out of the game until after halftime.
"If I can fight through anything, if there was a small percentage I could play, I'm going to play," Carson said. "That was my mindset. Once I found out I was good, it was a no-brainer."
Carson, who rushed for 2,381 yards over the past two seasons, isn't on quite as productive of a pace through four games, though not because he's playing any worse, but rather because his and the team's rush attempts are down with the passing game functioning at such a high level. But that doesn't mean Carson hasn't still been a huge part of the offense. In addition to rushing for a team-high 237 yards through four games, he also has 15 catches for 113 yards and three touchdowns, putting him on pace for his best receiving numbers, by far, in four seasons.
When asked about Russell Wilson's MVP-caliber start to the season and what the veteran quarterback is doing so well, Carson quipped, 'Checking it down to the backs,' before going on to praise Wilson's play.
With five total touchdowns, a 4.5 yards-per-carry average, big numbers in the passing game and unimpeachable toughness, there's not much to question about Carson's 2020 season so far. That is, of course, unless you're Carson's mother, Dian Rowe. Back in 2018 after an attempt at hurdling a tackler somehow turned into a flip that saw Carson stick the landing, Carson promised his mom that he was done hurdling defenders. He never fully broke that habit, however, and in Miami he again found himself leaping over a would-be tackler on a run down the sideline.
"I mean, sometimes you've got to go back on promises," Carson said. "I talked to my mom after the game, she was straight, she said it was a good play. So I think she gave me the green light to keep doing it.
"She told me I was going to give her a heart attack one of these days, but I told her, 'Look, that's part of my game, it is what it is.' But she understands. As long as I come down and don't do any crazy flips or anything like that, she's fine."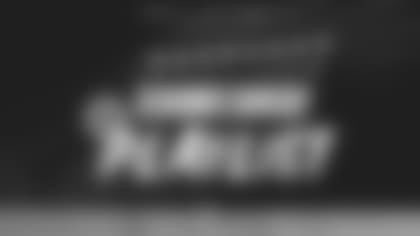 Follow the Seahawks Gameday Playlist on Spotify
Follow this playlist to hear what the Seattle Seahawks will be listening to all season long, curated by DJ Supa Sam, the official DJ of the Seahawks. Now playing: Week 1 at Colts
We're taking a look back at our favorite photos from the 2019 Seahawks Dancers season, starting with Seahawks Dancer Aleksa!