The numbers paint a pretty bleak picture when it comes to the 2021 Seahawks offense. Through 10 games, the Seahawks rank 30th in total offense, 24th in points scored, and they're 31st in third-down offense, a big factor in Seattle having run the fewest offensive plays and had the lowest time of possession in the NFL.
But as rough as things have been so far, players and coaches look at the talent Seattle has on that side of the ball, and at some of the better games Seattle has played earlier in the season, and they see an offense capable of being much more than those number might suggest.
"What our offense needs to do is forget about the past," quarterback Russell Wilson said. "Stay focused on the present. Stay focused on what we're doing right now. All the talk, all this and that. We've got great players, we've got a great line, we've got great playmakers. We've got a great play caller in Shane (Waldron). We've got a pretty decent quarterback. We can make plays. We don't need to do anything else but forget about the past and stay focused on the moment. We get to go on the road, a tough environment in Washington, I'm looking forward to it. It'll be my birthday too, so that'll be fun. Just go play ball. This game is a gift. It's a gift. We can't let all the distractions and anything else be a hindrance to the gift. I think that's where our focus is right now."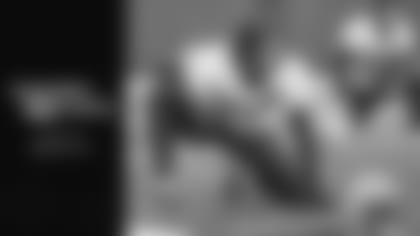 Listen To The Seahawks Insiders Podcast
Hosted by sideline reporter Jen Mueller and Seahawks Senior Digital Media Reporter John Boyle, the Seahawks Insiders podcast takes an in-depth look at each week's Seahawks game and analyzes the previous week's matchup. Available on Spotify, Apple Podcasts, and wherever else you get your podcasts.
Tight end Gerald Everett, who is in his first year with the Seahawks after beginning his career with the Rams, hasn't been around for a long time, but he has seen enough from the likes of Wilson and DK Metcalf and Tyler Lockett to know that the offense can and will be better down the stretch than it has been so far this season.
"Our production hasn't really matched up to our capabilities and our expectations," he said. "For me personally, it kind of rubs me the wrong way because I know of all the great guys that we have, the leaders on this team and what they are capable of doing, whether it be running back, quarterback, receivers, or O-line. Playing against the Seahawks for years and years since I've been in the league, I've never seen this type of production, so ironically, I'm on the team now and we've haven't gotten the return that we wanted or expected. It's just a matter of staying with it and rolling with the punches."
The Seahawks came into this season with high expectations on offense, both because of the talent on the roster and also because of what people had seen out of first-year offensive coordinator during the offseason and in training camp. Even so, some growing pains with a new offense were probably inevitable, and those issues were only compounded by Wilson missing three games—the first he has missed in his 10-year career—as well as a season-ending injury to running back Chris Carson.
"It's been a challenging year for us," Seahawks coach Pete Carroll said. "We haven't been as consistent as we wanted to be. We have a lot of things that we can do on our offense, a lot of stuff that we really like, but we have to be able to reap the benefits of those opportunities by completing our drives. That goes back to the third down stuff as well as our efficiency on first and second down, but the easy focus for us is to look at third down and see if we can make two or three more a game, it gives us two or three more drives. That's what we need. I think it's been a real challenge for (Waldron) in the quarterback moving out and the tailbacks being available and all that as we had planned it. I think he's doing a really good job. I love the work and approach and the style and what we're trying to get done. I'm very hopeful that you're going to see us take off in the last seven weeks here."
At the root of so many issues has been the Seahawks' inability to stay on the field on third down. After going 2 for 10 on third down last week, the Seahawks are converting at a 32.4 percent rate this season, which ranks 31st in the NFL. Not sustaining drives obviously limits chances for the offense to score, and it also puts more burden on the defense, which has been on the field for 70 or more plays in 8 of 10 games this season, compared to a Seahawks offense that has run 60 or more plays only twice, with a high of 64.
"We haven't converted," Carroll said. "It's one reason or another. Whether it's the opportunity, the throw, the route, that's what we've intended to do the whole time. I'm disappointed that I can't tell you we're getting it done… We work on it every week. That's not the part we can change a whole lot. We're already getting the reps and all. We need to execute better and hit it. Got to get Russ in the groove, and we've got to get those guys in the groove too so that we're really counting on each other to come through when the time calls for it."
As Carroll has noted on a few occasions this season, the difference between being where the Seahawks are on third down and near the league lead is only a couple of conversions a game, so it wouldn't take a huge shift for the Seahawks to get better there. And with Wilson's finger getting heathier every week, and with the firepower Seattle has on offense, players are confident the turn is coming for that group.
"I'm still very confident," said left tackle Duane Brown. "We are somewhat healthy, we have guys that can produce, and have a lot of talent to still be a very explosive offense. It's just about executing, we have to execute. We have to be able to start out faster, we kind of start the game slowly and have flashes, but we have to start fast. We have to continue to play with confidence and just do what we can do. We know what we are capable of, but we have to go and do it. We haven't been able to do that the last couple of weeks, but there's no better week to put it together than this one."
Seahawks quarterback Geno Smith provides gift cards and meals for families from Atlantic Street Center to help celebrate Thanksgiving on behalf of the 7Sunday Heroes Foundation. Smith is also helping support families in Miami, his hometown.