The Seahawks improved to 9-2 with a Week 12 win in Philadelphia, and now they turn their attention to another tough challenge, Monday night's game against the 8-3 Minnesota Vikings. But before we look too far ahead to that game, it's time once again to answer questions from you, the fans. As always, thanks to everyone who asked a question this week, and apologies if I couldn't get to yours this time around. And remember, you can submit mailbag questions both via twitter (@johnpboyle) or online at Seahawks.com/SeahawksMailBag.
@ConradKrueger16 asks, "Do you envision Carson & Penny splitting carries going forward?"
A: Will it be an even split between Chris Carson and Rashaad Penny every week? Not necessarily, but I do think Penny's 129-yard performance against the Eagles will lead to a more significant role for him going forward. Will he get more carries that Carson this week or going forward, not necessarily, Seahawks coach Pete Carroll made it pretty clear that Penny will be involved more the rest of the year.
"Rashaad did great," Carroll said. "I'm really fired up for that. We need his explosiveness. He continues to show up. He has had the real home run type of style of play. We've got to give him chances to bring that to us.
"It just seemed like he turned a corner… His intent to prove that he's worthy and get his playing time, just the competitiveness of it. He knew Chris was playing really well and doing good stuff. He knew that he needed to put his best foot forward. He just seemed to take a good step. It carried over from his eating, his nutrition, and a lot of things. His rest and all that stuff. It just showed up. He just had great weeks of practice. It wasn't a surprise that he looked like that. That's what he's been looking like. Wish it would've shown up a little earlier, but that's my fault for not getting him in there."
And if you're asking because you want fantasy football projections going forward, well I can't help you there, and I also regret to inform everyone out there that Pete Carroll really doesn't care about your fantasy teams when it comes to determining future running back workloads.
@tafoesse asks "Are the fumbles starting to erode some of the team's trust in Carson?"
A: When Carson lost three fumbles early in the season, Carroll made a point of expressing his confidence in Carson whenever the topic came up, and Carson rewarded the team with a great stretch of games. That won't change this time around, and if Penny starts to play more, it will have less to do with Carson fumbling and more to do with what Penny has done to earn the playing time. Carroll did note Monday that Carson's first fumble, which he recovered, was knocked out by his own lineman, and that the second fumble, which wasn't credited to him, came on a miscommunication that caused him to miss a check—Russell Wilson checked to a run play and was trying to hand off to Carson, who was not expecting the ball—not a physical error.
"It's a little different than the guy just dropping the ball all over the place," Carroll said.
@UnintendedMax asks, "What do you consider to be too early to put up and turn on Christmas lights?"
A: This is a debate that hits home for me, as my wife is very into Christmas and would probably prefer to start decorating in October. Seriously, she had Christmas music playing in our car in October, though that was mostly because our little kids liked listening to Jingle Bells. I'm not of the opinion that everything has to wait until after Thanksgiving, especially this year when Thanksgiving falls so late in the month, but I'd say wait until after Halloween at a minimum, and preferably until mid-November or so.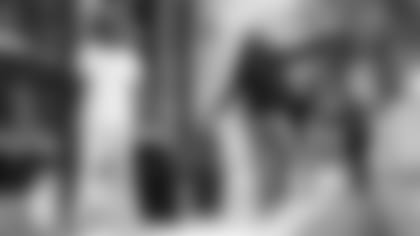 Nina Markham from Demarest, New Jersey asks, "Can you please tell me where I can get a Gelato sweatshirt like the one Jadeveon Clowney was wearing after the 49ers game? It's awesome!"
A: I too was curious about this, and after getting this question from Nina last week, I decided to go ask the man himself. It turns out that Clowney is friends with the folks over at gelatoapparel.com and decided to wear their sweatshirt before and after Seattle's Week 10 game at San Francisco. In addition to receiving a lot of congratulations for his NFC Defensive Player of the Week-earning performance, Clowney said he also got a lot of questions about the sweatshirt. So there you have it, gelatoapparel.com. They're also on Instagram at instagram.com/gelato_apparel.
@VashonK asks, "Thoughts on Lamar Jackson and Russell Wilson as MVP candidates?"
A: Jackson's performance on Monday night probably makes him the front-runner at the moment to a lot of folks, not just because he was so good, but because it was in front of a national audience, but it's worth noting that there's still almost a third of the season to be played. Only a couple of weeks ago, most people were calling Wilson the leading candidate for MVP, but while he has done a lot of things to help the Seahawks win their last two games, his numbers against two very good defenses in San Francisco and Philadelphia haven't quite been up to incredibly high standard he set earlier in the season.
Even if Wilson is trailing at the moment—and don't get me wrong, a pretty compelling case for him as MVP can be made right now even after Jackson's big game against the Rams—Wilson will have plenty of chances to state his case over the next five weeks, and as he'd be quick to point out, continuing to win is the most important thing.
@Michael28923174 asks, "If Clowney's back this week, will Rasheem Green start somewhere else on the defensive line?"
A: Green did indeed get the start last week at defensive end last week opposite Quinton Jefferson, but if the Seahawks have everyone available, then no, I don't expect Green to start. But when we're talking starters on the defensive line, that designation doesn't necessarily mean a ton, and regardless of who starts, I would expect Green to have a significant role. The Seahawks like to have a deep D-line rotation—minus Clowney last week, eight defensive linemen, if you include Shaquem Griffin in his edge rushing role, played at least a third of Seattle's defensive snaps, and it would have been nine had Jarran Reed not left the game early with an ankle injury. Green, who had a sack, a forced fumble and two quarterback hits against the Eagles, is very much a part of that rotation, with or without Clowney on the field.
"He's involved a lot, so he's really part of the starting rotations," Carroll said Monday. "He's just contributing. He's a good ball player. He's still a young kid and he's still learning and is going to improve. I would love to see him keep taking the steps like we saw Quinton Jefferson kind of get better. This was probably year four for Quinton that we just see him continue to get better and be more effective. (Green) has got a lot of talent. He's got quickness and he's got reach. He plays hard. He's playing smart football. It's just a matter of putting it together. I think he can keep growing."
Ray Brown from Marysville and Allen Pratt from East Wenatchee asks what is being done to address the penalty issues?
A: The Seahawks had a season-high 12 penalties on Sunday, and Carroll addressed that issue a day later.
"We had some communication issues I thought that kind of popped up," he said. "I don't know if it's because of the noise so much, but we were a little late getting out of the huddle at times. We rushed a little bit at the end for one reason or another. They did some nice things to get us to move. These guys are a sophisticated team. We got caught on a couple things and it added up too. I think we had six line of scrimmage penalties in the game. We just gave them those penalties, a couple on defense and four on offense, or something like that. So, we have to be sharper. We have to rise above. We have to help ourselves out by getting out of the huddle a little bit sooner and making sure that we're there and we have time. We don't get antsy by the clock and stuff like that. We had a delay of game penalty in there. It wasn't as clean as we would like to think it would be at this late in the season. There were some factors in there, too."
Overall penalties haven't been a massive issue for the Seahawks, who with 84 penalties rank 13th in the NFL. And it's also worth noting that high penalty counts aren't necessarily a killer for good teams. For example, the 2013 Seahawks led the NFL in penalties with 152, 20 more than the second-most penalized team, the AFC champion Denver Broncos. When the Seahawks went back to the Super Bowl the next year, they again led the NFL in penalties. Next on the list that year? The team Seattle met in the Super Bowl, the New England Patriots. So while penalties can be frustrating, they don't necessarily equate to losing games.
@emilioctru asks, "Is the moon really the back of the sun?"
A: No, no it is no. But thanks for giving me an excuse to watch this scene from "Scrubs," which was a criminally underrated show.