The Seahawks wrapped up training camp on Thursday, which means the regular-season opener is just around the corner. First up, the Seahawks and every other NFL team need to reduce their rosters to 53 players on Saturday—and remember, the roster set on Saturday will almost certainly change before the season opener—then on Monday the Seahawks will kick off their week of practice ahead of their Week 1 trip to Atlanta. But before we get to next week's game, it's once again to answer questions from you, the fans. As always, thanks to everyone who asked questions this week, and apologies if I wasn't able to get to yours this time around.
@DekaylinSzn asks, "Do you think the Seahawks could have three 1,000-yard receivers this year?"
A: Not likely. And that's no knock on the talent Seattle has at receiver, it's just that having three receivers account for 1,000 yards requires those three players dominating the targets, and Russell Wilson has always been a quarterback who likes to spread the ball around.
Given how close the Seahawks were to having two 1,000-yard receivers last year in Tyler Lockett and DK Metcalf—Metcalf was 100 yards short of making that happen—that seems like a very real possibility. But no matter how talented some of Seattle's other receiving options are, including the just re-signed Josh Gordon, who once led the NFL in receiving yards, I have hard time seeing three different receivers eclipse that mark, especially considering the talent the Seahawks have at tight end. If the Seahawks kept three receivers on the field all the time and Wilson only threw their way, then yes, three 1,000-yard would be very possible, but with the ball also going to players like Greg Olsen, Will Dissly and the running backs, it seems more realistic that the Seahawks have two receivers in that 1,000-yard range, then several other players in something like the 400-800 yard range.
Vivek Nagarajan from New Jersey asks "Who won the battle for the No. 3 wide receiver job?"
A: Ask me again next Sunday after the Seahawks' first couple of possessions.
But if you want an answer now…
For the first couple weeks of camp, I would have said Phillip Dorsett II was the leading candidate, but a foot injury has limited him of late, opening the door for David Moore to step into that role, and Moore has performed well. The Seahawks adding Paul Richardson earlier in the week, then Josh Gordon on Thursday, makes it much harder to predict what happens. Given the uncertainty of Gordon's status—he is still suspended as of midday Friday—and Richardson's limited time with the team, I'd say Dorsett if he's healthy or Moore is most likely to start the season in that role, but it will remain a competitive spot as the season goes along.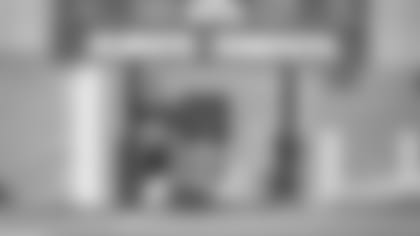 @yoshishi808 asks, "Will Jadeveon Clowney come back?" Karson Vincent from Lakewood and many, many others also asked about Clowney.
A: I have no idea. I've seen the same reports as the rest of y'all, and that's all I know. Pete Carroll did say when asked if Clowney was still an option for Seattle, "Always competing. Always competing." What that means, I couldn't tell you. It seems likely we'll know Clowney's fate, one way or another, sometime this weekend, but I couldn't begin to tell you where he'll end up.
@Kevin_williams8 asks, "Where should 12s see the biggest improvements on the team with this year's additions and subtractions?"
A: With the turnover on both the offensive and defensive line, the Seahawks hope and believe they got better, but there are still questions to answer for those two units. A strong case can be made, however, that the Seahawks got better at every other position group with their offseason moves. Carlos Hyde and DeeJay Dallas have both looked great at running back and, along with Travis Homer, provide really good depth behind Chris Carson, and when he's healthy, Rashaad Penny; Greg Olsen has looked great at tight end and gives the Seahawks a really good tandem along with a healthy Will Dissly, and there's a lot of depth behind those two; and at receiver the Seahawks have added Josh Gordon and Phillip Dorsett II, among others, to compete for time behind Tyler Lockett and DK Metcalf. At linebacker, the addition of Jordyn Brooks and Bruce Irvin gives the Seahawks a ton of talent and depth to go along with returning players like Bobby Wagner, K.J. Wright, Cody Barton, Ben Burr-Kirven and Shaquem Griffin.
Lastly—and to actually answer the question—the group that might have improved the most is the secondary. Jamal Adams, a first-team All-Pro in 2019, is arguably been the best player on the field, along with Russell Wilson and Bobby Wagner, on any given day in practice, and Quinton Dunbar gives the Seahawks a potential playmaker at cornerback opposite Pro-Bowl left corner Shaquill Griffin, or if Dunbar isn't starting, that means Tre Flowers stepped up his game significantly to win the competition, so either way the Seahawks get better there. And Quandre Diggs, a midseason trade acquisition, should only improve now that he's had more time with the defense and a full training camp under his belt. And that's just covering the starting four in the base defense, which means we haven't mentioned Marquise Blair, who has been one of the big surprises of camp, according to Pete Carroll, and who seems to make a big play or two in every practice or scrimmage.
Rob Farver from Napa, California asks, "How are the Seahawks going to stop the run this year, and who is going to play the 5-technique defensive end spot?"
A: It's fair to have concern about Seattle's run defense seeing as the Seahawks allowed 4.9 yards per carry last season, tied for 29thin the league, but the Seahawks feel like they've done a lot of things to address that. For starters, a full season of Jarran Reed and the continued growth of Poona Ford should help the interior line, and on the edges, Benson Mayowa and Bruce Irvin, a pair of offseason additions, are both strong run defenders. He still has to prove it in games, but rookie Alton Robinson made a number of impressive plays defending the run in practice, and to your question about the 5-technique, the Seahawks are also looking to get a lot more out of 2019 first-round pick L.J. Collier this season. That doesn't necessarily mean he starts there, though he's in the running for that job, but whether it's him or Rasheem Green or someone else, the Seahawks will look for that player to be a big part of the run D.
Another big factor should be safety Jamal Adams, who has made a ton of plays in the backfield this camp, and who adds an overall element of playmaking and speed to the defense. Finally, while we don't yet know exactly what kind or role Jordyn Brooks will have, the rookie linebacker was a great run defender at Texas Tech and brings a ton of speed to the defense that can only help.
Anthony Puente from Quincy asks, "Does Russell Wilson have a chance at being MVP this year?"
A: Despite Wilson having somehow never received a single MVP vote, yeah, he definitely has a real shot at being MVP. As always, however, that award has a lot to do with team success, so in all likelihood the Seahawks will need to win the NFC West or at the very least be a playoff team for him to be in the running.
Wilson has been near the top of just about every player ranking list you could find this offseason, so he's getting the national attention that always helps when it comes to being on the radar of MVP voters. Obviously plenty of other players, and quarterbacks in particular, are also strong contenders for the award, including Patrick Mahomes and Lamar Jackson, the winners of the last two MVPs, but if Wilson continues to play like he has the past couple of seasons and if the Seahawks are one of the NFC's top teams, then yes, he definitely has a legit shot.
T Fischer from Snohomish asks, "Will the Seahawks give Shaquem Griffin more plays?"
A: We'll have to see how things shake out once the games get going, but starting late last season, Griffin did start to carve out a role for himself in the pass-rush rotation, and I'd imagine he'll get a shot in that type of role again. How much playing time he gets will have a lot to do with how he performs, because the Seahawks will always find ways to get an effective pass-rusher on the field.
Camden Wedin from Ellensburg asks, "Are we going to see a three-safety package vs. the Falcons?"
A: Yes and no. All signs point to safety Marquise Blair playing the nickel role when the season begins, and while that job is more commonly held by a cornerback, he looks to be the guy there. So it won't be a special three-safety or big-nickel or whatever you want to call it, such as when the Seahawks used three safeties at times in 2017 even though cornerback Justin Coleman was their regular nickel DB, but instead it appears their usual nickel package will feature three safeties.
Photos from the 16th practice of Seahawks 2020 Training Camp, held on Thursday, September 3 at Renton's Virginia Mason Athletic Center. Seahawks Training Camp is presented by Safeway.