The Seahawks moved into first place with Monday night's win over the Minnesota Vikings, and with a quarter of the season still to play, they have already secured their seventh 10-win season in the past eight years. Next up is a trip to Los Angeles to face the Rams, but before we turn our attention to that game, it's time once again to answer questions from you, the fans. As always, thanks to everybody who asked a question this week, and apologies if I couldn't get to yours this time around. And remember you can submit questions for future mailbags both on Twitter (@johnpboyle) or online at Seahawks.com/SeahawksMailbag.
Tim Wakeling from Boothwyn, Pennsylvania asks, "What is Seattle's Monday night record since Russell Wilson has been in the league?"
A: The Seahawks have a long history of success on Monday Night Football, and after Monday's win they boast the NFL's best winning percentage on Monday night (.722) with a 26-10 record that included an 11-game Monday night winning streak from 2005 to 2017. Since Wilson joined the team in 2012, the Seahawks are 9-2 on Monday nights, including wins in two of Seattle's last three games.
@rgbspace asks, "What is going on with Tyler Lockett?"
A: It's been a tough few weeks for Lockett, who midway through the season was on pace to have one of the best seasons by a receiver in team history. Lockett left Seattle's Week 10 game with a shin contusion that was serious enough to require a two-night hospital stay. Thanks to the bye week, Lockett didn't miss a game, but as Seahawks coach Pete Carroll noted, he wasn't at full speed, which contributed to him having only one catch against the Eagles. The hope was that Lockett would have come back at full strength, or something close to it, for Monday's game, but he got hit pretty hard by the flu bug that was going around the team, keeping him out of practice for most of the week, and affecting him on game day as well. While the production the past two weeks hasn't been what Lockett or the Seahawks have come to expect, it's a safe bet that he'll still be a big part of the Seahawks' offensive plan going forward.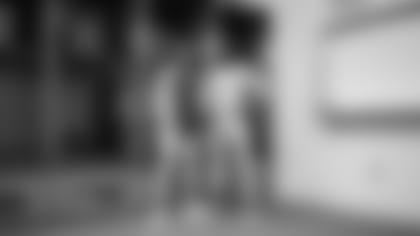 Wendy Forte asks about the Canada onesies worn by Tyler Lockett and David Moore on Monday, and Kathie Klatt from Vancouver, B.C. writes to say she is "very impressed with the wearing of the Canadian onesies in support of Luke Willson."
A: If you missed it, Lockett and David Moore, another of Seattle's sick players, showed up for Monday's game wearing onesies covered in red maple leaves, a rather unusual pregame look. As they explained to reporters after the game, it was a nod to tight end Luke Willson, who while injured and unable to play this week, did his part to help the team by helping nurse his sick teammates back to health and keep their spirits up during the week.
@Edinburghlmp asks, "What is the feeling amongst people around Seattle, is there a real belief the Seahawks can go all the way?"
A: With a 10-2 record, there's little doubt that this is a very, very good team. Just how good remains to be seen, but if you ask Carroll or his players, the there's something special about this team when it comes to the chemistry of the team and the level of belief they have in themselves and each other. There's no guarantees that those things will lead to a trip to the Super Bowl, but it can be the type of thing that can help a talented team get over the top when attempting to make a postseason run.
"This is the team that I think we'll look back on, there was this deep seeded, longstanding care for each other that comes about in terms of harmony that they really are together," Carroll said last month. "They're with us on everything and they're going along with it. They're pliable in a sense. They're growing into the belief that they can win football games. That's really powerful knowing when you get there. It's obvious with all of the close games that we've played. The ability to do that comes from the belief that they have for themselves, what they are capable of doing, what the guys around them are capable of doing. That's a very strongness in here. It's like, the force is strong in this room. It's pretty cool."
The Seahawks know they can't look ahead to the postseason just yet however, not with the 49ers also at 10-2 (Seattle is currently in first place having beaten the 49ers), and a with a tough finishing schedule coming up. But with Russell Wilson playing at an MVP level, and with the defense coming on strong over the past few games, the Seahawks look like a legit contender.
@GeekBrenda asks, "How do Seahawks receivers decide what dance they're going to do next?"
A: If you didn't catch it during the game—or all over social media ever since the game—Seahawks receivers, who have become known for their elaborate touchdown celebrations over the past two seasons, celebrated David Moore's 60-yard score with a well-choreographed dance to New Edition's "If This Isn't Love." Moore said after the game that the receivers decided "We wanted to go back old school a little bit, and New Edition was one thing we all came up with."
Andrew Giles from Edmonds asks "Is Michael Dickson is the best punter in the league?"
A: He's definitely in the conversation. Last year Dickson earned first-team All-Pro and Pro Bowl honors as a rookie, and he has followed that up with a strong 2019 campaign. While Dickson's average and net average are down from his rookie numbers, he has been better in recent games than he was earlier this season, and most significantly for someone whose job is to affect field position, he his pinning opponents deep at a high rate, having 26 of his 55 punts downed inside the 20, the third most punts inside the 20 in the NFL, including eight of his last nine. Last year Dickson had 28 of 78 punts downed inside the 20.
@Flashdash007 asks, "Is it worrisome that the Seahawks don't have dominant wins?"
A: Would gameday be a bit less stressful if the Seahawks had some blowout wins this season? Sure. But Carroll isn't really worried about his team's point differential so long as the Seahawks keep winning games. In fact, he sees a positive in his team going through these experiences before the postseason, a time when close games tend to be the norm. If the Seahawks find themselves trailing late in a game or trying to protect a one-score lead, they'll feel comfortable in that high-stress situation knowing they have been through it multiple times during the season and come out on top.
During week 14 of the NFL season our some of our players, coaches, front office staff, and legends will wear custom designed cleats and shoes supporting causes they feel passionate about.