The Seahawks lost a tough one to the Chargers on Sunday and now head back on the road to face the NFC West-leading Rams. But before we turn our focus to this week's game, it's time once again to open up the mailbag and answer questions from you, the fans. As always, thanks to everyone who asked a question this week, and apologies if we weren't able to answer your question this time around.
@Dusk118 asks, "A close loss is still a loss. What kinds of lessons are the players and coaching staff taking away from their performance?"
A: On offense, Seahawks coach Pete Carroll noted that a common theme in losses to the Bears, Broncos and Chargers was the way sacks put the Seahawks behind the sticks to ruin drives.
"They were real similar in that we had a lot of sacks in the game, it seemed like in those games we were playing behind the sticks," Carroll said Monday. "We weren't on schedule the way we want to be on offense and that seemed to be the common trait."
Adding to that problem in Sunday's loss, and in earlier losses, were penalties that also tend to be drive killers. When the Seahawks have avoided penalties and kept sacks to a minimum, their offense has functioned very well.
On defense, Carroll pointed to his team's run defense, which was marred by a number of big plays, most notably a 34-yard touchdown run. Overall, this has been kind of an odd season for the Seahawks when it comes to defending the run. The Seahawks currently rank 21st in run defense, allowing 114.8 yards per game on the ground. In stretches they've been very hard to run against, but on a few occasions, including last week's game, a few big runs have really skewed the stats. If the Seahawks can clean things up and avoid some of those big runs, they have a chance to be stout against the run in the second half of the season.
On a somewhat related note, @gnarlyraddad asks, "What is Seattle's greatest strength/weakness as of midseason?"
A: We covered the weaknesses in the previous question, but when it comes to strengths, the Seahawks have a number of positives going for them. Most notably, they're currently plus-9 in turnover differential, which ranks third in the NFL. That reflects well on both the play of the offense, which has only two turnovers in the past six games, as well as the defense, which has 16 takeaways and which before Sunday's loss to the Chargers had at least one takeaway in every game.
On offense, the growth of the offensive line is a huge positive, and with that has come a very strong running game, which now ranks third in the NFL at 134.1 yards per game. And since Week 3, the Seahawks are averaging a league-best 159.8 rushing yards per game. I'd also throw Seattle's red-zone efficiency into the strength category, as well as the play of Russell Wilson and his receivers, who continue to make big plays.
On defense, the overall play of that unit, even after some high-profile offseason departures has been a big positive. Through half a season, the Seahawks rank fifth in scoring defense, seventh in total defense, sixth in pass defense and fourth in opponent passer rating allowed. If that unit can clean up a few of the mistakes that have led to big plays, it has a chance to be special in the second half of the season.
@TastyFrake asks, "How serious is Chris Carson's injury?"
A: Seahawks coach Pete Carroll said on Monday that Carson was sore, and that his hip felt about like it did coming out of Seattle's Week 8 game in Detroit. On one hand, that's good news because it would imply that the injury isn't overly serious, and because Carson made it back to play against the Chargers. But on the other hand, it's perhaps not-so-good news because Carson wasn't able to finish that game.
"I talked to Chris, it's about like it was last week," Carroll said. Monday. "He's sore, but he was sore last week and he made it through. We'll have to wait and see, we'll just go day-to-day with him. We'll take care of him early in the week and see how he rounds out later in the week."
In other words, don't expect Carson to practice a lot this week, and there's a pretty good chance we won't get clarity on his status until Carroll addresses the media on Friday, or perhaps even game day.
@HolliWinters asks, "With no-shave November just starting, who on the Seahawks has the best mustache or beard?
A: Practice squad guard Jordan Roos, and it's not particularly close.
(editor's note: if we expanded @HolliWinters' question to include football players around the region, Washington State Cougars quarterback Gardner Minshew would surely run away with the honor. Minshew's mustache has taken on a life of its own amongst Wazzu fans).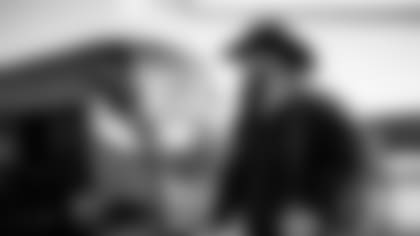 @wenfot asks, "What would you like to see the Seahawks receivers do for next week's touchdown celebration?" Wendy also suggests Beyoncé's "Single Ladies" dance as an option.
A: Beyoncé would be pretty funny. This would have been timelier prior to Halloween, but Michael Jackson "Thriller" zombie dance also would have been fun. The Macarena is so dated and bad it would be kinda funny. But what I really want to see—and this would require coordination with the gameday presentation folks—would be for all the receivers to do an overly dramatic lip-sync rendition of Boyz II Men's "End of the Road," preferably after scoring a game-winning touchdown.
@jennemmy asks, "Does the team vote?"
A: I couldn't give you a number in terms of how many players vote, but I do know the Seahawks have a pretty socially conscious locker room, as well as a head coach who encourages players to express themselves, so I'd be willing to bet that a pretty good number of players did exercise their right to vote this week.