The Seahawks opened preseason play on Saturday with a loss in Pittsburgh that featured plenty of bright spots despite the final score. Next up is a home game against the Bears on Thursday, but before we get to that, it's time once again to open up the mailbag and answer some questions from you, the fans. As always, thanks to everyone who asked questions this week, and apologies if we couldn't get to your question this time around.
And remember, in addition to asking questions via twitter, you can also submit them at Seahawks.com/mailbag. Or maybe just try yelling really loud and see if I hear you… Actually, don't do that, I get enough yelling at home from my kids.
@eastone17 asks, regarding the loss of Bobby Wagner, "Who will take on that leadership role?"
A: The Seahawks parted ways with a pair of captains in the offseason, trading Russell Wilson and releasing Bobby Wagner, so other players will no doubt have to step up when it comes to leadership. When Seahawks coach Pete Carroll and players are asked about that topic, the common answer is that it is a group effort and not up to any one player to fill the void. Obviously whoever wins the starting quarterback job, as well as Jordyn Brooks, will naturally take on leadership roles, particularly in-game since they're the two players who have the headset in their helmet to relay calls from the coaching staff. But from a bigger-picture standpoint, the Seahawks are looking to a number of veterans to step up and lead in whatever way comes naturally to them, a group that will include Tyler Lockett, DK Metcalf, Will Dissly, and Geno Smith and/or Drew Lock and others on offense, and Quandre Diggs, Jamal Adams, Al Woods, Poona Ford, Brooks, Cody Barton and others on defense.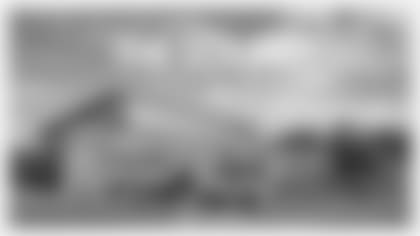 Watch The Latest From The Sound
Watch the latest from the season-long docuseries featuring unprecedented access and stories from inside the Virginia Mason Athletic Center like you've never seen before. This is The Sound of the Seahawks.
And again, no one player is expected to just replicate everything Wilson and Wagner did as leaders; that wouldn't be genuine. Instead the plan is for new leadership to emerge and lead a new-look team in their own way.
@erg67 asks, "Has any reporter asked Pete Carroll how you can have a quarterback competition when one QB gets 90 percent of the first-team reps?"
A: Yes, Carroll has been asked a variation of this question on a few occasions, and for the most part the answer has been to explain that they have a plan for the competition and we'll see what that plan is as it plays out. The team is under no obligation to lay out the plan for the quarterback competition ahead of time, but I will add that we're three weeks and one preseason game into a process that all along most of us thought would take most if not all of the entire six-week span between the start of camp and the final week before game week. So that means there are still three weeks of practice and two games for Drew Lock to get more first team reps, and I would be very surprised if he doesn't start getting more time with the ones, perhaps as soon as this week.
And even if Geno Smith has received the bulk of the first-team reps thus far, that doesn't mean the Seahawks don't have ways of evaluating both quarterbacks even if it isn't always an apples-to-apples comparison.
I get the concern and constant conversation about the quarterback competition—it is the most important position in the sport and one of the most important in all of team sports—but until we get further into camp and through more preseason games, I'm not going to worry too much about how the competition is structured because we haven't seen it all play out yet.
@XRayBird1 asks, "Do you think Boye Mafe will build on his strong performance against the Steelers?"
A: If by build on it you mean get two more sacks every time out, then no, that's probably not a fair expectation. Boye Mafe's preseason debut, which featured two sacks and a forced fumble, as well as a touchdown-saving tackle on punt coverage, was undoubtedly one of the bright spots from Seattle's preseason opener. A second-round pick out of Minnesota, Mafe showed great speed and technical ability in picking up his first sack, which featured a Cliff Avril-esque swipe at the ball to force a fumble. His second sack, which gave the defense a big stop late in the game, was all tenacity and athleticism, and he also showed off good recognition helping thwart a jet sweep run.
It was just one game, and a preseason one at that, but Saturday was definitely a very encouraging debut for Mafe.
Larry Miles from Kankakee, Illinois asks, "Were the Seahawks in the AFC first?"
A: Most Seahawks fans are well aware of the team's history as longtime members of the AFC West before joining the NFC West in 2002 as part of the league's realignment that year to create four divisions in each conference.
What a lot of folks may not remember, however, is that the Seahawks actually started out playing in the NFC West in 1976, spending just one season in that conference before moving to the AFC West in 1977.
@CrzyPand_ish asks, "How many running backs are the Seahawks going to roster, and when do we panic about the cornerback position?"
A: Panic about the cornerbacks? For real? That has been one of the more impressive position groups throughout training camp. Yes, Tariq Woolen made a mistake in coverage on Pittsburgh's first touchdown, and yes Coby Bryant gave up a score over the top—in part due to a subtle push off from George Pickens—something that has basically not happened at all in practice. But those two also had plenty of positive moments in the game, and more importantly, their body of work over the past three weeks indicates they are much, much better than a couple of mistakes in a preseason debut might have let on. And that position looks deep as well, with Artie Burns and Sidney Jones IV both looking good with the No. 1 defense prior to both being sidelined by injuries. The competition between those four for two starting spots is definitely going to be a big storyline throughout the rest of camp, and that's before Tre Brown, who is on the PUP list, is even added to the competition.
As for the running backs question, all signs would point to the Seahawks keeping Rashaad Penny, Kenneth Walker III, DeeJay Dallas and Travis Homer. Penny and Walker figure to be the one-two punch in terms of getting the most carries, but in Saturday's game, Dallas and Homer both looked like players who are deserving of bigger roles on offense. And regardless of how many touches Homer and Dallas are able to get, they also have a lot of value as two of Seattle's better special teams players. It would take a big push for Josh Johnson or Darwin James to steal a roster spot from one of those four or to convince the powers that be to keep a fifth running back on the 53-man roster, but both have flashed in camp, and could definitely stick around on the practice squad.
Go behind the scenes with team photographer Rod Mar as he shares moments from the Seattle Seahawks' Preseason Week 1 32-25 loss to the Pittsburgh Steelers on August 13, 2022 at Acrisure Stadium. Eye On The Hawks is presented by Western Washington Toyota Dealers.