Seahawks players are enjoying a day off today before returning to work Thursday to begin preparation for Sunday's preseason game in Minneapolis, so with no football happening today, it's a good time to answer questions from you, the fans. As always, thanks to everyone who asked questions this week, and apologies if I wasn't able to get to yours this time around.
Tanner Brumfield from West Jordan, Utah asks, "What's the biggest area the Seahawks are trying to improve in this year?"
A: In Pete Carroll's "Always Compete" world, the goal is to be improving all the time, but if you're looking for specifics, I'll give you three things that Carroll has mentioned at various times this offseason and during camp.
Cut back on big plays allowed by the defense. Stopping explosive plays is a huge deal for Carroll, and he has brought that up a few times dating back to the end of last season.
Improve on pass protection. Seattle's offensive line, and the offense as a whole, took a big step forward in 2018, but Russell Wilson was still under pressure more than the team would have liked. As Duane Brown put it during offseason workouts, the Seahawks have the talent to be one of the best O-lines in the league, but as he pointed out, they'll need to protect Wilson better to achieve that goal.
Play more consistently on special teams. The Seahawks did a lot of things well in that phase of the game last year, but as special teams coordinator Brian Schneider pointed out, they weren't able to maintain a high level of play throughout the year. The Seahawks hope that some new additions, ranging from Pro Bowl kicker Jason Myers to a number of rookies who are expected to be core special teamers, can help them upgrade that part of their game.
@flashdash007 asks, "How many receivers are going to end up on the final roster? Who's fighting for those final spots?" Along those same lines, Braden Jackson from Kirkland and @dougthecoach ask if undrafted rookie Jazz Ferguson has a shot to make the roster.
A: The Seahawks have usually kept five or six receivers on the roster, and while nothing is set in stone, Tyler Lockett, David Moore, Jaron Brown and DK Metcalf all look like sure things, or close to it. That leaves a lot of good players battling for one or two spots, including the aforementioned Ferguson, who had a big game in last week's preseason opener, fourth-round pick Gary Jennings, who has had his best week of practice, seventh-round pick John Ursua, and Malik Turner and Keenan Reynolds, who both split time last year between the practice squad and active roster.
And it's always worth remembering that when it comes to those final spots, special teams can be a big factor. In all likelihood, a fifth or sixth receiver isn't going to see a ton of playing time on offense, barring injuries, in a regular season game, so to win those spots, that player needs to find other ways to contribute.
Greg Segai from Shelton asks, "Which running backs are being used in the passing offense? Is the work divided evenly or is one player getting the most targets?"
A: This has been an interesting topic during camp that has been discussed both by Carroll and by offensive coordinator Brian Schottenheimer. In recent years the Seahawks have usually relied on one back to be the third-down and two-minute drill back, and that player has tended to get the bulk of the receiving targets relative to the starting back. But Carroll and Schottenheimer have both raved about the pass-catching ability of all the backs, and of Chris Carson in particular. While it's too early to know for sure what the offense will look like, that could perhaps mean instances where Carson or Rashaad Penny stays on the field in third-down or two-minute situations rather than always going to a back who specialized in that.
@CostaIsAnAlien asks, "Since I'm getting ready for my 12th tattoo, and I already have the 12 and Russell's Wilson's autograph, what should I get as my next Seahawks-themed tat?"
A: The face Jon Ryan is making when he threw the touchdown pass to Garry Gilliam in the NFC championship game. You're welcome.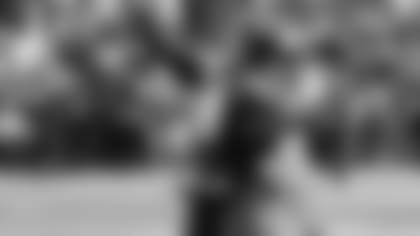 Javier Rodriguez Jr. from Grandview asks, "Are the Seahawks going to be more of a running team or a passing team?" Similarly, @MrBeamon06 asks, "Do you see Russ throwing more this year or is it still a run-first system?"
A: I've addressed this a few times before, but I always feel like it's important to point out that Carroll has never said he wants to have a run-first offense. He wants to be balanced, and that's not the same thing. Yes, the running game will always be important, but for Carroll, balance is about being able to get the job done on offense in whatever way is necessary in a particular game, such as last year in Carolina when Wilson threw for 339 yards and the Seahawks won despite the Panthers holding Seattle to just 75 rushing yards.
"On a day when we couldn't run the ball like we had been, we needed the throwing game, and Russ came through and had a great day throwing the football," Carroll said after that game. "He just found so many key plays in crucial situations, and did a wonderful job of making plays down the stretch when we had to have them. Guys made the catches, and the pass protection was there for us. We love to run the football, but balance is what's really the essence of this thing, and I'm thrilled we were able to do that."
As for this year, the Seahawks aren't going to say now if they are planning on changing things up much, but in general terms, they'll still want to be a team that can have a physical running game as well as an explosive passing attack.
"We always want to be balanced," Schottenheimer said. "We always want to be balanced, but we're always going to be physical in everything that we do. The run helps us set up the play pass, the play pass helps us set up the run. Can I tell you how many runs and how many passes we're going to call in the first game? I'd love to be able to tell you that, but I don't know that right now. It's going to come down each game. We've obviously got a premier quarterback. We've got an excellent stable of backs, and a terrifically powerful offensive line, so hopefully teams have to figure us out."
Arturo Tarin from El Paso, Texas asks, "Who will be taking over at free safety for Earl Thomas?"
A: Losing a player as talented as Thomas in free agency is never easy for a team, and the Seahawks aren't asking anyone to be Earl Thomas in 2019, but one thing making the adjustment to life after Thomas a bit easier is the fact that the Seahawks prepared for the start of last season and then played most of the season without him. Thomas held out of training camp and all four preseason games hoping to get a new contract, so Tedric Thompson was the No. 1 free safety throughout camp last year, then Thomas unfortunately broke his leg in Week 4, meaning Thompson started 10 games alongside Bradley McDougald, while Lano Hill started two with Thompson injured.
As for this season, Thompson would have to be the favorite to start at free safety as of now considering that he has been working with the No. 1 defense throughout camp, and was the starter in preseason game No. 1, but that doesn't mean there aren't others competing for that spot. McDougald will almost certainly be one of the two starting safeties, but his ability to play free or strong safety means Thompson is competing with all other safeties for the other starting spot, and not just with the true free safeties on the roster. Hill recently returned to practice and is working his way back from the hip injury he sustained late last season, and once he's fully up to speed, he figures to be a factor in the competition. Second-round pick Marquise Blair played well in the first preseason game and also could factor into that competition over the next few weeks.
@Shepster17 asks, "Biggest surprise in camp so far?"
A: I'd point to a couple of things, including the receiver depth discussed earlier. With Doug Baldwin no longer on the team, that could have in theory been a big concern. And while no player is going to come in and be Doug Baldwin, enough young players have emerged that receiver feels like a position with a lot of depth despite losing a Pro-Bowler.
On defense, I'd say the edge rush minus Ziggy Ansah, who we haven't seen yet as he works his way back from last year's shoulder surgery. Similar to receiver with Baldwin, the Seahawks had a big hole to fill in their pass rush having traded Frank Clark, and while no one player, minus perhaps a healthy Ansah, is likely to match Clark's 2018 production, the Seahawks have enough intriguing pieces to make me think they just might be OK there despite all the concern. Cassius Marsh, who re-signed after two years away, has looked good, Barkevious Mingo seems to be taking well to his switch from linebacker to end, and Jacob Martin looks like a player ready to make a Year 2 jump. Again, none of those players should be expected to be Clark, but all of them combined with a healthy Ansah could give Seattle a group of edge rushers that's better than most people are expecting.
@HollNicky asks, "Do you think Mike Iupati will be healthy, and if not who is going to be in his place, Ethan Pocic or Phil Haynes?"
A: Carroll said earlier this week that Iupati, who is dealing with a foot injury, is probably about a week away, and that they're being cautious with the veteran. As things stand now, Pocic is the No. 2 option at left guard, having worked there with the starters ever since Iupati went out. Haynes could factor in the competition there eventually, but the rookie guard is still making his way back from sports hernia surgery, so he has to get on the field before we can assess his place on the depth chart.
@ImFrank4U asks, "Why isn't Jamar Taylor getting more chatter about being the starter at nickel corner?"
A: Carroll has mentioned Taylor as one of four players, along with Akeem King, Kalan Reed and Ugo Amadi, who is competing for that job, but as for why you haven't heard more about him as the starter there, it's likely because for the most part King and Reed have gotten all the first-team reps in that spot, indication they're the leaders in that competition, at least as of now. That being said, Taylor has been really good in camp and he should be a real factor in that battle over the next few weeks.