The Seahawks are headed to London this week and for 12s joining the team across the pond there's a number of fan-related events happening around the city that are worth putting on your radar. 
To help fans keep track of everything, Seahawks.com has launched a handy tool for 12s traveling to the United Kingdom. At London.Seahawks.com, fans can find details on all the Seahawks-sponsored events taking place throughout the week, as well as view an interactive map offering details on official events and highlighting points of interest for travelers hoping to experience everything the city has to offer.
Home Base
The Barrowboy & Banker, located a stone's throw from the London Bridge, will serve as the Seahawks' home pub in the city. The establishment will feature a number of Seahawks-centric events, including a trivia night on Thursday, a Blue Friday rally on Friday, and an in-depth game preview from members of the Seahawks Radio Broadcast on Saturday before serving as a place to watch Sunday's Seahawks game against the Oakland Raiders.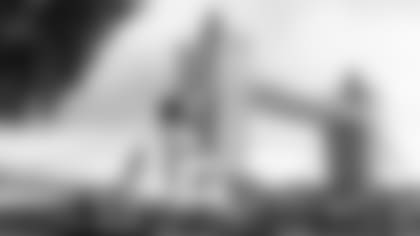 #12sEverywhere
To celebrate the Seahawks' international following, we've created a large 3-D freestanding number '12' that will be set up around some of the city's most iconic locations. Fans are encouraged to snap a photo in front of the giant '12' and post a photo on social media using the hashtag #12sEverywhere.
Gameday
Seattle's first-ever regular-season game outside of North America comes against the Oakland Raiders, with kickoff set for 6 p.m. local time (10 a.m. in Seattle) at Wembley Stadium. London.Seahawks.com outlines a number of gameday travel tips, pregame options, and stadium information for those headed to see the game in person.
Scenes from around London as the Seahawks prepare for Sunday's game against the Raiders.