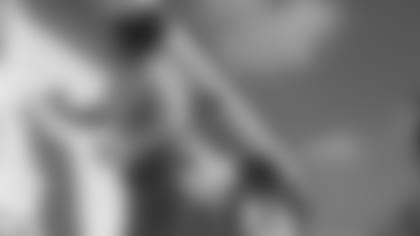 *KIRKLAND, WASH. *-The Seattle Seahawks announced today that Ms. Aniece Gibbs has officially moved back into her home. Seahawks fans donated more than $85,000 to the rebuilding project. The campaign was launched prior to the Seahawks game vs. the New Orleans Saints on October 14.
The Seattle Seahawks, News Talk 710 KIRO and Rebuilding Together, a non-profit organization based in New Orleans, set a goal to help one family move back into their home in New Orleans. Aniece Gibbs, 88, lost her home of 50 years in Hurricane Katrina.
"My heartfelt thanks to all the Seahawks fans and my new Seattle family who provided the resources for me to move back into my home of 50 years," said Ms. Gibbs.
The first volunteers worked on the house during the week of November 12 and performed vital tasks to continue the process for professionals. Volunteers from Rebuilding Together affiliates across the country removed old insulation, demolished old plumbing and separated nails from floorboards and the ceiling. A house that was in dire straits at the start of 2007 is now structurally sound one year later.
"I remember taking pictures of this house with no front porch, a gaping hole in its exterior and a gutted, debris filled interior a few months ago," said Information and Research Officer Jon Skvarka. "Now there's this beautiful bright yellow house expressing the resilience and determination of Ms. Gibbs to the rest of the Hollygrove neighborhood."
The campaign included an opportunity for fans to bid on a variety of exclusive Seahawks merchandise and one-of-a-kind collectibles in addition to purchasing Mardi Gras beads prior to the Seahawks vs. Saints game.
"We were elated by the support from our fans and partners," said vice president of community outreach Mike Flood. "We were able to kick things off in Seattle and pass the ball to the 48 hands-on volunteers who worked a total of 1,920 hours over four months to move Ms. Gibbs back into her home."