The sports world paused earlier this week after Jacob Blake, a Black man, was shot seven times in the back by a police office in Kenosha, Wisconsin. NBA, WNBA, MLS and MLB players elected not to play games Wednesday night, the NHL followed suit later it the week, and several NFL teams have canceled practices in recent days.
On Saturday, the Seahawks held a lengthy meeting with players and coaches prior to what would have been their 14th practice of training camp, but rather than take the field after the meeting, players voted not to practice, and instead used that time to make sure every player on the roster was a registered voter.
By 3 p.m. about the time practice would have wrapped up, all 80 players on Seattle's roster were registered to vote.
In a press conference that lasted about 15 minutes and did not include any questions from the media, Seahawks coach Pete Carroll gave an impassioned speech about racism, pleading with white people to listen to the message Black people have been screaming for so long, and encouraging coaches in all sports to use their influence for good. Carroll also made a plea for everyone to exercise their right to vote this November.
"What can we do? Well, we've got 60 days," Carroll said. "The March on Washington was all about commitment. Well, why not take these 60 days and make a commitment to vote, and march together to get everybody in this country to vote so that everybody has the voice. And everybody that needs to speak out gets heard, and we don't let anybody squelch any aspect of the voting potential, not one freakin' vote. And we need to start now. We need to start voting, start the process, register. All of our players will be officially registered today. That's a start. Sixty days to march, a commitment to vote. Can we get that done? We can. We can do that. At least that's proactive right now. Because the hardest part is, what do you do? How do you help? Well first we get educated, we start working on ourselves and try to understand really what's happening."
"I'm a lot more mature than I was four years ago," Diggs said. "Four years ago when I was 23, I really didn't know too much about absentee voting and things like that, but now I'm a father, I'm a boyfriend of eight years, I'm a son, so my mom, my girlfriend my daughter, those people are dependent on me. For me, it's my duty to go out there and go vote. I just made it important—I don't like the leadership that we have now, I'm just going to be honest with you—so for me to invoke my change, I think it's important for me to go out there and get my vote. I'm not telling people who to vote for—you vote for who you have to vote for—but for me, I think it's just important in these times with everything going on that your vote is important. People back in the day fought for our rights to be able to vote, and it's important for me to take advantage of those rights and go do that."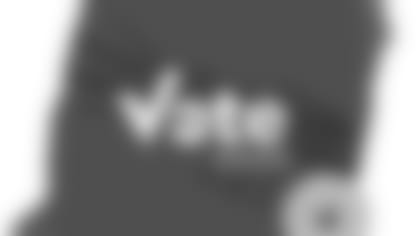 Register To Vote Today
Get registered, check your registration status, and sign up for election reminders.