Finally, there was football on Wednesday, or at least something resembling football, as the Seahawks took the field as an entire team for the first time in 2020 training camp. In a normal year, the Seahawks would be playing their first preseason game later this week, but this year has been anything but normal due to the COVID-19 pandemic, so the first two weeks of training camp have consisted of testing and a ramp-up period to get players ready for practice.
"For us this is an important first day," Seahawks coach Pete Carroll said. "This is the first time we get everybody on the field at the same time, working together, helmets on the whole thing, it starts to feel like football a little bit. Everybody is really anxious and excited and raring to go. We all love this game so much and have been having to wait forever, so guys are thrilled to be out here working. It was a great first day for us. The build-up to it has worked quite well. We stuck right with the regimen of the ramp-up, and it's been OK for these guys. They're in pretty good shape and they're ready to go. Friday's really the first full-speed practice for us, we'll see how that works and we'll see how we recover from that, and if we get that done, the we're on our way."
Wednesday's work more closely resembled a walk thru than a full-speed practice and didn't include any offense vs. defense work, and pads won't go on until early next week, but it was refreshing nonetheless to see something resembling football again at the VMAC, so with that, here are five observations from Wednesday's practice:
1. Jamal Adams is making a good first impression.
The speed of practice and lack of contact means Jamal Adams can't fully show what he's able to do just yet from a physical standpoint, but the All-Pro safety who was acquired in a trade with the Jets last month is already making a very good early impression on his new team with his mentality and work ethic.
"He's really sharp, he's really competitive in that he really cares in that he wants to know all the details, he wants to be corrected, he wants to be helped, he wants to be taught, coached and all that," Carroll said. "He's got a unique focus that some great players we've had really demonstrated. I just know he's the real deal. You can see it on film, you can see it when you meet him, and he gets along really well. He has really high expectations for what he's going to bring to the team and how he's going to help out, but he also has a real cool approach about it that he knows he to earn it every step of the way, and that's a great combination. He's not too full of himself. He wants to be a great player, but he wants to work for it. That's all we can ask for."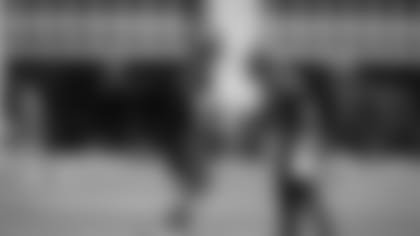 2. Russell Wilson's offseason work with his pass-catchers was evident on Day 1.
While the were no official offseason workouts for NFL teams this offseason, Russell Wilson did put in some work with his pass-catchers, and that is paying off early in camp, particularly when it comes to newcomers like tight end Greg Olsen and receiver Phillip Dorsett II, and second-year receiver DK Metcalf, who spent a lot of time working with Wilson in Southern California.
"He worked his tail off and he had a great offseason," Carroll said of Wilson. " He was so disciplined about it. The effect that he has on other players is really obvious, because he threw with a lot of guys over the course of time, got together with a bunch of guys. You can just see the carryover—they're already talking our language. The work he has done with Greg Olsen and DK in particular, and Phillip Dorsett, we're rolling. DK had a bunch of room to grow with as a young guy; (Wilson) had to learn Greg and Greg had to learn Russ, and same with Phillip, and those guys are in here flying around. They look great, they look like they know what they're doing. They already are showing the kind of detail work that you have to work to earn, and Russell was really in the middle of making that happen."
3. Marquise Blair and the nickel role.
Carroll floated the idea earlier this offseason of a three-safety nickel defense with Marquise Blair joining Adams and Quinton Dunbar on the field when the Seahawks deploy five defensive backs, and sure enough Blair saw time in that spot in his first practice. So what will it take for the second-year safety to solidify himself in that new role?
"He's just got to be in there a ton, he's just got to get there and get the reps and get comfortable with it," Carroll said. "He can do everything that you need to do there, he just hasn't had the background of experience doing it, so he's a rook at that spot. But we've conveyed to him the different aspects of it are like this as a safety, or like he's played before, things that he's done before. So he just has to incorporate it all. He's in a spot where the ball comes his way a lot, and he's a ball player and a ballhawk type of kid, so it's a cool spot for him. He's got to work on his coverage stuff, we've got to bring him along in all of that, the combinations of things that he does there. But the fact that he can pressure from there and make his hits from there—we'll see, it's going to take some time. We've got a month to figure it out."
4. Linebacker or defensive end, or both?
When players broke up into position groups for drills, Bruce Irvin and Shaquem Griffin both spent much of their time with the defensive linemen, though both are listed on the roster as linebackers. So which position do they play? The answer in Carroll's defense is basically that they play both, working at strongside linebacker in the base defense, and as edge rushers in pass-rush packages. How much either plays one spot or the other would depend both on how much base defense the Seahawks play vs. nickel, and also potentially on if the Seahawks decide to use either K.J. Wright or rookie Jordyn Brooks at strongside linebacker to get them both on the field along with Bobby Wagner. There has always been some overlap between end and strongside linebacker in Carroll's defense, with Irvin providing the most clear example during his first tenure with the team, and after seeing Griffin take on a bigger role as a situational pass-rusher late last season, it appears he too will be in store for a hybrid role in 2020.
Asked about Griffin's position, Carroll said, "He's got the latitude to play different spots for us. He's an outside backer though—he's an outside backer that rushes—so I wouldn't call him a defensive end, but he plays in the defensive end spot. He's learning the linebacker spot, the Sam spot, and he becomes a rusher in the nickel stuff."
5. The Seahawks miss having their fans at practice.
Were this a typical first practice of camp, there would have been 3,000 or so fans packed on the berm next to the practice field, but unfortunately there are no fans at camp this year due to the COVID-19 pandemic. And while the players and coaches provided plenty of energy on Day 1, the fans were missed.
"It is different, yeah," Carroll said. "I miss that already. The fun part of coming to camp is getting to share it with our fans and all that. You can feel there's a difference, so we've just got to send messages through the airways some way how things are going, and hopefully you guys (media) can keep everybody abreast what it's like and they can stay with us as we go through it."
Photos from the practice field on the first team practice of Seahawks Training Camp at Virginia Mason Athletic Center.