SEATTLE—The Seahawks opened December with one of their best performances of the season, a 24-10 victory over the Philadelphia Eagles, who came into this game with a 10-1 record and the League's No. 1 scoring offense.
The Seahawks defense was spectacular, holding the Eagles to a season-low 10 points, Russell Wilson looked like an MVP candidate, and with big plays from Wilson's pass catchers and a solid day of running from Mike Davis, the offense did more than enough to complement a great day of defense.
Here are five takeaways from a win that improved Seattle's record to 8-4:
1. Seattle's Defense Rose To The Occasion
The Seahawks don't have Kam Chancellor, Richard Sherman or Cliff Avril, but they still have a ton of talent, not to mention pride, on that side of the ball. With the Eagles coming to town with the NFL's No. 1 scoring offense, Seattle's defense was facing one of its toughest tests of the season, and that unit turned in what, all things considered, was one of its best performances of the season.
The Eagles, who were averaging a league-best 31.9 points per game this season, managed just a field goal in the first half as the Seahawks built a 10-3 lead prior to the break, and while the Eagles played better in the second half, they still finished the game with just 10 points, ending a streak of five straight games of scoring more than 30 points. In fact, the Eagles had not been held under 20 points in a single game this season. The Seahawks helped their cause by forcing a pair of turnovers and by sacking Carson Wentz three times and hitting him 12 times. Seattle also recorded seven tackles for loss.
This marked the second time this season the Seahawks have held a top-scoring offense in check after holding the Rams, who were then the No. 1 scoring team, to 10 points in a Week 5 win in Los Angeles.
All of that being said, Carson Wentz made a few big plays to keep the Eagles in it, showing why he is one of the best young quarterbacks in the league and a legit contender for the MVP award. Most-notably, Wentz completed a 51-yard pass while falling down to convert on third-and-13, then threw a 27-yard touchdown pass on third-and-14 on that same drive.
2. The Seahawks Defense Never Gives Up In The Red Zone.
When the Seahawks beat the Rams earlier this season, one reason they were able to hold Los Angeles to 10 points was Earl Thomas' forced fumble at the goal line that resulted in a turnover, and sure enough, another high-scoring offense left points on the table Sunday thanks to a last-ditch effort at the goal line. This time, it was Sheldon Richardson making a remarkable play, shedding a block at the last moment and reaching out with one hand to strip Wentz as the quarterback dove for the end zone. The ball bounced out of the back of the end zone, giving Seattle the ball at the 20-yard line.
And that play is nothing new for the Seahawks. Thomas did it to the Rams during the 2014 season in a win in Seattle, and Kam Chancellor forced a fumble at the goal line late in a 2015 game against Detroit to preserve a win.
3. Russell Wilson Put Himself Right In The Middle Of The MVP Conversation.
If Wilson wasn't already a legitimate MVP candidate before Sunday's game, he definitely is now after putting on a show in primetime against one of the league's best teams.
Wilson finished the day completing 20 of 31 attempts for 227 yards and three scores with no turnovers, giving him a 118.6 passer rating. He also rushed for 31 yards on six carries. Wilson was at his very best on a fourth-quarter touchdown drive that helped Seattle put the game out of reach, making magic happen with his feet and his arm. On third-and-nine, Wilson avoided a sack then took off running, only to pitch the ball laterally to Mike Davis seven yards down field, with Davis gaining an additional 17 yards. Two plays later, Wilson avoided pressure again to find Nick Vannett for 21 yards, setting up an eventual 15-yard touchdown pass to J.D. McKissic.
That touchdown pass was Wilson's 15th in the fourth quarter this season, matching Eli Manning (2011) for the most fourth-quarter touchdown passes since 1991.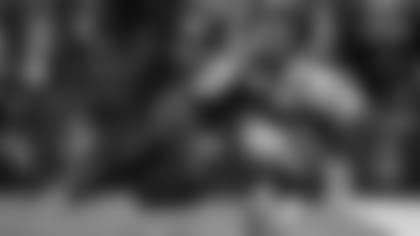 4. Bradley McDougald Had A Big Day.
Bradley McDougald, who has taken over strong safety duties from Kam Chancellor, opened his game with a bad decision, hitting Wentz after the quarterback had started his slide, resulting in a 15-yard penalty. From there, however, McDougald enjoyed what was probably his best game as a Seahawk.
McDougald finished the game with 12 tackles, one shy of Bobby Wagner's team lead, had two passes defensed and one tackle for loss. And a lot of those were very meaningful tackles and pass breakups—he had a solo tackle on third down to force a punt on the Eagles' first possession, and shared a tackle with Byron Maxwell to end another Eagles drive. He also had a pass breakup on third down on a pass intended for Zach Ertz, then capped his big day by knocking down a pass in the end zone on the last play of the game.
5. Mike Davis Provided A Spark In His Return From Injury.
After missing last week's game with a groin injury, Mike Davis came back and was a big part of Seattle's offense. Davis rushed 16 times for 64 yards, the best game by a Seahawks running back since Chris Carson went on injured reserve. Davis showed spectacular elusiveness on a highlight-reel 22-yard gain, and was also effective as a pass catcher, gaining 37 yards on four catches.