PITTSBURGH—The Seahawks, playing without Russell Wilson for the first time in a decade, found themselves down big early, but showed a lot of heart by overcoming a 14-point halftime deficit to send the game to overtime.
Unfortunately for the Seahawks, they weren't quite able to pull off the storybook ending in Geno Smiths' first start in four years, falling 23-20 to the Steelers in overtime.
Here are five rapid reactions to Sunday night's loss, which dropped Seattle record to 2-4.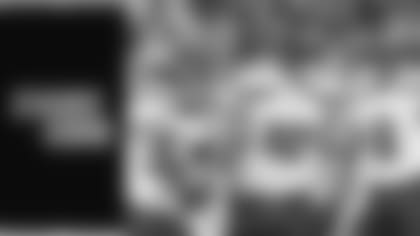 Re-live Each Game With The Seahawks Rewind Podcast
Re-live every Seahawks game this season with game highlights, player and coach postgame interviews, and a whole lot more. Available on Spotify, Apple Podcasts, Stitcher and wherever else you might get your podcasts.
1. The Seahawks showed a ton of resilience.
The Seahawks began the game knowing they would be without Russell Wilson, who was missing the first game of his career, as well as starting running back Chris Carson, and then when the game got going it appeared it might be a long night for Seattle.
After the teams traded punts throughout the first quarter, the Steelers put together a pair of touchdown drives in the second quarter and led 14-0 at halftime.
But even without two of their top offensive players, and down two touchdowns, the Seahawks showed a lot of fight in the second half, rallying back with two third-quarter touchdowns, then tying the game early in the fourth quarter.
Then after the Steelers took the lead late in the fourth quarter, Smith and the offense put together a nine-play, 50-yard drive to set up a game-tying field goal by Jason Myers that sent the game to overtime.
Unfortunately for the Seahawks, the Steelers got the overtime victory, but it was an impressive show of resilience for a short-handed team that found itself in an early hole.
2. Geno Smith was solid in relief of Wilson, but had a critical turnover.
For almost all of Sunday night's game, Smith was just about everything that could be realistically expected from a backup quarterback, playing well enough to help the Seahawks stay in the game, making some really good throws, and most importantly, taking care of the football.
That last part, however, did not hold true on what ended up being Seattle's final offensive play. After the teams traded punts in overtime, Smith and the offense had a chance to win the game with a field goal, but on the first play of the drive, Smith tried to scramble, but was tackled from behind by T.J. Watt, who knocked the ball loose for a fumble that the Steelers recovered, setting up the game-winning field goal.
3. Darrell Taylor's injury cast a shadow over the game.
Late the fourth quarter, second-year pass-rusher Darrell Taylor went down with a neck injury that led to a long delay in the game as he was tended to by athletic trainers and team doctors. Taylor was eventually stabilized and strapped to a stretcher before being carted off, though he could be seen moving his legs while on the field. All players from both teams came onto the field to show their support for Taylor while he was being tended to.
It was a frightening scene, and one marred an otherwise entertaining finish to the game.
4. Alex Collins had a huge second half.
With the offense struggling to get going in the first half, Seattle got run-heavy to start the third quarter, and the move paid off in a big way. On the opening possession of the second half, Alex Collins, making his second straight start for Carson, carried eight times for 58 yards, including a 2-yard score to cap the drive.
Behind that drive and a big second-half, Collins finished with 101 yards on 20 carries, making him Seattle's first 100-yard rusher since Chris Carson had 133 yards in Week 15 of the 2019 season. As a team, the Seahawks finished with 144 rushing yards, a season-high.
5. Tre Brown looked good in his debut, and D.J. Reed was impressive at the other cornerback spot.
Rookie cornerback Tre Brown made his NFL debut after being activated from injured reserve, coming in for a series early in the game in place of starter Sidney Jones IV. Brown played well on that series with a couple of tackles, as well as really good coverage on an overthrown deep ball on third down, a play that caused Pete Carroll to run out to congratulate Brown as the defense came off the field.
Brown's next action unfortunately came due to a chest injury that knocked Jones out of the game, but the rookie out of Oklahoma again showed he was ready for this stage, proving some good coverage, as well as a standout play on which he sniffed out a screen, leading to him being blocked in the back for a penalty that helped kill a Steelers drive. Finally, Brown came up with a huge stop in overtime, standing up Ray-Ray McCloud short of the first down marker on a third-down catch.
On the other side of the field, D.J. Reed had a very strong performance, recording two pass breakups and nine tackles. We'll see what happens going forward at left cornerback with Jones and Brown, but it was a encouraging day overall for that position.