HOUSTON—The game hardly started off like the Seahawks would have hoped, with the NFL's 32nd-ranked offense marching down the field for a quick touchdown to give the Texans an early 7-0 lead. 
The Seahawks settled in eventually, however, and with Rashaad Penny and Tyler Lockett both enjoying huge games, and with the defense pitching a second-half shutout for the second week in a row, the Seahawks pulled away for a 33-13 win at NRG Stadium.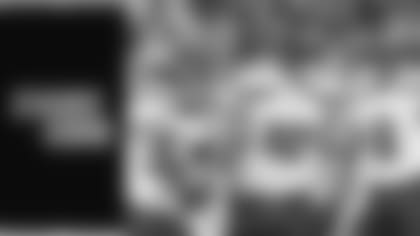 Re-live Each Game With The Seahawks Rewind Podcast
Re-live every Seahawks game this season with game highlights, player and coach postgame interviews, and a whole lot more. Available on Spotify, Apple Podcasts, Stitcher and wherever else you might get your podcasts.
Here are five rapid reaction's from the Seahawks' Week 14 victory over the Texans, a win that improved their record to 5-8:
1. It was a career day for Rashaad Penny.
It's been a tough four-year career for Rashaad Penny, who has dealt with more than his fair share of injuries, including this season. But on Sunday, a healthy Penny got he start at running back, and he responded with the best game of his career.
Penny started his day with a 9-yard run, gained 13 on his next carry, and he never really slowed down, finishing with 16 carries for 137 yards and two touchdowns, all career-highs. And most notably, Penny showed off his breakaway ability with two long touchdown runs, scoring from 32 yards in the first quarter to give the Seahawks their first lead, and from 47 yards in the fourth quarter to help put the game away.
2. Tyler Lockett made history with another big game.
Tyler Lockett continued what has been a great season with another big performance, this time catching five passes for 142 yards, including a 55-yard score late in the second quarter, as well as a couple of high-degree-of-difficulty catches to start the game. Lockett also had a nice catch for a 2-point conversion late in the game.
And not only did Lockett's big game help the Seahawks to a victory, it also put him in very rare company in franchise history. Lockett's performance Sunday gave him 1,023 receiving yards this season, this third straight 1,000-yard season. Prior to Lockett hitting that milestone, the only player in franchise history with three consecutive 1,000-yard seasons was Hall of Famer Steve Largent, who had two different four-year streaks of 1,000-yard seasons.
3. The defense settle down nicely after a rough start.
For the second week in a row, the Seahawks didn't like how they were playing on defense in the first half, but for the second week in a row, the defense responded in a big way, pitching a second-half shoutout for the second straight game.
Early in the game, the Texans, led by rookie quarterback Davis Mills, looked like anything but the league's 32nd-ranked offense, driving 75 yards in seven plays to open the game with a touchdown. Mills started the game completing 14 straight passes as too many Texans pass-catchers ran open in the middle of the field.
In the second half, however, Seattle's defense was in control, forcing three straight punts to start the half, then getting two turnovers on downs with the Texans going for it on fourth down late in the game.
4. Russell Wilson is definitely back.
After some uncharacteristic misses in his first couple of games back following finger surgery, Russell Wilson played very well and looked like his old self in last week's win over the 49ers. But in case you needed more than one good game to be convinced that Wilson is back to his pre-injury form, he provided it with another great performance in Houston, a game that saw him complete 17 of 28 attempts for 260 yards, two touchdowns and a 115.2 passer rating, and most notably didn't turn the ball over against a Texans defense that came into the game with 14 interceptions and 21 takeaways. And it wasn't just that Wilson's numbers were good that showed he is back to playing like one of the best quarterbacks in football, it was some of the difficult throws he made look so easy, including a 55-yard touchdown to Lockett that traveled more than 60 yards in the air, as well as a couple other deep balls to Lockett near the sidelines.
5. Al Woods has been a great addition to the team.
The signing of veteran defensive tackle Al Woods didn't generate a ton of buzz when it happened in April, but he has been a great addition to Seattle's defense all season long, and Woods had another great game against the Texans on Sunday. Woods split a sack with Rasheem Green early in the game, nearly had a safety when he blew up a run play—he still got a tackle for loss on the play—and finished with five tackles, an impressive number for an interior lineman.