GLENDALE, Ariz.—The Seahawks came to Arizona knowing their season was coming to an end with no playoff berth or seeding on the line, but playing for pride and for a chance to take some momentum into the offseason, the Seahawks put forth an impressive performance for the second week in a row, beating the playoff-bound Arizona Cardinals 38-30 at State Farm Stadium. The win was the Seahawks' fourth in the last six weeks to close the season, and gave them a 7-10 record.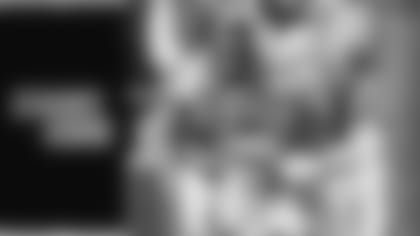 Re-live Each Game With The Seahawks Rewind Podcast
Re-live every Seahawks game this season with game highlights, player and coach postgame interviews, and a whole lot more. Available on Spotify, Apple Podcasts, and wherever else you get your podcasts.
Here are six rapid reactions to Sunday's win:
1. It was an eventful and up and down game for Russell Wilson.
For most of Sunday's game, Russell Wilson played one of his best games this season, hitting receivers with deep balls, using his legs to create time to make plays, and even rushing for a 4-yard touchdown in the fourth quarter.
But Wilson also had two plays that led to 14 points for Cardinals, a fumble on a sack on the first play of the game, which Arizona returned for a touchdown, and an interception on a ball overthrown to Travis Homer that was returned to the 1-yard line, setting up another score.
Wilson's exceptional play the rest of the game, however, more than made up for those miscues, with Wilson completing 15 of 26 passes for three touchdowns, the one interception and a 110.7 passer rating. Wilson was particularly good on third down as the Seahawks went 8 for 12, including conversions of 16, 10, 8 and 8 yards, and would have had one more touchdown and third-down conversion had Gerald Everett held on to what should have been a 19-yard touchdown late in the first half.
Wilson's productive game move him past Dan Marino for the second most passing touchdown in a players first 10 seasons, trailing only Peyton Manning. Wilson also joined Manning as the only other player in NFL history to post 3,000 passing yard and 20 touchdowns in each of his first 10 seasons.
2. Tyler Lockett continues to thrive against the Cardinals.
Seahawks receiver Tyler Lockett has been one of the league's most productive receivers in recent years, regardless of the opponent, but for whatever reason, he takes it to another level against the Cardinals over the past two seasons.
Starting with a 200-yard, three-touchdown game in this building last year, Lockett came into this game with 28 catches for 382 and four touchdowns. Lockett added two more first-half touchdown to that total and finished the game with five catches for 98 yards.
Lockett, who finished the year with a career-high 1,175 yards, is the seven player in franchise history with at least 1,175 yards in a season.
3. The pass rush showed up and the defense more than held its own.
While the final score shows Arizona putting 30 points on the score board, 14 of those were the direct result of turnovers, and for most of the game the Seahawks defense was either getting stops or making the Cardinals work very hard for their scores with long drive.
Particularly impressive was a pass rush that produced five sacks, 2.0 by Carlos Dunlap II, who has seven in the past four games, 1.5 by Poona Ford, 1.0 by Kerry Hyder Jr. and half a sack by Darrell Taylor.
4. Jordyn Brook finished the year strong to make Seahawks history in just his second season.
Second-year linebacker Jordyn Brooks has been playing well all season, and he finished out the year with a monstrous game that puts him in the Seahawks record books.
By finishing with 20 tackles, Brooks not only matched Bobby Wagner's single-game team record, set earlier this season, he also moved past Wagner, who missed the game with a knee injury, for the team lead and established a single-season franchise record with 183 tackles. Wagner had 170 before injuring his knee last week, which broke his previous franchise-best mark of 167.
5. Rashaad Penny… Again.
One of the best and most unlikely stories of this Seahawks season got even better on Sunday, with Rashaad Penny putting up monster number yet again, his fourth huge game in the last five weeks.
As recently as last month, it seemed like Penny's Seahawks career would end without much fanfare, with the former first-round pick never getting a chance to live up to the billing thanks to several injuries, most notably a torn ACL. But since taking over the starting role late this season, Penny has been both healthy and massively productive, and he saved his best for last.
After games of 137, 135 and 170 yards in the past four weeks, Penny closed out his season with 190 yards on 23 carries including a 62-yard touchdown in the fourth quarter that all but put the game on ice.
6. A brutal injury to Quandre Diggs marred an otherwise impressive Seahawks win.
Late in what was an entertaining, back-and-forth affair, Seahawks safety Quandre Diggs went down with an injury and it was immediately obvious that it was a serious injury. An air cast was placed on Diggs' leg, and players were visibly upset realizing the severity of the situation. The TV broadcast showed Diggs in tears as he was carted off.
Injuries are tough to see in any situation, but this one was particularly brutal because Diggs, who has been named to the Pro Bowl each of the past two years, is in the final year of his contract, meaning a significant payday was coming soon, either in the form of an extension with Seattle or a new deal elsewhere in free agency.