The Seahawks opened their 2020 season with strong performances in all three phases of the game, and the end result was a 38-25 victory over the Falcons in an empty Mercedes-Benz Stadium. 
Russell Wilson and the passing game were dominant, which leads our seven rapid reactions to Sunday's season-opening win:
1. Russell Wilson was, well, cooking. 
A big topic of conversation this offseason was how much more the Seahawks would lean on Russell Wilson and the passing game this season, and while this was just one game, Sunday's game definitely featured a lot of Wilson spreading the ball around to his weapons. 
Wilson started the game by going 7-for-7 on Seattle's opening drive, including a touchdown pass to Chris Carson, and he never cooled off much, finishing the game 31 for 35 for 322 yards, four touchdowns and no interceptions, good for a 143.1 passer rating. 
For much of the game, Wilson had more touchdowns than incompletions, not throwing his fourth incompletion until midway through the fourth quarter.
2. Jamal Adams was everywhere. 
Jamal Adams, who came to Seattle in a trade earlier this summer, was arguably the most exciting player on the field, and not much changed in his Seahawks debut. 
And it wasn't just that Adams filled up the stat sheet—he had 12 tackles, one sack, two quarterback hits and two tackles for loss—it was the way he did it, making plays in the backfield in the running game, blitzing to sack Matt Ryan once and hit him another time to cause a wobbly pass that might have been an interception if it had been intended for a normal human being and not Julio Jones, and making tackles in the open field to get the defense off the field on third down. 
Adams even followed a rare negative play—he got collided with Shaquill Griffin, leading to an easy touchdown for a wide-open Calvin Ridley—with a really good one, breaking up a pass on the ensuing 2-point conversion play. Adams nearly capped his day with an interception in the final seconds, but close friend and fellow safety Quandre Digg was able to wrestle it away from him. 
There are still 15 games to play this season, but it's already pretty clear that Adams is going to be a special player for Seattle's defense.
3. So was Bobby Wagner. 
Yeah, Adams is new and exciting, but don't forget about the All-Pro who has been around on Seattle's defense since 2012, middle linebacker Bobby Wagner. 
Wagner came up with a big stop early, a third-down tackle for loss that preceded Atlanta's first failed fourth-down attempt. Wagner also had two impressive pass breakups, and finished with seven tackles.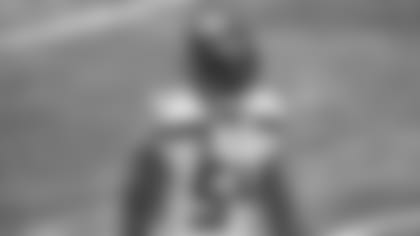 4. Tyler Lockett and DK Metcalf were the dynamic duo we were expecting to see. 
With Tyler Lockett coming off a career-best year in 2019 and DK Metcalf coming off a 900-yard rookie season, there was excitement about what that duo could do in 2020, and they did not disappoint in the opener. Metcalf overcame a disappointing drop with a nice third-down conversion almost immediately after, then capped that same drive with a 38-yard touchdown on fourth-and-5. Another big gain late in the game helped set up a Carlos Hyde touchdown, and Metcalf finished with four catches for 95 yards and a score. 
Lockett, meanwhile, had a team-high eight receptions, gaining 92 yards.
5. Benson Mayowa came up big on fourth down. 
Benson Mayowa, one of the player the Seahawks brought in to help upgrade their pass rush this offseason, kicked off his second stint with Seattle with an impressive performance, particularly on fourth downs. 
When the Falcons went for it on fourth-and-short early in the game, Mayowa killed that play by batting down a pass attempt at the line of scrimmage. Later, with Falcons going for it on fourth down in the red zone, Mayowa chased down Matt Ryan for the sack.
6. Chris Carson is a weapon in the passing game.
With the Seahawks leaning on the passing game, there weren't a ton of carries to go around, but Chris Carson still had a big day thanks to a pair of touchdown receptions. Carson, who had a career-high in catches and receiving yards last year, opened his 2020 campaign with six catches for 45 yards and the two scores.
7. Special teams came through too. 
While Mayowa provided the two fourth-down stops on defense, he didn't make the only big play on fourth down. When the game was still close in the third quarter, Atlanta faked a punt and had the first down, but Marquise Blair forced a fumble that Freddie Swain recovered, giving Seattle a short field that it turned into a Greg Olsen touchdown reception. 
And when the offense wasn't at its best, particularly in the second quarter, Michael Dickson helped change field position with a 53 yard punt that went out of bounds, and two others that were fair caught inside the 20. 
Jason Myers added to a strong day on special teams by making all five extra points and one field goal, and had all seven kickoffs go for touchbacks.