CHARLOTTE—The Seahawks bolstered their playoff chances in a big way on Sunday, coming from behind in dramatic fashion to beat the Carolina Panthers 30-27 on a Sebastian Janikowski field goal as time expired.
The Seahawks improved to 6-5, gave themselves the tiebreaker over Carolina, another NFC wild-card contender, and now finish the season with four of their last five games at CenturyLink Field.
Here are six rapid reactions from Sunday's win at Bank of America Stadium:
1. Russell Wilson put an early miss behind him to have a big day.
Russell Wilson and the Seahawks offense didn't get off to a quick start, but once he settled in, he was spectacular in leading a fourth-quarter comeback victory. Wilson missed a potential touchdown early in the game, throwing high to Doug Baldwin on what was essentially a four-point mistake, but he more than made up for it the rest of the day, leading a 70-yard touchdown drive to tie the game, then a 46-yard drive in the final two minutes to set up the game-winning field goal.
Wilson, who is now up to 25 touchdowns this season with just five interceptions, completed 22 of 30 passes for 339 yards, two touchdowns, no interceptions and a 132.5 passer rating.
2. David Moore and Tyler Lockett keep making big catches.
Second-year receiver David Moore isn't sneaking up on defenses at this point, not after establishing himself as one of Seattle's top three receivers, but even if opponents are well aware of his big-play ability, they're still not able to stop the former seventh-round pick out of East Central University.
Moore had only four catches in Sunday's game, but two of them were huge plays. Moore got his day started with a 54-yard catch on second-and-12, and three plays later the Seahawks found themselves in the end zone on Tyler Lockett's eighth touchdown of the season. Then, with the Seahawks facing fourth-and-3 late in the game, Russell Wilson took a shot down the sideline to Moore, who came down with the ball for a 35-yard touchdown that tied the game.
Lockett didn't just add to his touchdown total, he also had one of his best games of the season, catching five passes for 107 yards, none bigger than the 43-yarder he hauled in to set up the game-winning field goal.
3. Chris Carson had to earn his yards. He also might not be human.
The Seahawks saw their seven-game streak of 150-yard rushing games come to an end against a tough Panthers defensive front, but Chris Carson was still effective, rushing for a physical, hard-earned 55 yards and a touchdown on 16 carries. Not only did Carson power his way through a number of would-be tacklers, he also pulled off one of the more athletic feats one could hope to see on a football field.
Already this season, we've seen Carson hurdle a defender, doing so in the season opener in Denver, but unlike that play on which Carson landed in stride and kept running, his hurdle attempt on Sunday didn't quite go as planned. Towards the end of a 15-yard run, Carson tried to hurdle Panthers safety Eric Reid, but Reid was able to upend Carson, who somehow flipped all the way over and stuck the landing.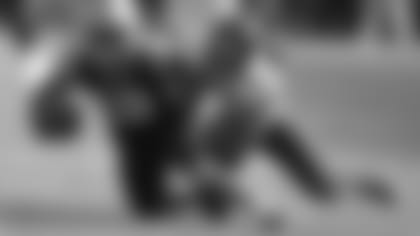 4. Bobby Wagner played a really good game.
It's not exactly breaking news that Seahawks middle linebacker Bobby Wagner is one heck of a football player, but every now and then it's worth taking a minute to appreciate just how much he does for Seattle's defense.
On Sunday, Wagner led the team with 11 tackles, but it wasn't just the number, but the type of big plays he made. Most notably, Wagner led the way in a fourth-down stuff of Cam Newton, a potential seven-point swing given that it happened in the red zone.
Wagner's most impressive play might have come on a screen pass to Christian McCaffrey, who had three blockers in front of him for a potential huge play, but Wagner somehow fought off the blocks and stopped McCaffrey in his tracks for an 8-yard gain.
5. The Seahawks' red zone defense helped keep Seattle in the game early.
Cam Newton and the Panthers moved the ball well, particularly in the first half, but despite dominating on the stat sheet through the first two quarters, the Panthers led just 13-10. One of the biggest reasons Seattle was able to stay in the game even while the defense was giving up too many big plays is the way that same defense stepped up in the red zone.
After Carolina quickly moved down the field on its first drive, Seattle's defense finally slowed the Panthers down near the goal line, then when Carolina decided to go for it on four-and-1, Wagner and a host of other tackles stuffed Newton for a turnover on downs.
Carolina's next possession again got deep into Seahawks territory, but again the defense stood up, and the Panthers settled for a field goal after Nazair Jones tackled McCaffrey for a loss on third-and-1. The Seahawks also got a red-zone takeaway in the form of Bradley McDougald interception, and despite the Panthers moving the ball so well, they came away with only 13 points on their first five red-zone possessions.
Without those stops, a Seahawks comeback probably wouldn't have been possible.
6. Fumble luck was not on the Seahawks' side.
The Seahawks ended a three-game turnover drought with a Bradley McDougald interception, but they could have had a really big day in that department if the ball had bounced their way a couple of times.
The Seahawks forced five Panthers fumbles, yet Carolina was able to recover all five of them, including two on back-to-back plays in the red zone before an eventual Panthers touchdown, and another one near the goal line
Fan photos from the Seattle Seahawks' road game against the Carolina Panthers in Week 12 of the 2018 NFL season.