With Kenneth Walker III, Geno Smith and a much-improved defense leading the way, the Seahawks rolled to a 37-23 victory over the Los Angeles Chargers, who came into the game with a 4-2 record that had them tied for first place in the AFC West.
The win, combined with the 49ers losing Sunday and with the Rams on a bye, puts the Seahawks in lone possession of first place in the NFC West at 4-3.
Here are five rapid reactions from Sunday's win at SoFi Stadium: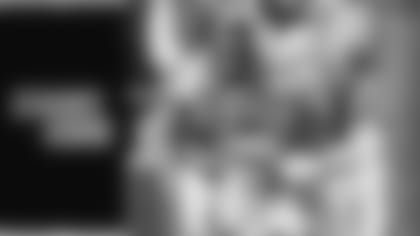 Re-live Each Game With The Seahawks Rewind Podcast
Re-live every Seahawks game this season with game highlights, player and coach postgame interviews, and a whole lot more. Available on Spotify, Apple Podcasts, and wherever else you get your podcasts.
1. The defense continued to make big plays.
When the Seahawks turned the ball over four plays into the game, it easily could have meant having to start the game playing from behind. The Chargers did not, however, take advantage of that turnover near midfield because Seattle's defense immediately responded with a big moment, stuffing an Austin Ekeler run on fourth-and-1 to get the ball back to the offense, which responded with a touchdown drive.
The Chargers' next drive ended with Ryan Neal intercepting Justin Herbert on third down, giving the offense another short field, which they converted into a touchdown and a 14-0 lead. The Seahawks got yet another takeaway on L.A.'s next possession when Darrell Taylor got to Herbert and knocked the ball loose before recovering it and returning it to the 19-yard line, setting up an eventual Jason Myers field goal that made it 17-0.
The Seahawks didn't get any more takeaways, but continued to play strong defense throughout, coming up with stop after stop in the second half before the Chargers finally found the end zone when they were already down three scores.
2. Kenneth Walker III is a special talent.
For most teams, losing a starting running back as talented as Rashaad Penny could spell disaster for an offense, but most teams don't have a player as talented as Kenneth Walker III waiting to take over.
After back-to-back strong performances in relief of Penny over the past two weeks, Walker took his game to another level on Sunday, rushing for a career-high 168 yards and two touchdowns on 23 carries, a big day punctuated by a 74-yard touchdown run on a toss to the right on which Walker followed some strong blocking to get into space, then did the rest with his blazing speed. It was a score that not only gave Walker career-high numbers, it also all but sealed the victory by putting the Seahawks up three scores in the fourth quarter.
3. The offense's big plays made up for a couple of turnovers.
It wasn't a perfect game for Seattle's offense, not with a pair of turnovers, but Geno Smith and company did more than enough to help the Seahawks score 37 points on their way to victory.
The game got off to an inauspicious start, with a Smith pass to Tyler Lockett getting broken up and intercepted on Seattle's fourth play from scrimmage. Lockett and the Seahawks sideline thought the contact came early and should have been pass interference, but alas no flag was thrown. In the second quarter with Seattle looking to build on a big early lead, Dee Eskridge lined up as a running back, dropped a pitch from Smith, and the Chargers recovered, setting up a short field they quickly turned into a touchdown.
Outside of those turnovers, however, it was another great day for the offense. As mentioned above, Walker was outstanding in his second start, and Smith put together an efficient and explosive game.
As has been the case all season, the Seahawks offense thrived by creating explosive plays (runs of 12 or more yards, passes of 16 or more). The Seahawks had five explosives in the first quarter alone, and all four of their touchdowns were explosive plays.
In addition to Walker's big game, the Seahawks got another strong performance out of Smith, who was 20 for 27 for 210 yards, two touchdowns and a 105.5 passer rating, and from a pass-catching group that was missing Metcalf for most of the game. After missing the week of practice to rest a hamstring injury, Tyler Lockett had a team-high seven catches for 45 yards, while Marquise Goodwin had his best game as a Seahawk, catching four passes for 67 yards and a pair of touchdowns. Tight end Will Dissly came up big with four catches for 45 yards.
4. Marquise Goodwin had his breakout game with the Seahawks.
Veteran receiver Marquise Goodwin has come up with a few key catches this season, but until Sunday hadn't put together a big game, statistically speaking. That changed on Sunday when Goodwin led the Seahawks with 67 receiving yards and a pair of touchdowns on four catches. Prior to his first touchdown, Goodwin also extended Seattle's drive with a third-down reception.
5. The Seahawks suffered some costly injuries.
While the Seahawks were able to earn an important road victory, the win didn't come without a cost. Late in the first quarter, DK Metcalf was carted off the field, and not long after it was announced that he had ben ruled out with a knee injury
On the opening kick of the second half, special teams captain Nick Bellore took a knee to the head while making a tackle, and was later ruled out with a concussion. In the fourth quarter, guard Phil Haynes, who was starting in place of an injured Gabe Jackson, was ruled out with a concussion. Jake Curhan, who started five games at right tackle last season, took over at right guard with Haynes out.
Outside linebacker Uchenna Nwosu also went down with an apparent injury in the fourth quarter, but was able to walk off the field under his own power and returned to the game shortly after.
Check out some of the best action shots from Seahawks vs. Chargers at SoFi Stadium on October 23, 2022. Game action photos are presented by Washington's Lottery.