KANSAS CITY, Mo.—The Seahawks went to Kansas City knowing they needed to be at their best to knock off the AFC West-champion Chiefs, but they were unable to put together that type of performance on a chilly day at Arrowhead Stadium, falling 24-10. The loss was the Seahawks' fifth in their last six games, and it dropped their record to 7-8 with two games left to play.
Here are five rapid reactions to Saturday's loss in Kansas City: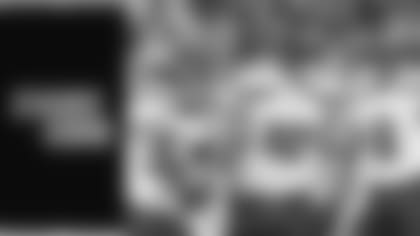 Re-live Each Game With The Seahawks Rewind Podcast
Re-live every Seahawks game this season with game highlights, player and coach postgame interviews, and a whole lot more. Available on Spotify, Apple Podcasts, Stitcher and wherever else you might get your podcasts.
1. It was not the "clean, sharp" day on offense that the Seahawks needed.
When Pete Carroll talked about the challenges of facing a team as good as the Chiefs on the road, he pointed to the Seahawks needing to clean up certain elements of their game and just play a clean, sharp game across the board.
"We've got to play really sharp football across the board," Carroll said during the week. "We have to take advantage of all the opportunities that we get to. We've got to catch the interceptions. We've got to stay onsides and not give them things. We have to make them have to work and play a championship style game. If we can do that, now we are getting to our capabilities. Other than that, we have come up short. We keep knocking our head against the wall with a play here and a play there and haven't gotten rid of all of the stuff that would allow you to play a great championship style game. So, it's clean, sharp, focus, discipline, and the precision have to be there. Particularly in this game, this is a great game for us, but if we don't play like that, they beat you. They are too good."
It turned out Carroll was right, but not in the way he hoped to be. The Seahawks did not play the clean game they were hoping for, particularly on offense, and indeed the Chiefs were just too good for Seattle to overcome that type of game.
The issues started on Seattle' first offensive play, when a long Kenneth Walker III run was called back due to a holding call on DK Metcalf. The Seahawks went three-and-out on that drive, and had only one first down until their final drive of the first half, one that ended on a field goal.
When the Seahawks offense did start moving the ball in the second half, they still came up empty on multiple promising drives, twice coming up short on fourth down on day where kicking long field goals wasn't really an option, and once when Geno Smith was intercepted on a pass in the end zone on which he and Marquise Goodwin didn't seem to be on the same page, with Goodwin breaking off his route while Smith seemed to think he was going to continue the route deep.
The Seahawks did get a late touchdown on a Smith pass to Noah Fant, but on a day a short-handed offense was trying to get the job done without Tyler Lockett, and then without Goodwin for a few series due to a wrist injury, the execution just wasn't clean enough to get the job done.
2. Too many third-and-longs made for a tough day on third down.
With the aforementioned mistakes hurting the offense, the Seahawks found themselves frequently facing third-and-long on Saturday. The result was just a 2 for 14 conversion rate on third down, a big factor in Seattle's offense struggles. On the flip side of that, it was a good day for Seattle's third-down defense, with the Chiefs going just 3 for 11.
3. The defense held tough against the league's No. 1 offense for most of the afternoon.
While the Seahawks offense was struggling to score for most of the game, the defense kept them in it until a fourth-quarter touchdown after the Smith interception finally put the game out of reach. Prior to that long drive, the league's No. 1 offense in terms of points, yards and passing yards punted on six possessions, going three-and-out on four of them.
It wasn't a perfect game for the defense—there were three scoring drives mixed in with those punts—but all things considered, limiting Patrick Mahomes and company while playing without starting nose tackle Al Woods and starting safety Ryan Neal, and holding the Chiefs to 14 first downs and 297 total yards, was a pretty strong performance for Seattle's defense.
4. Kenneth Walker III had a huge second half.
The Seahawks have struggled to run the ball in recent weeks, and Kenneth Walker III was questionable coming into the game due to an ankle injury, so it wasn't all that surprising that, with the entire offense struggling in the first, Walker had just 16 yards on nine carries at halftime. Walker got it going in the second half, however, breaking off a pair of 20-yarders and several other impressive runs, and he finished the game with 26 carries for 107 yards, his first 100-yard game since Seattle's Week 9 win in Arizona.
While it wasn't enough to help the Seahawks win the game, it was a performance that should bode well for the offense heading into the final two weeks of the season.
5. DK Metcalf hit another milestone.
With Lockett out due to injury, it was hardly a surprise that Smith looked DK Metcalf's way frequently, and aside from that early holding penalty, it was a good day for Metcalf as he led a short-handed receiving corps with 81 yards on seven catches.
With those 81 yards, Metcalf is up to 1,005 this season, putting him over the 1,000-yard mark for the second time in four seasons—he has at least 900 yard in all four seasons.