In Sunday's game at Cincinnati, Adams was able to play a full game, and he made his presence felt in a 17-13 loss.  
Seattle fell behind early in a low-scoring road matchup, heading into the half down 14-10. Despite holding Cincinnati to three points in the second half, Seattle's last-minute comeback hopes fell short. While Seattle fell to 3-2, Adams' return to the field was productive. In his first full game in over a year, Adams had tackles, along with one tackle for loss and a hit on quarterback Joe Burrow.
Just two weeks ago, Adams suffered a concussion when tackling New York Giants quarterback Danny Jones, leaving the contest early in the first.
"It was great he finally made it through," said Seahawks coach Pete Carroll. "I'm really happy for him. That's a good accomplishment, and now he can take the next step. He had some really nice plays today, good contributions."
It's been quite the journey for Adams to return to the field, overcoming the doubt that he'd be able to return to his former self. Prior to Seattle's 24-3 win over the Giants, Adams discussed coming back. 
"I thought about retiring," said Adams said prior to his Week 4 return. "I thought about a lot of things. 'Is this going to be it for me? I don't know.' But eventually, after I got that MRI, I told myself I'm going to be back. I didn't know when, or how, but I was going to figure it out. I knew that if I kept my faith, and kept the ones around me that really love and support me, I knew I could make it out." 
With a game under his belt after recovering from the concussion, Adams took the podium following Seattle's loss to discuss the feeling of being back. 
"I'm grateful, man," said Adams. "Grateful heart. Obviously, that was the goal. I was just taking it one quarter at a time. Obviously, I was on a little rep count. That was killing me to be on the sideline, but I understood the routine, and I understood the plan. I feel great."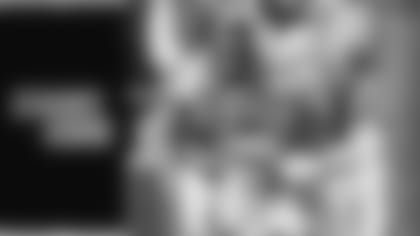 Re-live Each Game With The Seahawks Rewind Podcast
Re-live every Seahawks game this season with game highlights, player and coach postgame interviews, and a whole lot more. Available on Spotify, Apple Podcasts, and wherever else you get your podcasts.
Safety Julian Love signed with the team in the offseason, playing a major role in the secondary. The Notre Dame alum discussed the importance of having Adams back, even if it means reducing his own snaps. 
"I think it looked good," Love said of the three-safety looks the Seahawks used featuring him, Adams and Quandre Diggs. "I think we were pretty effective when all of us were on the field today. It's different for sure. Last year, I didn't leave the field too much at the beginning of the season. But, I understand that my goal is for us to be winning games, and to win games, Jamal needs to be on the field. So, I think that was pretty effective, and I know we're going to do some things that are going to be fun moving forward. We have a lot of talented players on this team, a lot of talented DB's especially on this team. There are going to be a couple that aren't on the field every play, and so the people on the field have to make the most of their opportunity."
In Adams' first game back in over a year, Seattle held Cincinnati to just 214 total offensive yards, holding the Bengals to 46 yards on the ground. The Seahawks return to the drawing board after snapping their three-game win streak. But, they do so with one of their most-important veterans healthy and back in the fray.
Check out some of the best action shots from Week 6 at the Bengals at Paycor Stadium on October 15, 2023. Game action photos are presented by Washington's Lottery. This gallery will be updated throughout the game.