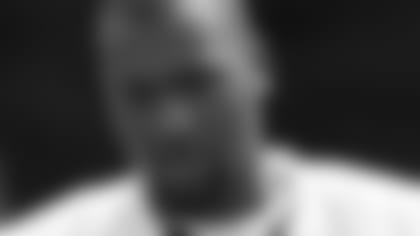 Lawrence Jackson didn't want to come to Seattle Seahawks training camp wearing a big hat, shades and a trench coat. He didn't want to hide in the bushes and take a peak at the practice field.
Rolling incognito is not his style.
Besides, there was the new Escalade to buy, the house up in Newport Hills just minutes from the new Virginia Mason Athletic Center that will be the Seahawks new home next month, and, well, it was just time to play football.
So just in time, Jackson - their No. 1 draft pick from Southern California - and the Seahawks completed the multi-year contract so Jackson could be on the field Friday morning for the first practice of training camp.
"I'm glad it's over and I'm glad I'm doing what I love," Jackson said. "On one hand it was important to be here. The team and I both wanted me to be here on the first day, but we both understood there was a possibility that it wouldn't happen. So I couldn't beat myself up over it. But I'm here, I don't have to worry about it, and I'm glad I'm here."
Jackson, the 28th overall pick in the first round, slotted in after other picks around him signed and it worked swimmingly. The 6-4, 271-pound defensive end is expected to play a lot both on the edge and inside occasionally - something he did at USC. Considering his versatility and the need to learn the defensive scheme, it was a major deal for him to be in camp on the first day.
Nobody felt better about it than coach Mike Holmgren.
"It's good," Holmgren said. "He's a really good player and he's one of the players we're counting on. He's one of the guys we have a role for and we expect to play right away. Had he missed and it would have been a prolonged thing, it would have hurt him.
"It's been my experience over the years and you've seen it ... if a player doesn't come into camp with a prolonged hold out of some kind, almost every single time he gets hurt. He'll pull something, does something, loses some more time and many times that first season he doesn't help anybody. So it's huge he came in and I'm hoping (unsigned second round pick John) Carlson comes in too."
Jackson wasn't certain it would get finished in time for camp, but he was hoping since he had already moved up from Los Angeles. And no he didn't plan on sneaking around watching what was happening ... so he just tried to chill out and let his agent and Seahawks vice president of football operations John Idzik hammer out the deal.
"I was just relaxing," said Jackson, a former teammate of Seahawks middle linebacker Bobby Wagner at USC. "Couple of more days and I would have felt like I was on vacation. Being up here since Tuesday and not really being around the facility was challenging because it's so easy to come up here. But I made do with my free time."
That translated into looking for his dream car Escalade with his truck on its last legs, and getting into his new house up the hill from VMAC.
"I had to get a new car," Jackson said, breaking into a smile. "My truck was beat up. I couldn't close (the door). The window wouldn't roll down. The seat belt didn't work. But I got the car I always wanted.
"I was relieved. It's just a great feeling to come out here and know that everything is done. Now I can actually join my teammates and do what I love."