The 2022 season was a memorable one for the Seahawks, who, after some significant roster turnover, went on to far exceed outside expectations on their way to a playoff berth behind the play of a standout rookie class and a Comeback Player of the Year performance by quarterback Geno Smith.
It was also a memorable one for the team's Chief Communications Officer, Dave Pearson, because if not for the work of his physician and cardiologist, as well as his willingness to listen to the signs his body was giving him, he might not be on the sidelines during training camp for his 26th season with the organization.
Pearson is enjoying his 35th NFL training camp healthy and feeling great, but he knows things could have turned out very differently had he not acted on his instincts last winter when he first started to notice something wasn't right. What he initially believed were cramps from working out turned out to be symptoms of a 95 percent blockage in his left anterior descending artery, one that, if left unchecked, could have led to a tragic outcome.
With a little urging from Seahawks coach Pete Carroll, Pearson is sharing the story of his health scare in hopes that it can help others. Had he not paid attention to the symptoms and sought out medical attention, Pearson's story could have ended in tragedy last winter instead of with a brief, pain-free procedure.
"I was working out on the Peloton, and I started to get cramps in both forearms, across my chest and my back," Pearson recalled. "It didn't feel like anything other than cramps. I've done hot yoga for years, so I know what those cramps feel like when you're completely dehydrated."
Initially, Pearson did what a lot of people do when something doesn't seem right—he pushed through it and managed the symptoms as best as he could.
"It went on for a few weeks, I tried to hydrate and just kind of work with it," he said. "But it was concerning. I just didn't know what was going on."
Pearson eventually did see his doctor, and both an EKG and calcium tests showed nothing out of the ordinary. But when the symptoms persisted, usually triggered by workouts, Pearson was referred to a cardiologist. A stress test followed, and on his drive home from the visit Pearson received a call telling him he had what was believed to be a 65 percent blockage in his left anterior descending artery, the largest coronary artery in the heart.
"The doctor called and he was like, 'Hey, we should go in and take a look and see what's going on,'" Pearson said.
That initial appointment was on the Friday before Seattle's Week 13 game in Los Angeles, and a little over a week later, Pearson returned for an angiogram the day after the team's Week 14 game against Carolina. That test revealed a more significant blockage than initially suspected, with the artery 95 percent blocked.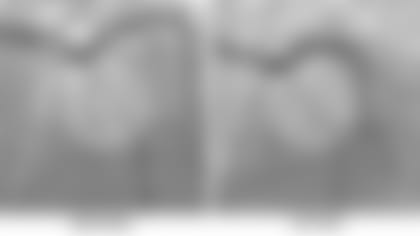 Left unchecked, that blockage, which doctors grimly refer to as a widow maker, very well could have led to a catastrophic outcome.
"I asked the cardiologist, 'What would have happened?'" Pearson said. "He said, you would have just been at the mercy of whoever was around and whether they knew CPR, or if they got to you in time."
But because Pearson did eventually listen to his body and seek out medical help, he was able to, with a pretty simple procedure that caused him to miss just one day of work, have the blockage removed.
"It was great," he said of the angiogram. "It took about 30 minutes, 35 minutes, they went in through my wrist, but they went in there and found it was 95 percent blocked. They put a stint in, and it just completely erased everything. It's been incredible."
Less than a month later, the entire NFL world was made aware of the importance of CPR and other life-saving measures when Bills safety Damar Hamlin had to be revived on the field after suffering cardiac arrest. That incident helped raise awareness and led to teams, the Seahawks included, offering CPR and AED training to employees and to make donations to fund CPR training and the purchase of AEDs for area schools. As of June 1, every full-time Seahawks employee was CPR/AED certified, and the team also donated $20,000 in grant funding to a variety of local organizations, including a donation to Project 100, a new local fundraising initiative to equip public parks and areas of physical activity in Washington with AEDs and Save Stations.
And while Hamlin's on-field cardiac event helped shine a light on the importance of CPR and AED training, situations like Pearson's serve as important reminders for people to recognize symptoms and seek out medical attention when things aren't right.
"You can think you're fit, but if you feel something weird—how many people just push through rather than call the doctor—you can't ignore it if something doesn't feel right," Pearson said.
Pearson was back to exercising without issue the weekend after his angiogram, and he has learned plenty about heart-healthy eating since then (odds are good that you, person reading this, aren't eating enough fiber). A simple 30-minute procedure last winter very well may have saved his life, but it's one he wouldn't have had if he had continued to ignore and manage his symptoms. So if Pearson, the person in charge of Seahawks communications for multiple decades, has one message to communicate heading into his 26th season with the Seahawks, it's that people hearing his story take it to heart and listen to what their bodies are telling them before it's too late.
"I feel it's important for people to hear it," he said. "Just be cognizant of the signs and the issues."