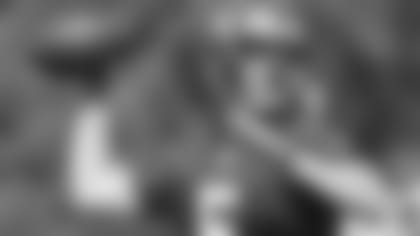 As if the situation at wide receiver hadn't been dire enough for the Seahawks to cope with this season, the injury problem spread to quarterback this week.
Wanting to give quarterback Matt Hasselbeck some more time to recover from the hyper-extended right knee he suffered on the first series last week during the loss to the New York Giants, along with backup Seneca Wallace re-injuring his strained right calf, Charlie Frye was the only quarterback coach Mike Holmgren had to operate with at Wednesday's practice.
That's not to say Hasselbeck won't practice Thursday or play in Sunday's game at Qwest Field against the Green Bay Packers. It just illustrates the difficult path Holmgren must continue to navigate on the offensive side of the football.
"They all need to practice," Holmgren said. "They all need to practice, but some guys handle that better than others. If Matt didn't practice all week and could play Sunday, I would welcome him with open arms. He has to play."
And therein lies just one of the circumstances Holmgren is focusing on as he works to get the team back on balance from a 1-3 start. In Wednesday's press conference he discussed rebuilding the confidence of the defensive backfield and the likelihood of Josh Wilson taking some time at right cornerback from Kelly Jennings, who suffered a concussion during the game but was back at practice Wednesday. Other changes in the lineup may follow, with the tenuous condition of wide receiver Deion Branch's bruised heel, the splendid return of Bobby Engram against the Giants, the improvement of Koren Robinson's knee and the inexperience of others at the position.
"They're a group that is not lacking in confidence," Holmgren said. "They can bounce back pretty good. They have to. We have to play better. But they're good guys. I suspect they'll have a very fine football game Sunday. That's kind of been our track record coming off a really bad one, and I think it was a bad game. Kelly, injury-wise, he'll practice today. You'll see Josh playing some at the corner position. That's one of the things we've maneuvered just a little bit more."
But as Holmgren went on, there was more to it than that. He talked about coaching philosophy and the need for the players to accept their roles and understand where he is coming from at all times. If they don't understand, ask. If they had a better idea, offer it up for discussion. He made it clear how he is approaching the locker room these days and what he expects.
And it's not just the players, or the defense under such intense scrutiny from the 44-6 loss at Giants Stadium. He spent Monday with the offensive coaching staff and Tuesday with the defensive coaching staff. This is also why he ranks among the top 10 coaches in the history of the NFL when it comes to wins. He can decipher problems and now it's up to everybody to work in unison through the solutions.
He used the 1-for-11 on third downs to illustrate his point.
"You could look at that and without too much of a stretch say, there were four or five of those things we should have done. Why didn't we do it?" Holmgren said. "We just didn't do the right thing. We didn't execute the way I wanted them to execute.
"We got a little bit where we were at the playground, just playing catch. Well, you can't do that and I will not accept that. I put people on notice today that please attempt what I ask you to do. Then if it doesn't work, it's on me. But if all the sudden you're at the playground and we start just playing our own game out there now it's on you and I will make changes. So we had a little bit of a truth session this week and hopefully it's been healthy."
Part of the issue Holmgren conceded could stem from the players trying too hard during the rough start. Because of the strong character of the players on this team and the success they've experienced in the past, there can tend to be overcompensation. When that happens, somebody may abandon the scheme to help in an attempt to make force a big play and then there is the domino effect of putting teammates out of position.
Generally speaking in all sports, that is particularly common on defense. In football, that can also be the case on the offensive line. But Holmgren made it perfectly clear that trying too hard is not an excuse for not executing.
"That absolutely could be part of it - but you know what? That explanation, to me, doesn't fly," Holmgren said. "If they tell me that, duck, because I want them to do it a certain way. There's a track record of this thing working a certain way. Not all the time. Not all the time. But most of the time it works OK. Then when you look at the film, the film does not lie. The film does not lie. When I look at the film and I hear an explanation, it's like the dog ate my homework. Uh-uh. Believe me … I was so long teaching in high school, I heard them all. So don't, no. Just please try and do it the way I ask you to do it. If that's confusing to you, then ask me.
"And the other thing I mentioned today is that, look it, if you say and go, 'Mike, that's not going to work, it's just not going to work.' Sometimes then I will change it, if the player tells me that. But don't tell me that after the game. Tell me that on Friday. Tell me that on Saturday. And then I might say, 'OK, let's try it this way.' Or, I might say, 'No, you know what, it's going to work. Do it this way.' Have that conversation before the game. Not after the game. So there's a little bit of a learning thing. We've got some young people, too, playing. We've got some new guys playing. So it was necessary to be to impress upon them that I'm the coach, they're the player, try and do it my way. Then, if it doesn't work, it's on me."
Ultimately, good leadership helps a lot, and few teams have the good fortune of the leadership the Seahawks have on offense and defense with Pro Bowl performers in Hasselbeck at quarterback and Lofa Tatupu at middle linebacker. But both players have suffered through injuries already, and are struggling to stay sharp themselves.
Nonetheless, everybody has to survive.
"The most obvious guys are Matt and Lofa because you have a defensive players and an offensive player, they are captains, they have been to the Pro Bowl, they play through injuries and they have played well," Holmgren said. "The one thing that is hard is it is tough to be a good leader if you are not playing well. They stop listening to you. But we have leaders on this team that aren't real vocal. And then I expect those guys to play well. And they do too. So we are all a little bit frustrated right now and cranky so we have to get it going."
---
Packers quarterbackAaron Rodgers on the inevitable comparisons to Brett Favre:
"I've been preparing myself for this for the last three years, knowing that, at some point, I was going to get an opportunity, and knowing that the comparisons with Brett would be there my entire career. I embrace those, and any time I'm mentioned in the same sentence with him, it's an honor. It really is … a guy who's played for that long at such a high level. I know the comparisons will be there my entire career, and I hope that they will continue to be positive comparisons. We'll go from there."
---
The Seahawks signed waived wide receiver Jordan Kent to the 53-man roster, and waived Courtney Taylor, who began the season as the starting flanker, and signed him to the practice squad. Kent, the fifth round draft choice from Oregon last season, led the Seahawks in receptions and receiving touchdowns during the preseason. Taylor had to clear waivers before he could be added to the eight-man practice squad. Wide receiver Deion Branch (heel) did not practice. Linebacker Leroy Hill (knee) practiced in a limited capacity, as did Walter Jones, a decision made by the staff to keep him fresh. Full participation after missing time with injuries were Kelly Jennings (ribs), Koren Robinson (knee) and Maurice Morris (knee).