This is the first big test for the 2008 Seattle Seahawks, and it's no surprise that it would begin at Buffalo against the Bills, the seventh time the Seahawks opening game has been away from home in what is now Mike Holmgren's 10th season as coach.
There are a variety of ways to eye this game, from seeing their two draft choices – defensive end Lawrence Jackson and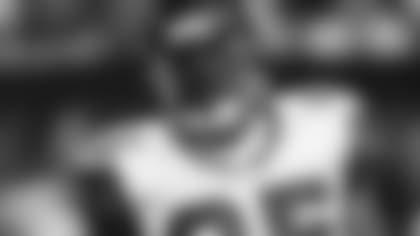 tight end John Carlson – come off impressive preseason performances to break into the starting lineup. A third rookie, defensive tackle Red Bryant, fought his way through arthroscopic knee surgery at the start of camp, but played last week against Oakland, and presumably will get his share of looks as well.
You can look at the wide receiver situation, with neither Deion Branch (knee) nor Bobby Engram (shoulder) quite ready to play, so veteran Nate Burleson will be the only serious game experience across from the second-year group of starting flanker Courtney Taylor, along with Jordan Kent and Logan Payne. They'll be tested, with Pro Bowl quarterback Matt Hasselbeck being counted on to smooth out their transition.
"I'm expecting a lot of the young guys," Holmgren said. "It's very, very important that they play well. It's as unusual a situation at that position as I have ever had."
Center Chris Spencer, after missing most of the preseason with a strained back, has now practiced through a couple of weeks, including the final preseason game against Oakland, with second-year offensive lineman Steve Vallos gaining impressive experience standing in for Spencer at a new position. Fourth-year offensive lineman Ray Willis will start at right offensive tackle in place of Sean Locklear, who is nursing a sore right knee.
That's not to mention the absence of two starters on defense with defensive tackle Rocky Bernard and nickel-back/safety Jordan Babineaux both sidelined for the week with NFL-imposed one-game suspensions. That opens the door for Craig Terrill to start for Bernard and second-year cornerback Josh Wilson to take over at nickel-back.
With all the youth at receiver, it's natural to take a look at the impact it will have on the passing game, thus putting more focus on the revamped running game. Mo Morris will start at halfback in the first of rotating starts with free agent signee Julius Jones, and power back T.J. Duckett will also get his share of reps – along with fullback Leonard Weaver. Even with Locklear out and Spencer still getting into game-shape, this is the official debut of the new rushing attack – featuring the new backs along with impact of new offensive line coach Mike Solari and assistant Mike DeBord.
"Compared to the last couple years, I hope you'll see more yardage gained, for starters," Holmgren said. "But you'll see more substitution. I've told you and you know that (Morris and Jones) are going to share that position. You might see a little less i-formation—if you want to get technical—and a little bit more offset backs, split backs, backs outside. They're both outstanding pass receivers, so you can do that kind of thing. But our bread and butter stuff, it'll look kind of the same, a good portion of it. You'll see more substituting, you'll see more combinations.
"I think that'll be the challenge for me. I think it's a good thing because I don't have to think so much about protections, I can just call the play. I don't have to think so much about the pattern because they're very good pass receivers. That's the good thing. The tough thing is that if you get too many combinations of things as the signal caller, you don't want to be thinking about that specifically so much during the game, you want to just call the game and get in the flow of the game and go with what's going. So I have my work cut out for me too, that way. And hopefully I get it right."
Holmgren's been impressed with Willis' progress, and will keep an eye on how Spencer is doing considering how little time he has had to get into game shape. But the 2005 No. 1 draft choice is the guy they are counting on to run the offensive line, and that makes it crucial that set the tone early.
"The question I would have is his stamina for the game," Holmgren said. "He hasn't played much, and now he's going to have to play the whole game."
Perhaps most of all, all eyes will be on the defense and its ability to slow down Bills star running back Marshawn Lynch. The Seahawks defense was elite caliber at home last season and led the NFL in fewest touchdown passes allowed. Middle linebacker Lofa Tatupu and defensive end Patrick Kerney were named All-Pro, as well as to the Pro Bowl, while linebacker Julian Peterson and cornerback Marcus Trufant also were voted into the Pro Bowl.
Nonetheless, there was erratic play away from the friendly confines of Qwest Field, particularly against the run, and there's no better time than Sunday's opener to get an indication of how this year's defense will respond.
"We've studied it hard," he said. "What we thought was, on the road, when we got shocked – either by a big play or a bad thing happening – it took us a while to recover and then that let to something else."
Ultimately, Sunday's game is about quickly gaining momentum in pursuit of a fifth NFC West title in a row and sixth consecutive trip to the playoffs. Home or away, offense or defense, it's time to get it going.
And there's no time like the present.