Seahawks offensive coordinator Brian Schottenheimer met with the media ahead of Tuesday's practice to discuss his team's offense heading into its third season with him as the play caller. And yes, Schottenheimer was asked about getting Wilson more involved in the offense, particularly early in the game. More on that topic and other takeaways from Schottenheimer's presser:
1. Getting Russell Wilson involved early.
It's no secret that the Seahawks' offense has tended to perform better late in games than early on over the course of Wilson's tenure in Seattle, and while there are plenty of reasons for that, plenty of folks have been asking if the solution is to put the game in Wilson's hands more often. A Pete Carroll coached team is never going to abandon the concept of having a balanced offense—and it's worth remembering that to Carroll, balance is more about being able to both run the ball and pass it effectively than it is about doing the two evenly in every game—but neither Carroll nor Schottenheimer has dismissed the idea that, as Wilson continues to grow as quarterback, the offense could lean more on him than in the past.
When Carroll was asked about this topic after Saturday's mock game, he joked that, "We're just going to hammer the rock, that's all we're doing around here. We're hammering the rock." Carroll then went on to add, "Russ is the best he's ever been, he's as far along as he's ever been… Russ is going to do everything he can, and we're going to try to give him every opportunity to kick butt in every opportunity that he gets. So you're going to have to wait and see what that all means."
Schottenheimer also made it clear that putting Wilson in positions to thrive is a priority, though he also noted that it won't always look the same from game to game.
"Look, we all know Russe is an elite player, we all know," Schottenheimer said. "I've been blessed, I've had some great (quarterbacks)—and I'm not saying who's the best, but he's a great, elite football player, and we want him to be involved, and we want him to impact the game early, we want to start faster. But how does that look each and every week? We don't know that. It all depends on the opponent that we're playing. If Russ can impact the game for us, we're going to win a lot of games, which is what we've been able to do. And it doesn't mean he has to throw the ball 50 yards down the field to DK to do that, it doesn't mean he has to scramble around and run for his life and make plays, it could be him checking out of a bad play that I call, he does that a lot. I call bad plays, he's like, 'This isn't going to work,' and he gets us out of it. We recognize how lucky and fortunate we are to have this type of quarterback. Being around him now going into year three, there's really nothing that he can't do; he's terrific. But how that looks each and every week, that remains to be seen based on the opponent that we're playing, and what does each situation look like. Those are a lot of factors that sometimes don't get talked about, but we know what a great player Russ is and, you can expect him to impact the game early on in every game, hopefully."
2. DK Metcalf's work ethic is as impressive as his physical ability.
When you're 6-foot-4, 229 pounds and can run a 4.33-second 40-yard dash, people tend to focus on physical traits, understandably, but what made DK Metcalf one of the best rookie receivers in the league last year, and what has teammates and coaches raving about his Year 2 potential isn't just his freakish athletic ability, but also the work ethic driven by his desire to be great.
"The biggest thing that jumps out at me—obviously he's always been extremely intelligent, we can move him around—is just his expectation, his standard," Schottenheimer said. "This guy is a tireless worker. He's obviously tremendously talented, but I mean this guy is an unbelievable worker. He wants to be great, he wants to be one of the best of all time. He doesn't win every matchup, but when he doesn't win the matchup, he takes it personally, and he doesn't shy away, he wants to jump back up there. Sometimes these guys that are that are really great players and they're young, after having some success in other places, they tend to kind of relax a little bit and maybe step out of line for one on ones, or they step out of line in a competitive two-minute period. This guy doesn't take any plays off. I mean this guy absolutely attacks his job. He just attacks it. The look in his eye, the way he works has been pretty awesome."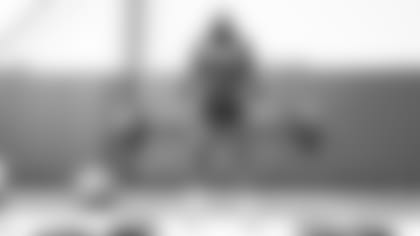 That work ethic has led to Schottenheimer pushing Metcalf not just to focus on his own ability as receiver, but in stepping into more of a leadership role despite being only a second-year player.
"I kind of challenged him the other day that he's earned the right to speak up more," Schottenheimer said. "Our guys on offense respect him, and he's earned that right to call guys out and try to bring them along, if the tempo is maybe down in practice, he's earned that right. I told him more than that he's earned the right and we need his voice in that regard. That's how much I respect him as a football player and as a worker."
3. The offensive line isn't where it needs to be yet, but it's getting there.
The Seahawks will have at least three new starters on their offensive line this season, which could prove challenging in any year, but especially in a year with no offseason workouts and no preseason games. And while there's still work to be done, Schottenheimer is encouraged by what he has seen from the newcomers to that group.
"The spring, although it was unique, I thought we got a ton done," he said. "The way we attack the zoom meetings with walkthroughs, and making these guys speak—we tried to make it very interactive where they had to speak like it wasn't me introducing the offense or Coach (Mike) Solari introducing the offense, it was literally a lot of virtual walkthroughs where we were making them make calls and stuff, so I think we came out of the spring knowing that our guys understand the rules and the schemes and what we're trying to get done. So I think we maximized that and I think we did it better than anybody. I really feel that way. Now that we're back and we're working, it's a little bit different, because now the pieces that you're trying to block are moving, right? So the call is one thing, but it's the communication in the feel of, 'OK, my rule tells me to go right, but now the nose tackle might play in the B gap and the 3-technique loops in the A gap, and we got to be able to pass that off. So I think with the reps that were getting, both in team, in some of the situational stuff, and then even in our one-on-one pass rush, which turns into two-on-two, we are seeing those guys get more comfortable playing together.
"We're going to get where we need to get to. I love the fact that Brandon Shell's been terrific, he's a veteran guy. Very, very comfortable, very confident in what he's doing. (Damien Lewis) has been awesome. The the pedigree coming from LSU and playing in big games, it's not too big for him. B.J. (Finney), it's hard coming in, you're trying to learn the system as a center, I'd say it's probably been the hardest on him, not because he's not learning it, but he's got the most to learn of all those. You see him making those strides and get more and more comfortable every day. Then Cedric (Ogbuehi) has been a guy that we've moved around quite a bit, he's doing different things for us, and he's very, very bright. So we've got nine more real practices before we get into our Atlanta prep, and every practice is critical, and we understand the importance of at some point making the decision and making sure those guys get snaps together. But they're getting good work, and the combinations aren't setting us back right now at all."
4. Greg Olsen "Has been amazing" in his first camp with the Seahawks.
Greg Olsen, a three-time Pro-Bowler, has caught plenty of passes from Russell Wilson in his first camp with the Seahawks, but his strong first impression goes far beyond on-field playmaking.
"He has just been amazing, he really has," Schottenheimer said. "Talk about football intellect. There's nothing that this guy doesn't understand, from route running, attacking coverages, leverages, all the things that normally you hear us coaches using those words that we use that sometimes go over the player's head; he's right there talking about it. So he has been great. The football knowledge is amazing, but also the type of teammate that he is, the experience that he brings to the tight end room, which we're excited about that room and how that room is being built up. Watching him get a chance to work with (Stephen Sullivan) and, and some of the down-the-line guys like even Tyler Mabry, he's been such an exciting guy to be around. And we're learning things from him, we truly are. We're learning things from him, things that they did in Carolina that he liked. We've listened, he's certainly earned that right, so it's been fun."
5. John Ursua has taken big strides in his second season.
John Ursua made himself into a fan favorite at this time last year, but the promise he showed in training camp and the preseason didn't translate to regular-season playing time because the seventh-round pick out of Hawaii struggled somewhat with the finer points of an NFL offense. That has not been the case in Year 2.
"J.U. has done a really, really good job picking up the system," Schottenheimer said. "Last year was hard for him coming from Hawaii, more of that spread system where all they did was run a bunch of option routes and things like that. He has tremendous ability at the line of scrimmage, so as we work kind of our choice option games, he's always been very natural at that. It's some of the other things, the details and stuff that he's been off on. This year, that's been completely different. He's been on top of the details, he's been mentally making quick decisions with some of the hot adjustments and things that we have to do. So he's been extremely impressive, he had a great day yesterday, a couple big plays, two from Russ and one from Geno (Smith). So I love what we see from J.U., really just playing well and playing faster. He's playing more rather than thinking a lot. Last year I think he was having to think, 'OK, what's this route mean, what's my split?' And this year, he looks much more relaxed, much more comfortable."