The Seahawks head to Los Angeles this weekend to face the Rams, and prior to Wednesday's practice, head coach Pete Carroll held his usual session with the media, covering everything from the importance of fun to Los Angeles Memorial Coliseum nostalgia to big news in college football.
Here are five takeaways from Carroll's Wednesday press conference:
1. "If we're not having fun, I feel like I'm screwing up."
While Carroll expects his players to work hard and give full effort, he also believes that it is important not to lose sight of the fact that, at the end of the day, football is a game and not something to be taken too seriously. And Carroll doesn't just believe in having fun for fun's sake, he has long held the belief that you can better maximize players' potential if they enjoy what they do while still maintaining discipline and the right work ethic.
"You play football," Carroll said. "I like to go back to that thought. You don't 'work' football. You don't 'drudgery' through football. You play it. These guys love to play this game. They've grown up as kids loving it. I don't ever want them to lose connection with that. If having a good time doing it, figuring out how to lighten up the atmosphere while we work really hard and maintain standards, I'm going to find a way. If we're not having fun, I feel like I'm screwing up, to tell you the truth. It should be a good time. We should be practicing with great energy and juice and hauling butt around here in everything we're doing, but you can have a good time doing that, too. It's just the way we do it."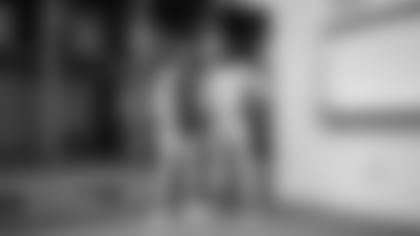 2. Luke Willson is the team's "juice master" and "passion coordinator."
If you want a concrete example of Carroll's culture of fun, look no further than the very conspicuous Canadian onesies worn to Monday's game by receivers Tyler Lockett and David Moore. Both were among the handful of players dealing with the flu last week, and with Luke Willson unable to practice due to a hamstring injury, he was put in charge of keeping up the spirits of his ailing teammates. To show their appreciation for Willson's efforts, Seattle's sick receivers represented his home and native land with their pre- and post-game outfits.
"He's kind of the juice master," Carroll said of Willson. "That kind of really says it all right there. Juice master. He was the passion coordinator. His title is officially a passion coordinator."
And to be clear, Carroll meant "juice" as in providing energy, and not that he was making juice for his sick teammates, which also would have made sense.
"He would do that though," Carroll said of making actual juice. "If a guy needed it, he would do whatever it takes."
3. Carroll likes that his team is being tested.
At 10-2, the Seahawks can clinch a playoff berth with a win this weekend, and presuming the Seahawks find themselves in the postseason one way or another, Carroll feels like his team will be well prepared for those tough contests in part because of Seattle's recent stretch of games.
Going back to Week 10, the Seahawks beat the then-undefeated 49ers, went to Philadelphia and beat a talented Eagles team, beat an 8-3 Vikings team that's very much in the playoff mix, and now they face the defending NFC champion Rams, who sit at 7-5.
"We know we have another terrific opponent," Carroll said. "It just seems like one after another after another. We just keep getting challenged by it. The teams keep bringing special players and schemes and histories of winning and all that stuff that just makes this a great run and a great challenge.
"I think it's crucial. I really think it's crucial that you just have to keep getting ready… I think it bears itself out here that these games, you just have to just keep getting turned around and get ready, regardless of what just happened. Good or bad. I'm hoping—that's kind of the way I'm approaching it—that it's a big deal for us. It's going to help us."
4. Carroll is looking forward to a final game at the Coliseum.
The Rams will move into a new stadium next season, which means that barring some unforeseen circumstances, this will be the last game Seattle plays in the Los Angeles Memorial Coliseum, which happens to be the building Carroll called home during his nine seasons as the head coach at USC. Carroll said it won't be too nostalgic of a day, however, because it's different being a visiting team in that building for an NFL game than it is playing there as a member of the Trojans.
"It's really fun to go to the Coliseum," he said. "For me, honestly, it is, but it's not the same thing. You're not coaching the Trojans. That's a whole different experience. I can't even relate it to you. One time, I was walking down the tunnel there with Ronnie Lot. We were walking down; I think it was before a game when we were coaching, and he was just at the game. I asked him something. I said, 'Does this still mean something to you?' He said, 'Are you kidding? Are you kidding?' Being at the Coliseum and playing there for a college kid lasts you the rest of your lifetime. You can go to the pro teams. You go there and you move around a little bit. You never get the connection that you have that's so lasting and so meaningful. Here is the most passionate, greatest football player maybe ever, telling me how much that meant to him. It's hard to describe to you that going back in another uniform and all, it's not the same thing."
5. Carroll's thoughts on Chris Petersen's surprising decision to step down at Washington.
While the Seahawks made headlines with their fifth straight win on Monday night, they weren't the only big local football story that day, because in news that surprised almost everyone, Chris Petersen stepped down after six seasons as the head coach at the University of Washington. Carroll admired Petersen from afar when Petersen was at Boise State, and the two have built a relationship in recent years since Petersen came to Washington.
Asked about Petersen's decision, Carroll said, "First off, I think Chris is one of the best coaches I ever saw. When he was at Boise, we were scheming up trying to figure out how he beat Oregon or the teams that they played, Washington or whatever, we would always look at their film first on both sides of the ball because we just thought they were so far out there with their technology and their strategy and all that stuff. So, I've had a tremendous respect well before I ever even knew him. I didn't know him until I got here. I just think the world of his style of coaching and leadership is remarkable out there. This had nothing to do with his ability to be successful and be a great head coach. He sees the world in a way that he wants to do some things differently. I couldn't applaud it more. That's a hard choice to make. This is something we are so committed to and it calls on so much of us to be on everything that we're doing that it's all consuming… My hat's off to Chris. I love what he did, and I love the team that he put together and all the stuff he's ever done. He's just going to figure it out from now and do something great again. He can't help but do that."
Go behind the scenes with team photographer Rod Mar as he shares moments from the Seattle Seahawks' Week 13 game against the Minnesota Vikings. Eye on the Hawks is presented by Western Washington Toyota Dealers.