Nesby Glasgow knows he was often underestimated in his early football career, but he's always shaken it off like rain off a duck's back—confident and self-assured, as though he knew something no one else did.
The Seahawks Legend was a 160-pound defensive back out of high school and big colleges underestimated him due to his size. Glasgow still wasn't daunted. He knew something. And when only one school in the Pacific-8 Conference – as it was then known – offered him a scholarship at the University of Washington, Glasgow still acted like a man who had no fear of facing players twice his size.
"I knew I had muscle density that enabled me to run with the bigger guys," said Glasgow recently. "My appearance was misleading, and when I hit those big guys, they learned quickly not to underestimate what I could do."
But Glasgow's secret weapon has been his mental focus—his mind—that literally wills him through the rougher patches in life.
"I am a fighter, and I never quit," Glasgow said. "I don't know what it's like to give up—I've never done it. I have such strong belief in myself that I don't see limitations, but I do see possibilities."
Glasgow went on to have an illustrious career with the Huskies, being named a cornerback on the UW All-Time Team in 1990, then played 14 years in the NFL, including five with the Seahawks, after again being underestimated as an eighth-round draft choice.
A New Fight
But now the retired motivational speaker, at 61, is facing his biggest challenge—cancer—and is calling on his mental strength to help him fight a battle he believes he can win.
The diagnosis is adenocarcinoma, which began in the stomach and his liver. His diagnosis, in March of this year, also indicated he was stage 4, meaning the cancer spread outside of the origin. It still doesn't shake Glasgow's mind—in fact, he said helping those fight cancer is something he'd like to do.
And he signed up to help the Seahawks promote and celebrate the team's annual Crucial Catch game, honoring those battling cancer, those who have beaten it and to encourage fans to get their annual screenings. The game is October 7 against the Los Angeles Rams.
Joining Glasgow is the Voice of the Seahawks, former Seahawks player and current play-by-play radio announcer Steve Raible, who had a bout with melanoma, skin cancer, 20 years ago and believes strongly in a Crucial Catch.
Raible said he didn't notice a skin abnormality, but his wife Sharon saw it and asked him to get it checked out. He shrugged, not thinking it was a big deal, but still saw his physician.
"It was melanoma, but it was caught very early," said Raible. "And that's the idea of a Crucial Catch—catching something early before it becomes something much worse. Had it not been for my wife, I might have had a different outcome."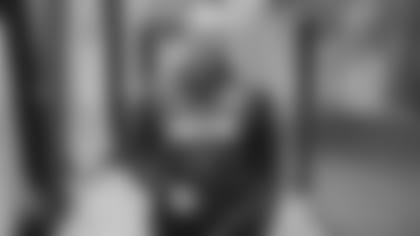 Crucial Catch
This year, the Seattle Seahawks, along with Virginia Mason, the Seahawks Official Health Care Partner, and CHI Franciscan Health, celebrate a month of cancer awareness activities throughout October to promote the importance of screening and early detection and to encourage fans to schedule regular healthcare screenings.
"Virginia Mason is proud to team up with the Seahawks and CHI Franciscan Health to raise awareness about the importance of cancer screenings and to ultimately claim a victory for wellness," said Gary S. Kaplan, MD, Virginia Mason Chairman and CEO. "If cancer hasn't affected us directly, we all have family and friends whose lives have been affected by it. The good news is that it can often be treated successfully if the condition is detected early."
"Early detection saves lives. Advanced screening tests can detect cancers in the earliest stages, increasing treatment options for patients," said Ketul J. Patel, CEO of CHI Franciscan Health. "Together with the Seahawks, Virginia Mason, and the American Cancer Society, we are proud to raise awareness about the importance of early detection and getting screened to intercept cancer."
Throughout the month of October, all four Puget Sound area Pro Shop locations will donate 12 percent of proceeds from in-store purchases of Crucial Catch merchandise to Crucial Cash. In partnership with Virginia Mason and CHI Franciscan Health, Crucial Cash funds will help local patients who cannot cover the incidental costs while in cancer treatment. Fans will also be able to make donations at checkout. The Seahawks will also utilize their Seahawks Auction platform to benefit Crucial Cash by auctioning off game-used items worn by players and coaches during the month of October. CenturyLink Field concessions will also offer fans the opportunity to make a $1 donation during checkout, with proceeds going to Crucial Cash.
Early Detection
Both Glasgow and Raible said the best defense against cancer is a good offense.
"Know your body, recognize changes and don't wait—move on it," said Raible. "The risks are reduced with early screening and detection."
Glasgow said he's had an extraordinary life and part of it is due to knowing his body well. It was only when he ignored symptoms that cancer caught him by surprise. But a cancer discovery did not diminish his positive attitude and he beams when he talks about his collegiate and pro football career. The smile doesn't dwindle even when he talks about cancer.
"You never give up. Too many people give in to cancer and I'm telling you that it doesn't define you," Glasgow said. "I decided right away that I was not going to allow chemotherapy to dictate what happens next in my life. You fight, and you believe in yourself. I always have, and I always will."
The Seahawks will have cards at the Crucial Catch game on October 7 that say, "I Celebrate," and ask Seahawks fans, who do you celebrate? Raible was fast with his answer—"I celebrate my wife Sharon," noting she was the one who spotted the cancer on his face. Glasgow had a bigger group to celebrate—his mom, his seven sisters and his three children. "They've been with me since day one. They've shown how much they love me."
Representatives from the Seahawks, Virginia Mason, and CHI Franciscan Health raised a Crucial Catch flag in the CenturyLink Field North Plaza on Monday, October 1 to kick off a month of festivities for the NFL's 2018 Crucial Catch: Intercept Cancer campaign promoting cancer prevention awareness. The Seahawks will host the team's annual Crucial Catch game on October 7 against the Los Angeles Rams.