Jimmy Graham has been so dominant throughout training camp that it's almost startling to see a pass intended for him end up on the ground. Yet twice Tuesday in the red zone in a matter of minutes, Seattle's defense came out ahead when Russell Wilson looked Graham's direction, which brings us to our observations from Day 10 of Seahawks training camp presented by Bing.
1. Jimmy Graham is not, in fact, a pass-catching cyborg sent from the future to destroy NFC defenses. He can, on rare occasions, be stopped.
To be clear, this is not meant as a knock on Graham at all. He has been phenomenal throughout training camp, so much so that even contested passes seem like they're headed towards the inevitable conclusion of a Graham catch. Instead, it's worth noting Graham's rare non-catches to give credit where credit is due when the defense does get stops against one of the NFL's best pass-catchers.
On one pass intended for Graham, Kevin Pierre-Louis ran with him stride-for-stride and there was enough jostling between the two to keep Graham from making the catch. A few plays later, rookie safety Keenan Lambert went up with Graham and managed to knock a high pass away. It was the type of ball Graham almost always comes down with even if the coverage is good, but on this occasion Lambert just made a great play, and despite being an undrafted rookie, he wasn't afraid to let Graham hear about it after. Graham will still win far more of these battles than he'll lose, but again, the defense deserves some praise too when they win against a very tough matchup.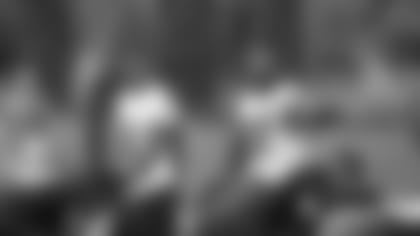 2. The pass rush is a handful.
Perhaps it should be expected that a veteran defensive line that includes pass-rushers like Michael Bennett and Cliff Avril would win plenty of battles against a line that is trying to replace two starters, but expected or not, it's clear Seattle's defensive line is going to be tough to contend with this season. The nickel pass rush of Avril, Bennett, Jordan Hill and Bruce Irvin features a ton of speed, and Avril and Bennett do plenty of damage in the base defense as well. Not surprisingly, those players stood out to Pete Carroll when he studied the film of Saturday's mock game.
"I was really, really happy with the front guys on first unit defense, the effort and speed that they brought," Carroll said. "I thought that both Cliff and Bruce were just rolling off the edge, and Mike had a really good day rushing, Jordan Hill added to that as well. The way that they finished practicing was a note we made because they were going so hard all the way through the whole thing. I really like that."
And it's not just the starters who have impressed. Cassius Marsh has been one of the bright spots for the defense in camp so far, rookie Frank Clark looks good both on the edge and as an interior rusher, and on Tuesday linebacker Mike Morgan found himself in the backfield quickly on a few occasions.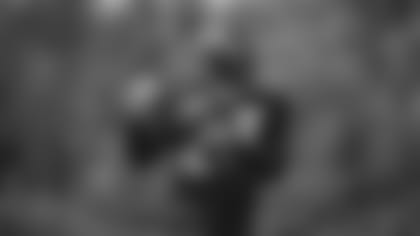 3. Marshawn Lynch will again be a threat in the passing game.
In his eighth NFL season, Marshawn Lynch established career highs with 367 receiving yards and four touchdown catches—his 37 receptions were the second most of his career. The uptick in receiving production wasn't necessarily by design according to coaches; sometimes it was a case of Lynch being the open man when a play broke down, other times he was Wilson's safety valve if other receivers were covered, or sometimes Lynch just had a favorable matchup. But whatever the cause, Lynch showed more last two seasons than he had in the past how valuable he can be as a pass-catcher (he also had 36 catches for 316 yards in 2013, up from just 23 catches from 196 yards in 2012), and based on what he has shown in practice so far, Lynch looks like he is again poised to be one of Wilson's favorite targets.
After missing the first week of camp last season, Lynch is not just present, but he has been very active this year aside from one rest day Saturday. Of course, Lynch's primary duty will be to run the ball, but even with added weapons in the passing game like Graham and Tyler Lockett, expect Lynch to get his share of catches again in 2015.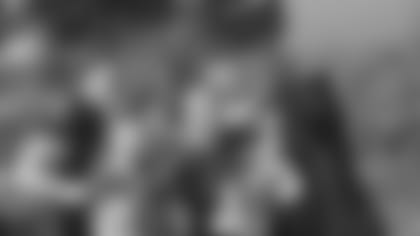 Emptying out the notebook:
The Seahawks and USAA, the official military appreciation sponsor of the Seahawks and the NFL, hosted more than 100 U.S. military members from Naval Base Kitsap-Bangor, U.S. Coast Guard Thirteenth District and Joint Base Lewis-McChord. The service members watched Tuesday's practice, then got a chance to interact with players and coaches after. In addition to star players like Russell Wilson and Jimmy Graham, one of the most popular Seahawks was, not surprisingly, 34-year-old rookie long snapper/former Army Green Beret Nate Boyer.
When asked Monday about Drew Nowak running with the first team at center in recent practices, offensive line Tom Cable noted that things would start to balance out later this week, and sure enough, Lemuel Jeanpierre took the bulk of the starter's reps on Tuesday. Expect those two to keep battling through at least a preseason game or two where the Seahawks can see more of what they have in Nowak, who is new to the position.
Meanwhile at left guard, Keavon Milton saw most of the first-team action for the second day in a row.
Dion Bailey again got a lot of work with the No. 1 defense at strong safety, though DeShawn Shead worked in there as well, and again Bailey was frequently around the ball. He continues to look like a playmaker since coming back from the hamstring injury that kept him out early in camp.
Kevin Pierre-Louis played with the first team at weakside linebacker for most of practice with K.J. Wright appearing to be getting a rest day. And as has been the case throughout camp, the speedy second-year linebacker made a number of impressive plays.
Will Blackmon has been the No. 1 nickel cornerback for most of camp, but Marcus Burley, who played that spot at times last year, was in with the first team for much of Tuesday's practice. Pete Carroll noted recently that that position was a competitive one, and that's starting to show up in practice.
Brandon Mebane, at 30 years old and coming off a hamstring injury, might be quicker than ever. Mebane said earlier in camp that he feels better physically than he ever has, and it is showing up. Nose tackles don't always shine in practice, but watching Mebane get off the snap quickly to split a double team Tuesday, it was evident that "Banger" is moving very well in his ninth NFL season.
Richard Sherman's flop after a "collision" with Lynch was worthy of an NBA player trying to draw a charge call.
Steven Hauschka made a 65-yard field goal at one point in practice, though before you start expecting that in games, know that there was a pretty strong wind behind him at the time. Still, it was an impressive kick.
The 12s brought out some of their best signs on Day 10 of Seahawks Training Camp presented by Bing.