It's been nearly two years since the day that linebacker Ben Burr-Kirven last stepped on the field to play a football game. Last night marked a special night for Burr-Kirven in his return for the Seahawks in their 24-13 preseason win over the Minnesota Vikings.
"He was captain tonight, in this game, just because," Seahawks coach Pete Carroll said. "He got back to playing football. It's just heartwarming to see this story. If you ever would have seen how hard he had to work to get back, how much he overcame, so few people do what he did. He just never, ever wavered that he was going to get back."
Burr-Kirven has been working to get back on the field since a serious knee injury ended his 2021 season. He tore his ACL and suffered nerve damage that kept him off the field through the 2022 season, the Seahawks released him in March 2023.
That wasn't the end of his story though with the Seahawks, because they re-signed Burr-Kirven this summer, during training camp.
"It's been incredible having the support of everybody letting me come back and be a part of this team again. Fortunately, a lot of the guys that are here, were here before. It did not feel like I was coming into a group of strangers." Burr-Kirven said.
Through the rehabbing and work to get back on the field he said there were a lot of ups and downs.             
"There were definitely some downs that felt like, that might be it and that I wouldn't be playing ball again. I definitely had those thoughts a lot of times." Burr-Kirven said.
To make the night even more meaningful, Burr-Kirven got to go out for the coin toss at the start of the game with one of his teammates.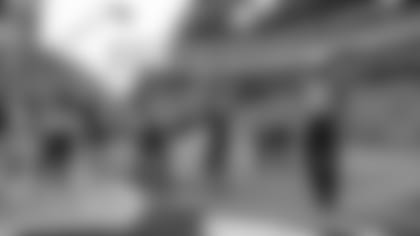 "That was pretty special. Obviously I haven't done anything like that since I was in college, so I had to make sure I checked with Pete and me and Tyler [Mabry] went out there and made sure we didn't screw it up and say something wrong and not do what we want to do, but it was a special gesture from Pete and it definitely meant a lot to me to get to go out there and get to do that." Burr-Kirven said.
When Burr-Kirven was on the field for the first play of the game he said it felt different.
"It almost took me by surprise out there on that kickoff," he said with a chuckle. "Everything felt faster than it used to. Definitely a little rusty, got some work to do."
Carroll said that Burr-Kirven had some good plays on the night.
While the first preseason game was a starting point for Burr-Kirven, the game was just a small step towards getting back to where he wants to be.
"It was a start and I was able to play in an NFL game and came out the other side clean and healthy, and to be able to say that after all the work it took to get here is a big win of itself," he said. "But it's just step one and I've got to keep improving and hopefully go out and have a better game next week."
Check out some of the best action shots from Preseason Week 1 vs. the Minnesota Vikings at Lumen Field on August 10, 2023. Game action photos are presented by Washington's Lottery. This album will be updated throughout the game.