Charlie Frye wasn't about to dismiss anything that happened Saturday night.
Sitting on the sidelines of Qwest Field were starting quarterback Matt Hasselbeck and backup Seneca Wallace.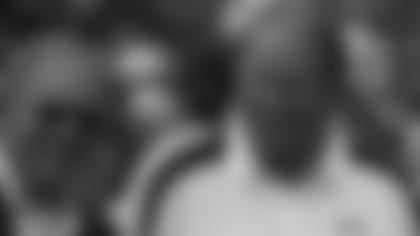 Neither had to budge during the Seahawks thrilling 29-26 overtime victory against the Chicago Bears, as Frye conducted the entire affair. He completed 20-of-35 passes for 209 yards and threw three interceptions. He began the game 0-for-10 on third down conversions, but finished it 3-of-6.
"I made a couple of mistakes - obviously the interception (Corey Graham) took to the house wasn't supposed to go to him - but I thought I fought back and was able to come out with a win," Frye said. "Sometimes it's not always pretty but the result was a win. I made some good decisions and some not-so-good decisions.
"But I threw some good balls and we got the W."
The Seahawks trailed 19-9 going into the fourth quarter, so there was obviously plenty that Frye did right. He had a lot of help with rookie running back Justin Forsett rushing for 63 yards in the final 12 minutes, and second-year cornerback Kevin Hobbs made a big interception to give the Hawks the ball on the Bears 26.
Forsett was stopped for a 1-yard gain, but Frye responded on second down to hit rookie fullback Owen Schmitt over the middle for 15 yards - most of it sheer will from Schmitt. Then Forsett was unstoppable for the 10-yard score, the Seahawks took a 26-19 lead and never trailed again.
He admitted to some misreads, and there were some great throws. Twice he had Jordan Kent deep - one was broken up on a great play and the other was a throw that would have required a great catch, but it was there.
"It's all about taking advantage of opportunities," Frye said. "It was difficult to come out and play a whole game so there was some good and some bad. I'll learn a lot from the film. We all will."
Coach Mike Holmgren is counting on it. This game was the first big exercise in Holmgren trying to decide if he has enough confidence in Frye to risk playing Wallace as a wide receiver/kick-returner from time-to-time without fear that an injury to Hasselbeck would put the Seahawks future in peril.
Obviously, there is more to learn.
"In an attempt to define Seneca's situation a little bit more, I wanted to see how Charlie would handle a game," Holmgren said. "Going with our first string guys and then coming out after halftime, and all the things you have to do. He was in a lot of different situations tonight, so it will be a good film study thing for him. Plus, Matt had tweaked his back and Seneca had a little tight groin, and all of that thrown together, he played the whole game.
"I will reserve judgment until I see the film. Obviously we can't throw that many interceptions. That's bad. He got pressure pretty good and made some nice plays. But I will wait and evaluate that later."
When the world stops for you
---
Sometimes, it's amazing how many things can go through you mind in such a short period of time. It was particularly true for cornerback Kevin Hobbs when he picked off a Caleb Hanie pass with 6:46 left in the fourth quarter that allowed the Seahawks to take their 26-19 lead moments later.
"I just tried to make a play tonight," Hobbs said. "I didn't play very well last week, so all week long I worked hard to make a difference. So tonight I wanted to come out, play hard and show I could play much better. I read the play right, and at first I thought I was just going to break it up. As I got closer to it, I thought, 'OK, I can go ahead and catch this,' so I made the play.
"There are a lot of things that go through your head in the middle of a play real quickly. Everything happens so fast, you just have to be prepared. Before we went out there on that series, we all said, 'Three and out, three and out, let's get the offense the ball back.' Somebody had to make a play and as soon as I saw the ball coming my way, I thought it was my time."
---
Right offensive tackle Sean Locklear left the game early in the first quarter with a sprained knee and did not return. Ray Willis replaced him, and Kyle Williams also saw a significant amount of action.
The hope is that Locklear will be ready for the regular season opener at Buffalo.
"We'll know tomorrow like always," Holmgren said. "they think he will be ready for the first ballgame. That is what they told me. We'll know much more tomorrow about that."
---
Mike Holmgren loved the win, but punt team that allowed two blocked punts and a third was returned for a 75-yard touchdown blew him away. The first block produced a safety and the second one came with just 34 seconds left in the fourth quarter and required Pro Bowl kicker Robbie Gould to miss a 47-yarder as the clock ran out. And that's not to mention three interceptions, and a whopping 12 penalties for 105 yards - and that does not happen to a Holmgren-coached team.
"As can happen in the preseason, you have special teams breakdowns, because you are working with a lot of different combinations, and sometimes it happens.  However, having said there, there were too many tonight, that is for sure.
"I was displeased with the turnovers, clearly, and our special teams, and our penalties; way too many penalties ... my goodness."
---
In the two preseason games, Justin Forsett has 194 yards rushing on 28 carries, while the rest of the team has 209 yards on 52 carries. He was relegated to special teams and did not carry the ball from the line of scrimmage in the first half of either game. ... Kudos go to second-year defensive back Josh Wilson for making several nice plays in the secondary, and the hits from linebacker D.D. Lewis to stop one drive virtually by himself. ... Cornerback Marcus Trufant led the Seahawks with six tackles and one tackle for a loss in the backfield. Leroy Hill and Kelly Jennings had four apiece. David Kirtman led special teams with two tackles. ... Eleven different players accounted for the 20 completions Frye threw, led by Logan Payton and Jordan Kent with four apiece. ... ... Former Seahawks safety and Seahawks radio analyst Paul Moyer raised the "12th Man Flag" prior to kickoff. ... Seahawks veteran kicker Olindo Mare proceeded to boom the opening kickoff out of the end zone. His second kickoff was also too deep in the end zone to return. ... The Seahawks declared 13 players inactive from the 80-man roster, in order of their uniform number - Ryan Plackemeier, Joel Filani, Jordan Babineaux, Tyler Schmitt, Will Herring, Chris Spencer, Samuel Gutenkunst, Red Bryant, Deion Branch, Bobby Engram, Chris Cooper, Larry Tripplett and Patrick Kerney.