The Seahawks started practice Wednesday outside under blue skies, and finished it inside with hail rattling off the roof of their indoor facility. In an unusual scene for the Pacific Northwest, lightning forced the Seahawks off the field—and unfortunately sent fans home early—with about 30 minutes left in practice. After an announcement was made to fans letting them know practice was moving indoors, defensive end Michael Bennett grabbed the mic to reiterate the message, noting that people under 6-foot should be safe, but that tall people needed to take cover. The team concluded their work inside after a brief break and short re-warming up period. Here are a few things that stood out from Day 11 of Seahawks training camp presented by Bing:
1. Keavon Milton continues to lead the competition at left guard.
When the Cleveland Browns waived Keavon Milton prior to the 2014 season, he was out of football for a couple of months before signing to the Seahawks' practice squad. During that time, the criminal justice major started looking into finding a part time job as a security guard or in some other form of law enforcement, but eventually the Seahawks brought him in for a job.
"I did cry," Milton said of getting that call from the Seahawks. "Sometimes you don't get that second chance."
Milton eventually was added to Seattle's active roster late that season, but entering camp this year, he was hardly the first name anyone thought of when it came to competition for starting jobs.
Yet for the third straight day, it was Milton taking the bulk of the first-team reps at left guard during Wednesday's practice. When camp opened, it looked like Alvin Bailey had the inside track on replacing James Carpenter at left guard, then rookie Kristjan Sokoli was added to the mix. Fellow rookie Mark Glowinski has also seen a little bit of time in that spot, but of late, Milton is the new leader in a wide-open competition.
"Keavon has really come on in the last three days," offensive line coach Tom Cable said earlier this week. "You want to find your best five, and I think he's starting to work towards that, so we're going to give him the opportunity."
Fitting of a Seahawks offensive lineman, Milton hasn't been an offensive lineman for very long. He was a tight end for most of his career at Louisiana-Monroe, though he also played defensive end for a season. Milton played tight end at 290 pounds in college, so while he liked the idea of playing that position in the NFL, he realized his future was probably at offensive line. The Browns originally brought him in to play tackle in 2013, but injuries led to a move to guard, and that position stuck.
"From not playing guard at all (it was a transition)," Milton said. "At the end of the day, it's still about competing and just straining, just grinding through it."
If Milton does start Friday against Denver, it would be quite a progression considering that he has only taken offensive snaps in one preseason game and no regular season games.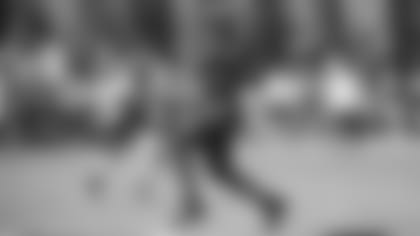 2. There's good depth at tight behind the "Bash Brothers."
Understandably there has been a lot of attention on Jimmy Graham, Seattle's biggest offseason addition. And with Luke Willson taking over a starting spot last year, the expectation is that he will again have a big role in the offense. Those two have formed a close bond and even given themselves a nickname, the Bash Brothers. But the Seahawks are very likely going to carry more than two tight ends on the roster, so the players behind Willson and Graham matter, and right now a good competition is going on. During a red zone session in Wednesday's practice, Anthony McCoy had a couple of touchdowns, and RaShaun Allen had a couple of catches as well. It's particularly encouraging to see McCoy having a productive camp. The former sixth-round pick out of USC emerged as a solid contributor to the offense in 2012, then missed the next two seasons with Achilles injuries. McCoy and Allen, along with Cooper Helfet, who played a big role in the offense last season following an injury to Zach Miller, are likely battling for one or possibly two roster spots, and whoever emerges, the Seahawks will feel good about the group.
"I think we have a great battle," offensive coordinator Darrell Bevell said. "We have a great battle going on, it's a deep group. We really like the group, just being able to have competition. We don't know yet exactly how the numbers will shake out, how many tight ends we'll be able to carry, but we have a good group of tight ends."
3. The new cornerbacks are improving.
Late in Tuesday's practice, two drives ended on interceptions made by a players who weren't part of Seattle's secondary when camp opened. Mohammed Seisay picked off Tarvaris Jackson in the end zone, then added a nice return down the sideline for good measure. A few minutes later, Douglas McNeil III, who moved to from receiver to corner late last week, made a nice play to beat Kasen Williams for a jump ball on the final play of practice. McNeil was mobbed by teammates for the effort, getting the most love from Richard Sherman. Sherman, who was given a rest day Wednesday, has spent a lot of time working with both Seisay and McNeil, and was able to play the role of coach even more on his day off. Between Seattle's actual coaches as well as Sherman, it looks like McNeil and Seisay are learning quickly as they settle in as new members of the Legion of Boom.
"Right now when you stick him outside, he's one-on-one and he has a feel for what we want to do," Seahawks coach Pete Carroll said of McNeil. "There's a lot of stuff he has to learn, zones and all kinds of adjustments and things like that. But physically, he has some opportunities to match up with all of our guys, and he ran with them. He's very good at the line of scrimmage, he's really hard to get around because he is so long and tall, it's very encouraging."
Emptying out the notebook:
The Seahawks had a notable guest on the field interacting with players and coaches, longtime NFL and college coach Monte Kiffin. Carroll has long considered Kiffin a mentor, having worked under him at Arkansas and North Carolina State. The two were also on the same staff in Minnesota in the late 1980s. Kiffin, whose son Lane worked for Carroll at USC, most recently coached in Dallas.
Drew Nowak was back to taking the bulk of the first-team reps at center Wednesday. Lemuel Jeanpierre was with the ones Tuesday, while it was Nowak on Monday. Obviously the competition is on between those two and there is no clear leader.
DeShawn Shead was back with the first-team defense at strong safety after Dion Bailey saw a lot of time in that spot the previous two practices.
Jesse Williams is getting significant work in the team portion of practice as he works his way back into playing shape. It remains to be seen if Williams, who is less than three months removed from a cancer diagnosis and the removal of a kidney, will be able to play in Friday's preseason opener, but he is clearly making good progress.
Due to lightning in the area, the last 30 minutes of Day 11 of Seahawks Training Camp was moved to the indoor practice facility.