On and off the field, Chris Carson has dealt with his fair share of adversity.
Carson tore his ACL as a high school senior, costing him potential scholarships to big programs and leading to a detour to Butler Community College before he eventually landed at Oklahoma State. Limited opportunities at Oklahoma State, both due to injury and that team's pass-happy offense, caused Carson to slide all the way to the end of the seventh round, with the Seahawks selecting him No. 249 overall in a 253-pick draft.
Despite his draft status, Carson won the starting job early in his rookie season, only to see his season end due to a fractured leg four games into the year. As he has done throughout his life, Carson bounced back, rushing for 2,381 yards and 16 touchdowns over the next two seasons, and while a foot injury sidelined him for four games this year, he's back again and poised to help lead the Seahawks offense for another playoff push.
Of course none of those on-field setbacks compare to what Carson and his family experienced in 2013 when an electrical fire burned down the house he had called home for most of his life. Everyone made it out of the house safely from that middle-of-the-night scare, but Carson and his family found themselves bouncing around from place to place for a while, staying with friends and family before their life settled back down.
And as well as things have turned out for Carson, who will earn a well-deserved and significant raise this offseason when his rookie contract expires, that experience of temporary homelessness still sticks with him today. That's why in the past he supported Rising Out Of The Shadows (ROOTS), a young adult shelter in Seattle, and it's why on Sunday, he'll be wearing cleats supporting CHOOSE 180 as part of the NFL's My Cause, My Cleats initiative.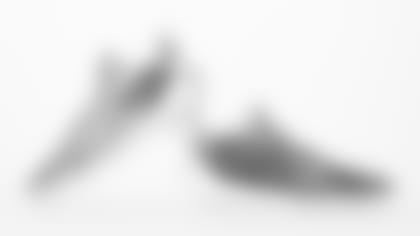 CHOOSE 180 is a Seattle-based nonprofit that "transforms the lives of youth and young adults by partnering with institutional leaders, connecting them with community, empowering them with choice, and teaching them the skills necessary to avoid engagement with the criminal justice system."
While Carson's particular life story doesn't align with everyone CHOOSE 180 serves, he was immediately drawn to the organization when he heard about it earlier this year because a big part of what they do is help keep teenagers and young adults on the right track to avoid homelessness.
"Just based off of my growing up, we didn't have every opportunity that other people have, so I wanted to give back, and I can relate to a lot of these kids," Carson said. "When my house burned down and having to go from place to place for a while, I knew what it's like not to have a place to stay. So I wanted to give back to kids who are also going through things like that."
Discussing Carson's passion for combatting homelessness, CHOOSE 180 executive director Sean Goode explained the connection between homelessness and youth/young adult crime, saying, "National studies have demonstrated that almost 50 percent of young people who have lived unhoused have had engagement with the criminal legal system. That type of security makes a big difference in the decisions young people are making and in keeping them free of these systems of injustice. Our work is all about helping young people commit to a new direction, stay out of the criminal legal system while transforming the system that often creates undue harm, because these young people are making choices out of poverty and not just because they're criminals. One of the numbers that always sticks with me is that last year in King County, almost 90 percent of the people who went before a judge could qualify for a public defender, so we're talking about people who are navigating extreme poverty, and that poverty is often leading to decisions that are being determined as criminal, and many of those people are living unhoused. This opportunity brings attention to the fact that every kid deserves a house, and with at stability, there are so many more possibilities in front of them."
And when it comes to getting through to those kids and young adults—CHOOSE 180 serves youths and young adults ranging from ages 12-24—having someone like Carson to meet with them via zoom calls has been a big difference maker.
"His story is a story that really resonates with so many of our young people, because throughout his entire career and his life, there have been so many pivotal moments that could have gone one way or another, but because of the support of his family, he's been able to pivot well," Goode said. "Our young people, many of them don't have that family, so when we pivot, we get a chance to be that community around them that helps them commit to a new direction. Chris brings that into this space and into this relationship, and we're grateful for that.
"They get a chance to see his humanity. Chris is superhuman—you see the way he runs, he's a superhuman—but he's also just a human. He doesn't carry himself with any arrogance like you might imagine from somebody playing for the NFL's best team; he's just a guy, and he shows up as just a guy. His willingness to just be who he is and authentic to that is really what resonates and connects with people. It's just like talking with anybody else, he's just Chris."
Carson's interaction with CHOOSE 180 youth for now is taking place over video calls, but when the COVID-19 pandemic ends, he hopes to get more involved with face to face meetings, fundraising events and more. Not every person Carson helps will share a similar background or have faced similar challenges, but that doesn't mean he can't help.
"It doesn't have to be somebody who has the same story as me," he said. "It's just that if there's a kid or a young adult who needs help or is struggling in certain situations, I want to be there to help out those people."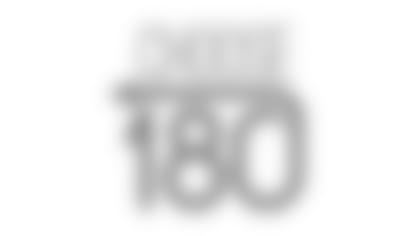 As for what Carson tells the youths he interacts with, Carson explained his message as this: "Nobody has the same journey to success. Nobody has the same route, everybody has their own pros and cons, positives and negatives that happen in their lives. It's about seeing what you want, envisioning it and going after it. No matter what turns you take, if there's something you want to do and you're passionate about it, if there's something you want to achieve, no matter what situation you come from, you can achieve it."
That message gets through, Goode said, not because Carson is a star athlete, but because his humanity outshines his very high-profile job.
"He's a guy with a career—and his career happens to be running really, really hard—but more than his career, who he is, the substance of Chris, is what really endears him to the type of young people we support and serve," Goode said. "He's somebody who time after time has experienced challenge after challenge, and continues to pivot well and commit to being the best version of himself regardless of the adversity that's in front of him. That resonates with all of us, and especially the young people we serve."
At the heart of what CHOOSE 180 does is its mission to keep young people out of the criminal justice system through a felony intervention program that helps people get cases reduced or dismissed; a school-based diversion program that helps young students avoid suspension and expulsion while trying to end the school-to-prison pipeline; as well as programs like success coaching, counseling and summer internships.
"All of that is very important," Carson said. "Kids are the future, so giving them every type of help they can get—just because a kid makes a mistake it doesn't make him a bad kid. Anybody can be led in the right direction."
Or as Goode describes it, "At the core of our cause, we've been incredibly successful, 90 percent of the young people we engage who would otherwise end up in the criminal legal system stay free of it for 12 months after participating in our program. It's really because of two things, No. 1, we look at all young people possibilities to be developed and not problems to be solved, and two, we believe that grace is a much better motivator for behavior change than guilt."
Seahawks players, coaches, staff, and even Blitz will wear custom designed cleats and shoes supporting causes they feel passionate about during Week 13 vs. the New York Giants on December 6. This Seahawks gameday featured gallery is presented by Symetra.