INDIANAPOLIS—As Anthony Richardson walked into Suite 28B at Lucas Oil Stadium, he went to shake hands with Seahawks coach Pete Carroll and general manager John Schneider.
And despite being a potential first-round pick who days later would become THE star of the combine with a dazzling display of athleticism and arm talent, Richardson turned into something of a fan as he met the two men who have run the Seahawks for more than a decade.
"I'm starstruck," Richardson said with genuine wonderment. "I've only seen you on TV."
Carroll assured Richardson the feeling was mutual, then they all sat down at a table that also included offensive coordinator Shane Waldron, quarterbacks coach Greg Olson and senior director of player personnel Matt Berry, while other scouts and coaches filled the suite around the table.
With introductions out of the way, Carroll began asking questions, with Richardson telling his story, talking about everything from a final season at Florida that wasn't what he hoped it would be, but was, as he saw it, what was meant to be to help shape him as a man and as a leader, to his role in helping his mother raise his younger brother.
On Thursday, the 2023 NFL Draft will begin, and for the Seahawks this weekend represents a rare opportunity to add talent to the roster. The Seahawks have had plenty of great drafts under Carroll and Schneider, but none that featured this level of draft capital, with Seattle holding 10 total picks, five of which are in the top 83, including two first-round picks and two-second rounders, a draft haul that starts with the No. 5 overall pick, which was acquired in last year's trade that sent Russell Wilson to Denver.
To get to where the Seahawks are now, preparing to add what they hope to be a second straight outstanding draft class to their roster, Schneider and his scouts have been preparing since not long after the 2022 draft came to an end. There have been numerous opportunities to evaluate players along the way, both in terms of assessing their on-field ability and athleticism, and also in learning who the players are off the field.
A player's on-field performance is the easiest place to start when it comes to evaluating a prospect, but it's hardly the only factor in making decisions during a draft. Medical evaluations are a big deal as well, and as Schneider noted when asked about common themes in his and Carroll's best drafts together, one of the most important and challenging parts of an evaluation is getting to know the prospects as people.
The key to Seattle's best drafts, Schneider said last week, has been figuring out, "the competitors and the people. We can all sit and evaluate the strengths and deficiencies of prospects and debate that, and the film kind of is what it is, and then knowing who the person is, and not trying to push players based on specific needs."
Since the NFL season came to an end, there have been several opportunities for NFL teams to get to know prospects, from all-star games like the Senior Bowl and the East West Shrine Bowl, to the NFL Scouting Combine, to on-campus pro days, to the "30 visits" that allow teams to bring 30 prospects to their facilities for meetings.
Each one of those steps in the evaluation process is different, and as a result teams can get different things out of them, even when meeting with the same player. A pro day on that player's campus is going to be far more relaxing to a prospect than is the combine, which is a very structured, very busy event—and there's value in teams being able to see how players handle that stress—while the 30 visits can almost feel like a college recruiting trip.
"You can definitely see there's a difference in different environments, how they feel," Carroll said. When they get here, our guys have a good time when they're here and they seem really relaxed and we really feel like we're getting to the essence of who they are more so, and that's the whole idea here trying to figure it out. It's very valuable to get them all the way to this point but also get to see them in those other settings, as well. It's just all info."
To get some insight into what for players might be the most intense part of the draft process, Seahawks.com spent a couple of days inside the team's suite at Lucas Oil Stadium to observe interviews with more than 20 prospects, ranging from quarterbacks expected to go near the top of the draft to players who will likely be late-round picks or even undrafted free agents.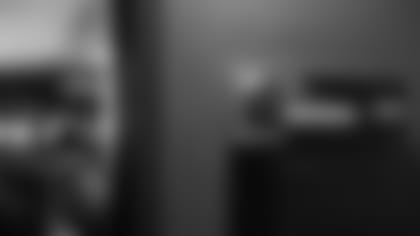 With interviews starting at 8 a.m., a group of Seahawks coaches and scouts meet at 7:15 in the lobby of the JW Marriott to make the walk, which is just short of a mile, to the team's suite inside the stadium. Inside the suite, some people are chatting while others get in a quick breakfast. Carroll is already on a tablet watching film of a prospect the team will meet with later in the day.
The day starts with a quarterback, and not long into the interview, Carroll is singing that player's college fight song. The player does not join in, much to Carroll's feigned disappointment.
Carroll started off that and every interview with questions aimed at getting to know the prospect, and as always, he asks about the player's background in sports other than football. In this setting, Carroll might get more excited about a player averaging a double-double on his high school basketball team than putting up big numbers in football the previous season. As would be the case in all the quarterback interviews, newly hired quarterbacks coach Greg Olson took over for the film session portion of the interview, and this quarterback, like the others who came through the suite that day, was impressive. To close out the quarterback interviews, offensive coordinator Shane Waldron puts the player through some scenarios to make him think on his feet.
When the 18-minute interview is up, the player leaves, collecting a Seahawks hat and T-shirt before going on to another suite, with another prospect coming in right after.
In this case, the next interview is an edge rusher, and after the friendly get-to-know you stuff with Carroll, defensive coordinator Clint Hurtt showcases his ability to be hard on a player while maintaining a sense of humor.
Watching a not-so-great rep, Hurtt says, "Tell me about the get-off. Please tell me you were tired or something."
Carroll reaches into his archives, suggesting it was a rope-a-dope situation, then, realizing this player might not be familiar with a boxing match from 1974, he adds, "You ever hear of a rope a dope?"
Later, Hurtt and the player get technical talking about pass rushing, with the player noting that his toe placement was off on a particular play, leading to an ineffective rush. This impresses Hurtt, a longtime defensive line coach.
The next prospect in the room tells Carroll he almost ended up at USC before changing his mind, to which Carroll replies, "What happened?"
Without missing a beat, the player says, "You weren't there."
This goes over well in the room, not so much because it flatters Carroll, but because it's a quick, witty response under pressure, never an easy thing to do in this setting.
As position groups come and go, coaches sub in and out at the table in the middle of the room. When receivers come through, Sanjay Lal leads much of the discussion, while Chad Morton takes over for running backs, and so on.
When Carroll asks a receiver to describe his basketball game, the response of "high-flyer, slasher," impresses Carroll. Later, Carroll is stunned to find out that an impressive track-and-field mark wasn't good enough to win a state title.
"Somebody beat you?" Carroll says incredulously.
Another player's college production gets a "Holy (expletive)" out of Carroll as he looks over the information sheet in front of him for each interview.
The next prospect comes into the room going out of his way to shake every hand while his seat sits vacant at the table, the 18-minute clock already running, causing Carroll to joke, "You running for office here or what?"
Later in the interview, which is going well other than that the player is clearly pretty tense, Carroll quips, "You're pretty tightly wound."
The player then makes a conscious effort to relax his posture, an adjustment that lacks subtlety, drawing chuckles from everyone, the player included.
In the afternoon comes a break, giving scouts and coaches time for a quick lunch or to squeeze in a meeting, then they'll return to the stadium for another round of interviews in the evening. The group of scouts and coaches leaves the JW Marriott a little early for a stop in the convention center where Schneider and company will receive the 2022 Best Draft Award from Inside the League.
Accepting the award, Schneider praises the people he works with, saying, "I love our people so much, and they work their asses off all throughout the year, and they know their voices are heard."
Back in the suite before the next round of interviews begin, Sean Desai, who is days away from being named the Eagles defensive coordinator, walks in to say hi to his soon-to-be former co-workers.
He is greeted warmly with, "Hey, aren't you in the wrong room?"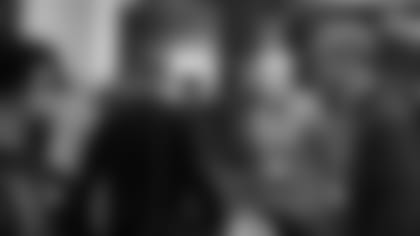 The setup at Lucas Oil Stadium, with teams occupying suites next to each other, leads to plenty of moments like this in what is a very tight-knit scouting and coaching community. At one point in the week, Carolina's assistant general manager Dan Morgan, who formerly worked in Seattle's front office, stops by to say hi. This is well before Carolina moved up to the No. 1 pick, and Morgan jokes that he needs to know who the Seahawks are picking so Carolina will know who will be left for them at pick No. 9.
The evening starts with a player from Arkansas, and Carroll is miffed—not really, but he's playing it up for effect—that this player doesn't know his school's fight song.
Matt Berry, meanwhile, asks, "Is Pete's picture still on the wall?"
"Not that I've noticed," the player replies, sounding a bit confused, as if he perhaps doesn't know that Carroll spent 1977 at Arkansas as a graduate assistant under Lou Holtz.
Defensive passing game coordinator/senior assistant Karl Scott, who may have displayed the best understated sense of humor in the room during the week, reminds this Arkansas player that he coached at Alabama by engaging in a little playful trash talk.
Later that evening, when a linebacker is asked to call a defensive play, he can't help but smile a bit sheepishly while making the call.
Hurtt isn't having it, both because of the smile and the lack of volume, telling the linebacker that's not going to cut it from a rookie: "Quandre will say, why are you out here smiling, rookie?"
A USC player enters the room.
Carroll, grinning: "OK, here we go!"
In one of the funniest moments of the night, a defensive player comes into the room with a pick sticking out of his hair. Hurtt asks to see it, and the player replies, "What do you need it for?" a response that gets big laughs from everyone, including the follicly-challenged Hurtt.
When a linebacker and linebackers coach John Glenn stand up to discuss hand techniques, Carroll hollers, "Show him your punch!"
Glenn does not appreciate his boss volunteering him as a punching bag, but fortunately for Glenn, the interaction stays hands-off.
When asked if he thinks he can run a 40 time in the 4.6s, the player playfully scoffs, saying, "I'm a 4.4 guy, coach," a claim he would go on to back up later in the week.
A bit later, a defensive lineman is explaining his style in high school basketball when Hurtt interjects, "How many games did you foul out of?"
The player's response, "Probably all of them," gets big smiles from the room.
When a player who is considered a late-round pick comes into the room, he informs the group that this is, in fact, his first formal interview at the combine.
"We're going to scare the (expletive) out of you," Carroll jokes. "Tell us your deepest, darkest secret."
This particular late-round hopeful isn't going to be a star of draft weekend, but absolutely was one of the big winners on this day of interviews.
Decidedly no longer the size of a skill-position player, this prospect explains how he was a receiver and cornerback early in his high school playing days, exclaiming that as a corner, "I was lock down!"
Eventually he talks about his time in junior college, prompting Carroll to begin sharing some of his highlights from his playing days at College of Marin. A strange game of JC one-upmanship begins before Carroll stops himself with a chuckle, saying, "I don't know why we're doing this."
At one point Carroll notes that this player looks particularly fast in the white pants his team is wearing in a highlight, the player responds, "I'm fast in everything, that's just an illusion."
When the topic of special teams comes up, the prospect says, "I'll do whatever helps us win. I'll play quarterback or running back to help us win." He then pauses for a beat, then with perfect comedic timing he deadpans, "I don't think that's gonna help us win."
Finally, as the interview wraps up, the player tells Carroll, "Come get met. Don't do me like DK," a reference to the 2019 draft when an emotional DK Metcalf asked, through tears, "Why'd y'all wait this long, man?" after getting the call from Seattle.
The next prospect, an edge rusher, excitedly tells Carroll how he grew up loving Seattle's Legion of Boom defense. He then goes on to tell the story of his childhood, heaping praise upon his mother and the job she did raising him and his siblings. The topic shifts to football and this player says all the right things, from knowing the defense to making it clear he's more than just willing but also excited to contribute on special teams in the NFL.
The best reaction, however, comes when Hurtt shows a clip of the player taking on a pulling guard and winning the battle.
"I love to (expletive) a guard up," he says with a grin.
A few more interviews follow to wrap up a long day. Exiting the stadium, part of the group opts for a van ride back to the hotel, while others choose the walk through the Indiana Convention Center, sharing notes on what they heard over the course of the day. To an outside observer, every interview was new and almost everyone seemed impressive, but for scouts who have been studying these players all year, they were comparing what they heard that night with the interactions they'd had with those players in past meetings, and to what they have learned doing their homework on college campuses.
The next morning, it's back to the suite for more interviews, though this day is split between interviews and on-field workouts, meaning trips back and forth between the two suites—each team has one for combine interviews, and one with a view of the field to watch workouts.
An offensive lineman kicks off this day, meaning after Carroll's usual opening questions, offensive line coach Andy Dickerson takes over.
A few players later, a prospect from Texas is going through questions similar to the ones other players have heard when Carroll takes a bit of detour, asking about Longhorns coach Steve Sarkisian, who worked for Carroll for nearly a decade before leaving for the head coaching job at Washington. Carroll's questions are genuine, and it's evident that this has a lot less to do with evaluating a prospect than it is just Carroll wanting to check in on how an old friend who has been through some tough times is doing, even with limited time available.
Matt Berry, who for part of his scouting career called Austin, Texas home, asked the player where to get the best breakfast taco in Austin, and when the reply is Tacodeli, Berry says, "Nailed it."
After another defensive player comes through for an interview, the group walks to suite 11B where they'll watch that day's workouts. As lunch is being served, personnel assistant Hailey Holtz, a newcomer to the group who is doing a lot of the thankless work that is keeping the whole operation running smoothly, is getting a hard time from Clint Hurtt due to the lack of Sprite in the room.
A few minutes later, quietly conspiring with the person in charge of stocking the suite, Holtz makes sure that an overabundance of Sprite is not only brought to the room, but presented to Hurtt in an exaggerated manner.
As the day stretches into evening, yet another of the seemingly endless long days at the combine, folks start to get a little goofier with each passing hour. When some prawns are delivered with the world-famous (OK, maybe Midwest-famous) cocktail sauce from St. Elmo Steak House, an Indianapolis institution, Hurtt makes sure any newcomers unfamiliar with the horseradish-heavy sauce give it a try. Many pained expressions cross the faces of those who partake, much to Hurtt's delight.
And speaking of delight, there are bite-size cheesecakes put out in the evening, and for whatever reason it has become a running joke for Carroll to wander back to the food spread every so often, feign surprise and saying, "Oh, there's cheesecakes over here?" before popping one in his mouth.
The combine is something of a week-long sprint for everyone involved, a stress-inducing event for draft prospects and team personnel alike. No one is immune, expect perhaps a sleep-deprived Carroll all hopped up on cheesecake.
The night isn't over yet, more interviews are on the schedule after the on-field work ends. These interviews are just part of the overall process of learning these players, one that continued on with pro days and 30 visits, and all of that will play a role in the decisions the Seahawks make in this week's draft.
"The combine is a great opportunity for these young men, but it's stressful," Schneider said. "It's stressful on everybody. It's late, long days. And for the prospects in particular—Pete doesn't want to say it—but these guys are 20, 21 years old and they're sitting down in front of Pete Carroll looking at him like, 'That's Pete Carroll right there.'"
Or in the case of Richardson, they're starstruck, saying, "I've only seen you on TV."
Go behind the scenes with Seahawks staff as they get a closer look at prospects during the 2023 NFL Scouting Combine in Indianapolis, Ind.