While it wasn't a full practice—the Seahawks had only 31 players on the roster—rookie minicamp kicked off on Friday with Seattle's three draft picks, 13 undrafted rookie free agents and a handful of other players—including 2020 second-round pick Darrell Taylor—taking part in the team's first on-field work of 2021 offseason. COVID-19 restrictions limited the size of this minicamp—in a normal year the Seahawks would have tryout players on hand to fill out the roster—but Seahawks coach Pete Carroll still liked what he saw to kick off minicamp.
"This was great work today," Carroll said. "Normally in a rookie camp we'd have probably another 15, 18 Guys, around 50-something. We're 31 or something today, but it worked out fine. They'll get the same amount of reps they would get in a normal camp. We have to adjust the tempo a little bit to get that done, but they'll get the same snaps, so that's the main thing so we can make good evaluations and all. That was a really good start today, it was really fun to see those guys out there."
Here are five takeaways from the first day.
1. D'Wayne Eskridge "looked just like we had hoped."
There's only so much a player can show in one, limited workout without pads, but while second-round pick D'Wayne Eskridge and everyone else on the field still has plenty to prove between now and the start of the season, the speedy receiver out of Western Michigan made a strong first impression on his head coach.
"I thought D'Wayne looked really good, he looked just like we had hoped," Carroll said. "He looks very quick, very strong. Had a really easy time with the types of routes that we were running. He had no problem at all doing everything, he caught the ball beautifully today, so he's off to a nice start. He's a good strong kid, he's built well. He catches the ball with strength and power, you can see him getting out of his transitions well after catching it, turning and running and all that, so it's a really good first day."
2. It's all about technique.
As anyone who has been following the Seahawks over the last decade knows, Carroll has a certain technique he teaches his cornerbacks for press coverage, and while effective, it can take some time to learn. So it was no surprise that one of the first things that fourth-round pick Tre Brown, as well as undrafted rookie Bryan Mills, did in their first rookie camp was work closely with defensive passing game coordinator Andre Curtis on that technique.
Despite being a head coach since the mid 90s, Carroll is still a defensive backs coach at heart in a lot of ways, so it wouldn't be surprising at some point this weekend to see him spend plenty of time himself with Brown working on that technique, much like he did with Tre Flowers during 2018 rookie minicamp.
3. Stone Forsythe definitely looks the part.
These kind of workouts aren't the right setting for linemen to shine—that won't come until the pads come on during training camp—but sixth-round pick Stone Forsythe was still able to make a strong first impression with his impressive size—he's 6-foot-8, 307 pounds—and how well he moves at that size.
"The one thing you can't miss is Stone Forsythe is a monster of a guy," Carroll said. "Gosh, he's such a big good-looking athlete. I'm anxious to see what the film look like on his first day out here, but man, he's got tremendous length and stature, he's just built so beautifully. He's really just perfectly fit for the position of left tackle, so we're looking forward to see how that goes. there."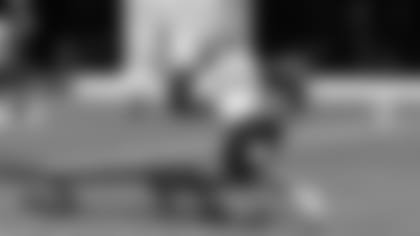 4. German linebacker Aaron Donkor brought a lot of excitement.
In addition to the rookie class of draft picks and undrafted free agents, another newcomer on the field was German linebacker Aaron Donkor, who was allocated to the Seahawks as part of the NFL International Player Pathway Program. Donkor was an accomplished basketball payer before taking up football only a few years ago, so he has some catching up to do, but he brought a lot of energy to his first practice.
"I think the program is great, I love that we're doing that and making the opportunities available to people from other areas," Carroll said. "Aaron is really charged up, he's really excited about it. The first day out here he fits in with everybody, he doesn't look like it's too big for him at this early stage. I'm anxious to follow his enthusiasm, and I know sending the message back home, it is a big deal. He had a good first day, and we'll learn a lot more as we go, but he will not be without a lot of excitement and enthusiasm; he was he was jacked up today. He's been coming around the office, we've seen him a couple times in the first day already. So he's trying to find his way a little bit, but he's doing well.
5. Pier-Olivier Lestage will start out playing guard, but could also be an option at center.
In addition to the usual undrafted rookies signed from U.S. colleges, one intriguing name added by the Seahawks is Pier-Olivier Lestage, who played at the University of Montreal and was the 10th overall pick in this year's CFL draft. Lestage mostly played guard in college but also worked as a center in workouts for scouts to show his versatility. For now the Seahawks will use him at guard, but like the idea of developing his versatility as well, as was evident in him taking some snaps at center early in practice.
"We're going try him at guard as well being an emergency center type guy," Carroll said. "Right now we want him to feature playing the guard position. But that's Day 1; we've got figured it out from here. I'm excited about this guy, he's really, really focused and jacked about being here. The first time I talked to him he was on a subway or something like that, so we had to struggle our way through our first conversation. But I could tell his enthusiasm and the juice for coming here and being part of this was there. He's a real bright kid, and I really look forward to him finding his way. So, we're open to whatever, but we're starting him at guard. But he just takes that snaps at center today in early practice, and like we always say, the more you can do."
Seahawks rookies and signed undrafted free agents reported to VMAC for day one of rookie minicamp.