Featuring postgame quotes from the following: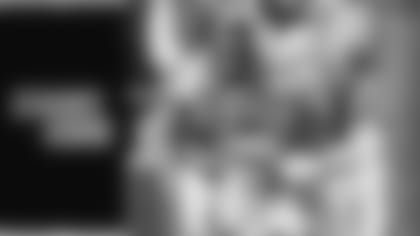 Re-live Each Game With The Seahawks Rewind Podcast
Re-live every Seahawks game this season with game highlights, player and coach postgame interviews, and a whole lot more. Available on Spotify, Apple Podcasts, and wherever else you get your podcasts.
(Opening remarks)
"This was the most disappointing loss for us today because of the way we did it. We made it really hard on ourselves so many times in this game with the calls that were made. I'm not disputing any of them. I'm just saying we made… the penalties that happened were just out of line for us. We have not been good in that area during the season in general and today really blew up on us and gave them a really good chance to take advantage of it and they did and found out that they could get their drive together and get what they needed before the field goal drive. There (were) big penalties in that one and then we did it again in the final drive too. I'm really disappointed because it feels like we did that to ourselves. We talk so much about that and we're trying to make sure that's not part of our game and shoot, it was the biggest part of the game I thought. Nice job by them to finish it. They did a good job to do what they need to do with the clock and all that, but they gave us a chance. (QB) Geno Smith was able to pop back out there, threw a couple great balls to give us a shot. We just didn't hit our field goal to win the game. That's kind of what the NFL is. You have those opportunities. We can create those and then you (have) to try to make them. Unfortunately, you're not going to make them all. Last week was our game. This week was their game. It's really important that we turn it around and bounce back. We come back Thursday and we got a big game coming up. We'll have to really handle this well and get our act together, make sure that we can play a great football game because we're in control of what we do. We have to win the next week's game to put us in a good position and that wouldn't have changed it either way. It just makes it a little more pressing this time. We got some guys banged up in the game. (RB) Kenny (McIntosh) got an oblique strain that was legit. He couldn't do anything, couldn't move hardly with it. (WR Jake) Bobo hurt his shoulder but was able to come back in and play. (S) Jerrick Reed (II) might've hurt his knee some. We'll see about that one. Geno got a bruised… kind of on his triceps, back of his elbow, that kind of blew up a little bit but he was able to come back and execute. Nice effort by him."
 
(On the likelihood of Smith playing next week)
"I don't have any idea. I have no idea, sorry."
 
(On what Smith showed him coming back into the game)
"He gave us a chance. He gave us a chance to kick the ball and win it. Long field goal for sure. You couldn't have a better guy to kick that one. Jason's been doing great and he just didn't get a good hit on the ball this time. He's exactly the right guy to win the game for us. Obviously, we know that."
 
(On what convinced him that Smith was going to be able to go back in the game)
"He convinced them on the sidelines (that) he could do it. He threw the ball enough and it just took a little while for the blow to kind of dissipate or whatever. And then he threw the ball on the sidelines where they thought that he can go. It was a great job of him going in."
 
(On if the plan in the closing drive was to run the football once they were within 55 yards)
"No, we didn't quite handle it as well as we'd like to. We got in field goal range. We got there and we had a shot. Jason's kicked balls from that far before. We would've loved to have been a little bit closer. Obviously, we weren't."
 
(On the thought of running the clock out and giving the team a chance to kick a closer field goal)
"There are some choices in there. I agree with that, there's choices."
 
(On when he knew Geno was going to be able to come back)
Right when they made the kick. They turned to me and said he's ready to go. I didn't know until then."
 
(On if he was hoping for more yards at the end of the game)
"Yeah, you're hoping to pop it for sure, you know? Yeah, we didn't do that as clean as we'd like."
 
(On if he got any kind of a lookback at the CB Riq Woolen play )
"I didn't see it at all. I saw nothing. What'd you think? How about the one on (CB Riq) Woolen? I checked that one on (CB Devon Witherspoon) 'Spoon' in the end zone. It was (S Quandre) Diggs in the end zone? Okay, yep, I missed it." 
(On what he thought of the defense)
"Oh, we played really good all day long. We did a really good job and we controlled (inaudible). They ran the ball for, I don't know, 60, 70 yards or something like that. (Rams QB) Matthew (Stafford) wasn't able to get a bunch of numbers on this day. Third down was okay. I think we were 5-of-15. No, no, it was the other way around, 2-of-9I think they were. Yeah, that's a good output for us. We're pleased with that. It wasn't enough to get us a win. On this day, with all that happened, that wasn't quite enough."
 
(On the Rams last drive and what he was weighing on timeouts)
"No, we did it exactly the way we wanted to do it, yeah."
(On if he's concerned about Smith coming back)
"Sure. On Thursday games, you're worried about everybody coming back. Every guy on your team. It's hard to do. It's one of the great challenges in the league. We'll find our way. We have our way to kind of rejuvenate and get rolling. They've got to do the same thing. It's just a battle and hopefully we'll get our guys back and going."
(On if was in pain or execution issue with Smith before he came back in)
"He couldn't throw it for a little while."
(On his confidence in QB Drew Lock's readiness for Thursday night)
"Shoot, we're going to count on him to win the football game."
 
(On if he knows how long RB Kenneth Walker III will be out)
"No, he's sore though. I know that. It was legit." 
 
(On if Smith has the option to throw or it was just a the flow and design of the play to run no matter what on the play on the final drive after the big catch)
"We didn't do it right. I'm just going to tell you. We didn't do it right. We didn't do that exactly the way we'd like to do that. It didn't come out right. We'll tell you more about it tomorrow."
(On his frustration level after starting off with a fast start on offense then things getting stagnant in the second half)
"Yeah, we really were controlling the game but it was still only scored 13 points or something like that. It felt like we were in really good shape and like one touchdown felt like it's a close game after all that we had done, you know? We need to capitalize and get those touchdowns. You get just one of the two field goal drives. I think we went down the first three times we had the ball, did we not? We looked very clean and very sharp and everything was like we like it. So, [we] just got to sustain it. I think (RB) Kenny (Walker III) went out right in there somewhere, that affected us a little bit. We had the ability to execute on this day. And we didn't… not enough though."
 
(On the status of S Jamal Adams)
"We're trying to get him back. We'll find out. He was trying to get right. He couldn't quite get ready for this game. It was close, but he couldn't do it. So we'll see what happens this week coming up."
 
(On the status of S Jerrick Reed II)
"(S) Jerrick Reed hurt his knee and I don't know… Are you talking about (NT) Jarran Reed or (S) Jerrick Reed? Yeah, he hurt his knee. We don't know to what extent yet."
(On how he is feeling)
"A little sore. Not the best, but God's good so I'll just keep pushing."
 
(On if a helmet hit his elbow)
"Yeah."
 
(On playing through the pain during the final drive)
"Just trying to go out there and make plays and get us in a position to win the game. Was still hurting, obviously didn't do enough."
 
(On if there was thought on stopping the clock after the catch by WR DK Metcalf)
"Yeah, I guess there was an outage or something but no play came in my helmet, so I called the quickest play I could in that situation. Try to maybe get a few more yards, called a run play thought we had a chance and really didn't work out how we thought it would."
 
(On if he had lost communication at any other point of the game)
"Just on that play."
 
(On if it was curious to him that he only lost communication on that play)
"I don't know. I'm just worried about the game, trying to win."
 
(On if his elbow was hurting in that moment)
"Yea, it hurts."
 
(On if he had to convince coaches to go back into the game)  
"I really just had to try to do my best to fight through the pain. That was the main thing is pain tolerance and just try my best to just fight through it and keep going."
 
(On if he thinks he will be able to play on Thursday)
"We'll see how it goes."
 
(On how concerned he was initially when he got hit)
"Yeah, I was concerned, just hurting, still hurting, but like I said, God is good so I'm still going."
 
(On if not knowing whether or not he will play on Thursday is due to the short week)
"Yeah, I think it's just the human body. You got to see how it reacts."
 
(On if he was good on his left side side)
"Yes, totally fine."
 
(On if his mic ever started working again)
"Pretty much was done after that. We had to kick a field goal, clock it, kick a field goal."
 
(On how often  he loses communication in a game)
"It could happen at any time, but it does happen probably more often than you guys know about, but it does happen. You just got to try to make a call. That's the situation where if you weren't in two minutes, you probably call time out or have more time to go to the sideline and get a play. But clock's running, you got to make a fast call and that's what I did."
 
(On if the play was designed to set K Jason Myers for the field goal attempt)
"Yeah, we're not even thinking about that at that point. We're really just trying to get to the next play and try to get as many yards as we can to make that field goal a little bit easier for him."
 
(On the process for him to come back into the game)
"Just feeling like I could throw. Feeling like I could obviously go out there and execute and help the team."
 
(On why was it important for him to come back into the game and finish)
"It's just how I am. I'm always going to try to finish the game if I can."
 
(On why he decided to call a run play on the final drive)
"I thought we had a good chance. You guys will watch the film I'm sure and then you'll see what happened."
 
(On what changed in the run game as the game progressed)
"I feel like they stopped us. That was the main thing. I feel like, obviously, they're got great players too so they stopped us, and you got to give your hats off to them. They made the plays."
 
(On what he meant by having 'good chance" to do)
"Get more yards."
Check out some of the best action shots from Week 11 at the Rams at SoFi Stadium on November 19, 2023. Game action photos are presented by Washington's Lottery.